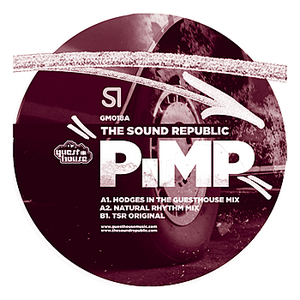 UPDATE AS OF SEPTEMBER 2009:
John Mork & Frankie J. Monacella (also known as The Sound Republic) started in 2005 as a collaborative partnership, and as integral players in the so-called "second wave" of underground house music's New School/Boompty movement, also known by its biggest & most inaccurate misnomer: "Jackin' House" - along with contemporaries Joey Youngman, Bryan Jones, Chris Grant, and many others.

Citing creative differences, John and Frankie declared an "indefinite hiatus" for the group in early 2009
Read Full Bio
UPDATE AS OF SEPTEMBER 2009:
John Mork & Frankie J. Monacella (also known as The Sound Republic) started in 2005 as a collaborative partnership, and as integral players in the so-called "second wave" of underground house music's New School/Boompty movement, also known by its biggest & most inaccurate misnomer: "Jackin' House" - along with contemporaries Joey Youngman, Bryan Jones, Chris Grant, and many others.

Citing creative differences, John and Frankie declared an "indefinite hiatus" for the group in early 2009, and to date both are actively pursuing solo projects and careers.

----

ORIGINAL BIO:
Chicago's John Mork and Frankie J. (also known as The Sound Republic) have carved out a serious niche in the international underground with a slew of releases on their own white-hot SpatulaCity imprint, as well as on some of the most respected labels in house music's burgeoning new school scene. After nearly a decade of paying dues DJing and promoting events all over the Midwest, John & Frankie began writing music and DJing together as The Sound Republic in 2003 and have been grinding out long hours in the studio, on the road, and behind the decks ever since. In that time they have positioned themselves as two of the most sought-after remixers, producers, and DJs in the underground, producing consistently exceptional tunes aimed squarely at the dancefloor while also consistently pushing the envelope of what exactly house music can be and where it can go in the future. They also spend plenty of time promoting their own monthly party GRIZZLED in Chicago with partner-in-crime Karl Almaria, a rawkus sweaty event that highlights nothing but the finest disc jockeys from Chicago and around the world. Firm roots in their Chicago upbringing assure that their tracks always bump, jack, and grind in the way the Windy City is famous for, and it's that underground sensibility combined with a forward-thinking approach to a genre that continues to evolve and grow on a daily basis that makes TSR's sound truly unique. Between running their label, consistent hard work in the studio, and an increasingly busy DJing schedule, John and Frankie may be busy but are always firmly grounded in the fact that they make music to get parties rocking and booties shaking. It's that fun-loving, not-too-serious approach to house music that gets their main message to the world loud and clear: House Music is fun, dammit!
Genre not found
Artist not found
Album not found
Search results not found
Song not found
We have lyrics for 'Pimp' by these artists:



10,000 Cadillacs We got static in the front and there's panic in…
21 Savage Pull up in yo Trap niggas scatter like roaches All my clothe…
50 Cent I don't know what you heard about me But a bitch…
50 Cent feat Snoop Dogg Don Magic Juan I don't know what you heard about me But a bitch…
50 Cent feat. Lloyd Banks & Young Buck I don't know what you heard about me But a bitch…
Buddy Roe featuring Buddy Roe J.T. Money Buddy Roe Freaky…
david banner ft twista busta By the time I done got up in the do'…
Dwarves The world's wonder, long-dick buck-bender, all-night grinder…
FatsO Well you know I bet them horses Well you know I…
Illdisposed I say: To be living brings me down In a way,…
Jr. & His Soulettes Shake it like you mean it Shake it like you mean…
Lloyd Banks Nigga you know it's a pimpin affair when the cars…
Ludacris Feat Bobby Valentino [Chorus] I'm a real P-I-M-P And I love the way the ladies…
Rustic Overtones (D.Gutter/ J.Ward) Love me, so I feel no pain Hate me, so…
Shivaree Look who's pulling up outside With a trunk full of fun…
The Dwarves The world's wonder, long-dick buck-bender, all-night grinder…
The Tubes I'm your only friend in this big city I can…
TI Ft Rocko Cavi on the track! Hol' up, smoke something bitch Hol' u…
Tity Boi [Verse 1: 2 Chainz] Wake up in the morning, roll a…
Trick Daddy featuring Buddy Roe J.T. Money Buddy Roe Freaky…
Valiant Vermin What's the point of virtue if you don't know how…
YUNG NATION Uhh, Well lets get to business All you boys some snitches An…

The lyrics can frequently be found in the comments below, by filtering for lyric videos or browsing the comments in the different videos below.