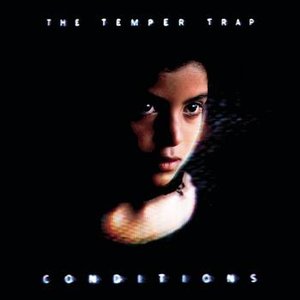 Conditions is the debut studio album by Australian rock band The Temper Trap, re…
Read Full Bio ↴
Conditions is the debut studio album by Australian rock band The Temper Trap, released in Australia through Liberation Music on 19 June 2009. It was later released in the United Kingdom on 10 August 2009. The album debuted at number nine on the Australian Albums Chart, where it has been certified platinum, and peaked at number 25 on the UK Albums Chart, largely due to the success of the debut single "Sweet Disposition", which peaked at number six on the singles chart. The song "Science of Fear" was featured in the EA Sports video game FIFA 10 and the Codemasters racing game DiRT 2.

After signing a worldwide record deal with Korda Marshall's newly re-launched Infectious Records (previously home to Muse, Ash and Garbage) and scoring a trailer and soundtrack appearance for the US film 500 Days of Summer, Melbourne band The Temper Trap got together with producer Jim Abbiss (of Kasabian, Unkle, Arctic Monkeys, Adele) to work on their debut album in early 2009.

The album was completed in March 2009 in a final London Session with Abbiss, following a previous four-week stint at Melbourne's Sing Sing Studios with renowned Australian producer Kalju Tonuma who engineered the album.

The album was nominated for the ARIA Album of the Year Award in 2009.

The 10th anniversary of Conditions was marked by a limited edition vinyl and an upcoming tour in Australia.

On 9 August 2019, Conditions was reissued in a limited edition white vinyl with a gatefold sleeve with commemorative imagery from the early days of the band's career.

A 3 date tour of Melbourne, Brisbane, and Sydney was announced, with a 4th date being added later. The tour is set to begin on 4 December 2019, and will feature special guests The Lazy Eyes, and Djirri Djirri.
Genre not found
Artist not found
Album not found
Search results not found
Song not found
Down River
Finally We have seen some things Some awfully nice Some drea…
Fader
I'm in transit Floating stranded on this boat And I pledge m…
Fäder
I'm in transit For the stranded on this boat And I pledge…
Fools
Fools The don't know What they're on about Those fools Don't…
Love Lost
(Our love was lost) Hey, hey, haha (where'd you go? Where'd…
Rest
Oh baby, ooh baby Bereaved lady Oh baby Oh baby, oh baby H…
Resurrection
In the cold stone walls House where the fleeting dead fall A…
Science of Fear
Brakes on Brakes on The car is running empty Brakes on, brak…
Soldier On
Who wants to know? All that is gold, is rusted No one…
Sweet Disposition
Sweet disposition Never too soon Oh, reckless abandon Like n…