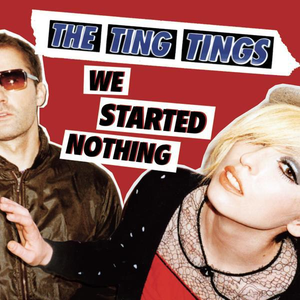 We Started Nothing is the debut album from English band The Ting Tings.
It was released by the Columbia Label Group (UK) on 19 May 2008 in the United Kingdom.
The US edition has a different cover image in several background colors.
The album was also released as a limited edition LP on red vinyl limited to 2,000 copies.
Genre not found
Artist not found
Album not found
Search results not found
Song not found
Fed up with your indigestion
Swallow words one by one
Your folks got high at a quarter to five
Don't you feel your growing up undone
Nothing but the local DJ
He said he had some songs to play
What went down from his fooling around
Gave hope and a brand new day
Imagine all the girls
Ah ah, ah, ah, ah, ah, ah, ah
And the boys
Ah ah, ah, ah, ah, ah, ah, ah
And the strings
Eee, eee, eee, eee, eee, eee, eee, eee
And the drums, the drums, the drums, the drums, the drums, the drums, the drums, the drums
Nothing was the same again
All about where and when
Blowing our minds in our life unkind
Gotta love the BPM
When the smoke was all baton
Remember how this begun
We wore his love like a hand in a glove
Where the future plays it all night long
And nothing but the girls
Ah ah, ah, ah, ah, ah, ah, ah
And the boys
Ah ah, ah, ah, ah, ah, ah, ah
And the strings
Eee, eee, eee, eee, eee, eee, eee, eee
And the drums, the drums, the drums, the drums, the drums, the drums, the drums, the drums
Imagine all the girls
Ah ah, ah, ah, ah, ah, ah, ah
And the boys,
Ah ah, ah, ah, ah, ah, ah, ah
And the strings
Eee, eee, eee, eee, eee, eee, eee, eee
And the drums
Ah ah ah ah, ah, ah, ah, oh
And all the girls
Ah ah, ah, ah, ah, ah, ah, ah
And the boys
Ah ah, ah, ah, ah, ah, ah, ah
And the strings
Eee, eee, eee, eee, eee, eee, eee, eee
And the drums, the drums, the drums, the drums
Lyrics © Sony/ATV Music Publishing LLC, Warner Chappell Music, Inc.
Written by: Katie White, Jules De Martino

Lyrics Licensed & Provided by LyricFind
To comment on specific lyrics,
highlight them