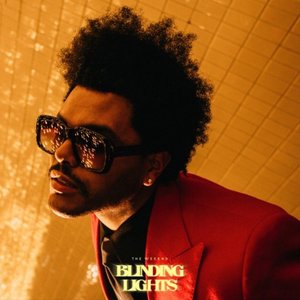 "Blinding Lights" is a song by Canadian singer-songwriter the Weeknd. It was released on November 29, 2019 through XO and Republic Records, as the second single from his fourth studio album After Hours (2020). The song was written and produced by the Weeknd, Max Martin and Oscar Holter, with Ahmad Balshe and Jason Quenneville receiving additional credits. "Blinding Lights" peaked at number one on the Canadian Hot 100, giving the Weeknd his fifth number-one hit on the chart. In the United States, the song topped the Hot 100 for four weeks, and went to become the song with most weeks
Read Full Bio
"Blinding Lights" is a song by Canadian singer-songwriter the Weeknd. It was released on November 29, 2019 through XO and Republic Records, as the second single from his fourth studio album After Hours (2020). The song was written and produced by the Weeknd, Max Martin and Oscar Holter, with Ahmad Balshe and Jason Quenneville receiving additional credits.

"Blinding Lights" peaked at number one on the Canadian Hot 100, giving the Weeknd his fifth number-one hit on the chart. In the United States, the song topped the Hot 100 for four weeks, and went to become the song with most weeks spent in the top 5, top 10, top 20, top 40 and top 100 on the chart, as well as the first song to hold a spot in the top 10 on the chart for an entire year. It is also the longest charting song on the Hot 100 of all-time at 90 weeks, ending the week of September 11, 2021. The song finished 2020 as the year's top Billboard Hot 100 song. It has also topped the record charts in the United Kingdom and 31 other countries. On November 23, 2021, it was ranked as the #1 Greatest Hot 100 Hit of All Time by Billboard.

The Weeknd's most successful single worldwide to date, "Blinding Lights" was the best-performing global single of 2020, earning 2.72 billion subscription stream equivalents globally according to the International Federation of the Phonographic Industry (IFPI). It was also Spotify's most streamed song of 2020 with nearly 1.6 billion streams and is the 2nd most streamed song of all time on the platform, being the fastest song in history to reach the milestone of 2 billion streams on Spotify. "Blinding Lights" has three official remixes: one by electronic band Chromatics, one by electronic dance music group Major Lazer, and one featuring singer-songwriter Rosalía.
Genre not found
Artist not found
Album not found
Search results not found
Song not found
Blinding Lights
The Weeknd Lyrics
Yeah
I've been tryna call
I've been on my own for long enough
Maybe you can show me how to love, maybe
I'm going through withdrawals
You don't even have to do too much
You can turn me on with just a touch, baby
I look around and Sin City's cold and empty (oh)
No one's around to judge me (oh)
I can't see clearly when you're gone
I said, ooh, I'm blinded by the lights
No, I can't sleep until I feel your touch
I said, ooh, I'm drowning in the night
Oh, when I'm like this, you're the one I trust
Hey, hey, hey
I'm running out of time
'Cause I can see the sun light up the sky
So I hit the road in overdrive, baby
Oh, the city's cold and empty (oh)
No one's around to judge me (oh)
I can't see clearly when you're gone
I said, ooh, I'm blinded by the lights
No, I can't sleep until I feel your touch
I said, ooh, I'm drowning in the night
Oh, when I'm like this, you're the one I trust
I'm just walking by to let you know (by to let you know)
I could never say it on the phone (say it on the phone)
Will never let you go this time (ooh)
I said, ooh, I'm blinded by the lights
No, I can't sleep until I feel your touch
Hey, hey, hey
Hey, hey, hey
I said, ooh, I'm blinded by the lights
No, I can't sleep until I feel your touch
Lyrics © Universal Music Publishing Group, Warner Chappell Music, Inc.
Written by: Abel Tesfaye, Ahmad Balshe, Martin Karl Sandberg, Oscar Thomas Holter, Jason Matthew Quenneville

Lyrics Licensed & Provided by LyricFind
To comment on specific lyrics,
highlight them