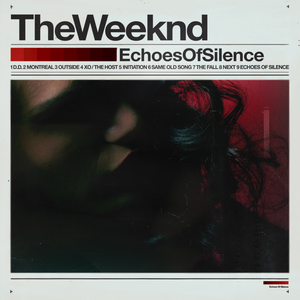 Echoes of Silence is the third mixtape by The Weeknd, released December 21, 2011 via his official website. The release follows his Polaris Music Prize-nominated debut release House of Balloons and his second mixtape Thursday, both released earlier the same year. The project is the final installment in the trilogy of free mixtapes released by The Weeknd in 2011. The mixtape was preceded by the release of the single, "Initiation". Long-time collaborator Carlo "Illangelo" Montagnese returned to produce the bulk of the project, with other production contributions coming from Clams Casino and DropxLife of the XO crew. Rapper Juicy J
Read Full Bio
Echoes of Silence is the third mixtape by The Weeknd, released December 21, 2011 via his official website. The release follows his Polaris Music Prize-nominated debut release House of Balloons and his second mixtape Thursday, both released earlier the same year. The project is the final installment in the trilogy of free mixtapes released by The Weeknd in 2011. The mixtape was preceded by the release of the single, "Initiation". Long-time collaborator Carlo "Illangelo" Montagnese returned to produce the bulk of the project, with other production contributions coming from Clams Casino and DropxLife of the XO crew. Rapper Juicy J contributes a short spoken-word interlude at the end of "Same Old Song".

Echoes of Silence received general acclaim from music critics. At Metacritic, which assigns a normalized rating out of 100 to reviews from mainstream critics and fans, the mixtape received an average score of 82, based on 16 reviews, which indicates "universal acclaim".
The mixtape was named as a longlisted nominee for the 2012 Polaris Music Prize on June 14, 2012. This marks the second consecutive year The Weeknd has been nominated for the award.
Genre not found
Artist not found
Album not found
Search results not found
Song not found
Oh no, oh no
You'll never make me stay so take your weight off of me
I know your every move, so won't you please let me be
I've been here times before but I was too blind to see
That you seduce every man, this time you won't seduce me
She's saying, that's OK, hey baby do what you please
I am the stuff the you want, I am the thing that you need
She looked me deep in the eyes, she's touchin' me so to start
She says there's no turnin' back, she trapped me in her heart
Dirty Diana, no, dirty Diana, no
Dirty Diana, no, dirty Diana, let me be, ooh
She likes the boys in the band, she knows when they come to town
Every musician's fan after the curtains comes down
She waits at backstage doors for those who have prestige
Who promise fortune and fame, a life that's so carefree
She's sayin', that's OK, hey baby do what you want
I'll be your night lovin' thing, I'll be the freak you can taunt
And I don't care what you say, I want to go too far
I'll be your everything if you make me a star
Dirty Diana, no, dirty Diana, no
Dirty Diana, no, dirty Diana
Dirty Diana, ooh, dirty Diana, no
Dirty Diana, no, dirty Diana let me be, ooh
She said I have to go home 'cause I'm real tired, you see
But I hate sleepin' alone, why don't you come with me?
I said my baby's at home, she's probably worried tonight
I didn't call on the phone to say that I'm alright
Diana walked up to me, she said I'm all yours tonight
At that I ran to the phone sayin' baby I'm alright
I said unlock the door 'cause I forgot the key
She said he's not coming back because he's sleeping with me
Dirty Diana, no, dirty Diana, no
Dirty Diana, no, dirty Diana, no
Dirty Diana, no, dirty Diana, no
Dirty Diana, no, dirty Diana, let me be, ooh
Oh no
Oh no
Oh no
Oh no
Lyrics © Sony/ATV Music Publishing LLC
Written by: Michael Jackson

Lyrics Licensed & Provided by LyricFind
To comment on specific lyrics,
highlight them