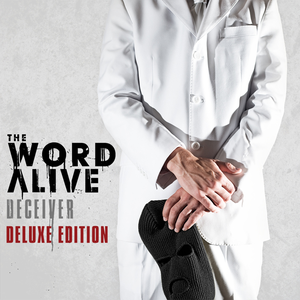 Deceiver (Deluxe Edition)
Deceiver is the debut studio album by American metalcore band The Word Alive. It was released on August 31, 2010 through Fearless Records. The title derives from a passage of lyrics within the chorus of the song "The Wretched".

With anticipation of the album following up to their critically acclaimed EP Empire, the band promoted the album for several months until leading to its release. It was produced by Andrew Wade and is the first and only release by the band with drummer Justin Salinas
Read Full Bio
Deceiver is the debut studio album by American metalcore band The Word Alive. It was released on August 31, 2010 through Fearless Records. The title derives from a passage of lyrics within the chorus of the song "The Wretched".

With anticipation of the album following up to their critically acclaimed EP Empire, the band promoted the album for several months until leading to its release. It was produced by Andrew Wade and is the first and only release by the band with drummer Justin Salinas, yet final with bassist Nicholas Urlacher and keyboardist, Dusty Riach.

A deluxe edition of Deceiver was released on June 7, 2011 and contains two previously unreleased tracks; "Apologician" and "Lights and Stones" along with the group's two cover songs; "Heartless" and "Over the Mountain". It also features remixes of the songs "The Hounds of Anubis", "The Wretched", and "2012", with "The Hounds of Anubis" being exclusively remixed by Limp Bizkit guitarist Wes Borland along with an unreleased music video for "The Wretched" as well as the "2012" music video. For the convenience of fans that were already in-possession of the hardcopy release of Deceiver, the release of the deluxe edition was only made digitally over iTunes. All extras included on the deluxe edition are available individually.
Genre not found
Artist not found
Album not found
Search results not found
Song not found
We have lyrics for these tracks by The Word Alive:



'2012' You get what you deserve for fucking with me. You get…
94th St We can't keep running in circles Have we lost our minds? We…
Ambitionary How much further must I go before I can't escape my…
Apologician Did you think you'd find what's left of me in…
are you on drugs You're fucking fake! Two-faced! You've gone down this pa…
Astral Plane And I have been here before I don't understand how I've…
Bar Fight Am I still a burden to you now? Am I still…
Battle Royale Breathe! They will turn their backs on me unless I decide…
Belong I just want to belong I just want to belong I just…
Broken Circuit Look into my eyes Why the fuck did you think I'd…
Can't Let Up So just close your eyes now Until we're gone from you Oh…
Casanova Rodeo Your headin' south for the border This is the site of…
Collapsing Desires are dangerous things Bringing sorrow to many, men to…
Consider It Mutual Every time I look around my name is on your…
Dragon Spell I'm still the king of the world I'll never falter or…
Dream Catcher We've been a burden though we were kept alive. By the…
Dreamer I've forgotten who I am Afraid it's too late Was I wrong? …
Entirety You're all I have. You're all I have. I can't decide If…
Epiphany Go! You think I'm weak? It's called honesty. Believe me, her…
Evolution I'm back for more This stories heading for its final twist …
For Your Health I don't understand why, but the view from here, is much…
Glass Castle So you think you can get rid of me? I'll take…
Heartless The doctor said come back again next week, I think…
Hidden Lakes You may not make it home tonight You may not last…
How To Build An Empire The path that we've made, We'll not be afraid to say…
I'm Sorry So why don't you let me know if i could grow…
Inviting Eyes You look in the mirror And for the first time…
Life Cycles I'd rather die for what I believe, Than live a life…
Light House We stand up tall Even in the dark Never forget we are…
Lights And Stones Where do we go when nowhere feels like home? Who do…
Like Father Like Son If you're not my blood, you are my bones. The only…
Live A Lie I won't live a lie, I don't hide I don't hide I…
Mercy Well, it is a weeping and a moaning and a…
Never Forget And now we're all finding out How hard it is to…
Play The Victim You're the one who always falls apart The one who plays…
Quit While You're Ahead Just as fast as you found the waves Have crashed…
Room 126 There's no sign we'll survive There's no sign we'll survive…
Terminal I am a creature Who lies in wait I'm not the man…
The Devil Inside This is what we get You took life for granted, Nothing las…
The Fortune Teller They never said that it'd be easy To find another soul…
The Hounds of Anubis I'm the king of the world, and it's crumbling down* All…
The Only Rule Is That There Are No Rules So you think you're safe now, well think again I'm not…
The Runaway You get caught in a hurricane Scattered thoughts make you go…
The Word Alive-You're All I See "Hold back" I won't hold back. This fight will be…
The Wretched You're dead to me. It might be hard to understand. I'll sh…
To Struggle and Claw My Way I am not afraid of you This is your anthem to…
Trapped Will you listen to what I said? Do you believe that…
We Know Who You Are You're fucking fake! Two-faced! You've gone down this pa…
Wishmaster We're here to fight. We're here to die. We're here to save…
You're All I See "Hold back" I won't hold back. This fight will be…
Your Mirage You're the only one You're the only one Why can't this be…

The lyrics can frequently be found in the comments below, by filtering for lyric videos or browsing the comments in the different videos below.