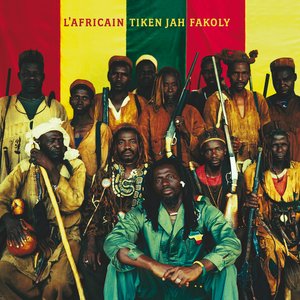 Tiken Jah Fakoly (1968) is a reggae singer from Odienné, Côte d'Ivoire (a.k.a Ivory Coast).

Tiken Jah was born into a family of griots and christened Doumbia Moussa Fakoly on June 23, 1968 in Odienne, north-western Côte d'Ivoire. He discovered reggae at an early age, assembling his first group, Djelys, in 1987. He became well-known at a regional level, but would soon ascend to national recognition.

Concerned by the social and political evolution of his country
Read Full Bio
Tiken Jah Fakoly (1968) is a reggae singer from Odienné, Côte d'Ivoire (a.k.a Ivory Coast).

Tiken Jah was born into a family of griots and christened Doumbia Moussa Fakoly on June 23, 1968 in Odienne, north-western Côte d'Ivoire. He discovered reggae at an early age, assembling his first group, Djelys, in 1987. He became well-known at a regional level, but would soon ascend to national recognition.

Concerned by the social and political evolution of his country, it was not long before Tiken Jah was writing incisive works on the political environment in Côte d'Ivoire. One such work was on the death of Felix Houphouet-Boigny in 1993, which resulted in a surge of popularity amongst the nation's youth. In 1998, Fakoly made his first international appearance in Paris.

Tiken Jah Fakoly plays music "to wake up the consciences". His music speaks about many injustices done to the people of his country, and those over Africa. As such, African listeners feel a deep affinity with his lyrics as Fakoly speaks for people whom are under oppression. This connection has helped make Tiken Jah Fakoly a much-listened artist throughout both Europe and Africa.

Discography

1. 1993: Les Djelys (cassette only - discontinued)
2. 1994: Missiri (cassette only - discontinued)
3. 1996: Mangercratie
4. 1999: Cours d'histoire
5. 2000: Le Cameleon (exclusive to West Africa)
6. 2002: Françafrique (a term coined by Francois Xavier-Verschave)
7. 2004: Coup de gueule
8. 2005: Africa wants to be free, compilation to support fr:Survie (association)

NOTE: Mangercratie was released in France in 1999 and in Canada in 2000. Cours d'histoire was released in France in 2000 and in Canada in 2001. The first two albums were only released in Côte d'Ivoire.


Outside Projects

Tiken Jah Fakoly has recorded various tracks with other artists. He is featured on Steel Pulse: African Holocaust, on Rike: Airt Frais, on Bernard Laviliers: Carnet De Bord, on Amadou & Marima: Dimanche A Bamaco, on Dub Incorporation: Life, and on Tata Pound: Cikan. He also appears on the compilation African Consiences with Mebgane N'Dour. He will be featured in the upcoming movie Les Oiseaux Du Ciel, directed by Eliane De Latour.

Awards:

2003: Victoires de la Musique 2003, in the category of Reggae Album/Ragga/World with the album Françafrique.
Genre not found
Artist not found
Album not found
Search results not found
Song not found
Ils m'ont dit que je suis Malinké
Ils t'ont dit que tu es un Bété
Mon papa était un Dioula
Mais nous là nous sommes Ivoiriens
Nous sommes des Malinkés
Nous sommes des Akans
Nous sommes des Krous
Nous sommes des Sénoufous
Nous sommes tous Ivoiriens
Ils ont dit que je suis musulman
Ils t'ont dit que tu es un chrétien
Nos ancêtres étaient animistes
Mais nous là nous sommes Africains
On n'oubliera pas l'empire du Ghana
Nos parents parlent encore des cavaliers Mossi
Sans oublier le royaume Ashanti
Les griots chanteront toujours l'épopée mandingue
On respecte encore les boucliers Zoulous
Le roi forgeron du Kongo
Tout le monde connaît le royaume de Nubie
Sans oublier l'empire d'Ethiopia Rastafari !
Oko néma koné Malien
Oko kilé Ivoirien
Né fatché tounié Ivoirien
Anouyé Africains
Anouyé Burkinabé
Anouyé Sénégalais
Anouyé Camerounais
Anouyé Ethiopiens
Anouyé Congolais
Tous ces pays ont des richesses culturelles
Qui nous appartiennent
La mosquée de Djénné
Le lac Victoria
Les dunes du Sahara
Les gorilles du Congo
Les baobabs du Sénégal
La réserve de la Comoé
Le mont Kilimandjaro
Je suis black Américain
Je suis Brésilien
Madinina
Guadeloupa
Havana
Colombia
Haïtia
Dominica
Trinida
Guyanna
Sainte Lucia
Jamaïca
Africain !
We are African
We are proud to be African !
Lyrics © SONY ATV MUSIC PUBLISHING, Sony/ATV Music Publishing LLC
Written by: DAVID BAPTISTE, MOUSSA DOUMBIA, AVELINO QUILEZ, JEAN-LUC REMY

Lyrics Licensed & Provided by LyricFind
To comment on specific lyrics,
highlight them