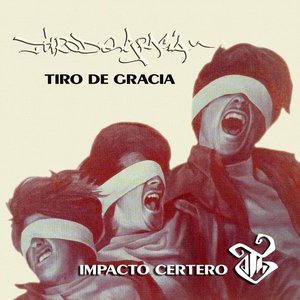 Impacto Certero - Grandes Éxitos
Tiro de gracia fue creado a principio de la decada de los 90's, por Juan Sativo …
Read Full Bio ↴
Tiro de gracia fue creado a principio de la decada de los 90's, por Juan Sativo (ex-Bestia Latina Furia Verbal), Lengua Dura, y Explicito, se caracterizan por ser un grupo de lírica agresiva y social. En un comienzo, el grupo se presentaba en vivo con bases grabadas en cassette mezcladas por Dj Raff. Con este sistema de trabajo y con la colaboracion de Dj Barsa, Tiro De Gracia edito dos producciones independientes:"Arma Calibrada" y "Homosapiens" (la que fue conocida por toda la masa hip-hop con el tema "Cero Grocero"), las cuales fueron difundidas mano a mano entre todos los adictos al hip-hop.
Tiro De Gracia empezo a destacarse en el ambiente underground por sus energicas presentaciones en vivo y su estilo directo y positivo.
A comienzos de 1996, la productora audiovisual CUBO NEGRO y el director de T.V. Juan Sebastian Dominguez idearon un programa de television dedicado al hip hop y la participacion de Tiro De Gracia sorprendio a todos los presentes y Juan Sebastian Dominguez decidio presentar a Tiro De Gracia a los musicos Patricio Loaiza y Camilo Cintolesi. Despues de seis meses de trabajo, Tiro De Gracia daba a luz una nueva produccion independiente: El Demo Final; que contenia la participacion de Juan Sativo, Lengua Dura, Zaturno, Adonai, Camilo y algunos musicos invitados como Quique Neira, Dj Notsag y Dj Barsa. Este nuevo material fue difundido por algunas radios (Rock and Pop y Zero) y presentado al sello EMI. La respuesta no se hizo esperar y en noviembre del 96 , Tiro De Gracia firma un contrato exclusivo con EMI y empieza a preparar su primer largaduracion: "Ser humano".
A fines del 1996 Tiro De Gracia coopero con los Tetas, con el Grafittis que aparece en el video "Corazón De Sandia", y con el tema "Cha-Cha-Cha" en el que cuentan con el apoyo de Juan Sativo. Esta colaboracion motiva una serie de actuaciones en conjunto y la invitacion de Tiro De Gracia a Los Tetas para colaborar en la cancion "Nuestra Fiesta (okupa,segura y no molesta)" del disco "Ser Hümano".
Ser Hümano se empieza a grabar en mayo de 1997 y el resultado, despues de 3 meses de trabajo, son 16 canciones de sonoridades muy diversas entre si, pero con la lirica y la expresividad caracteristica de Tiro De Gracia.
En el disco participan como musicos invitados: Joe Vasconcellos, Los Tetas, Chancho en Piedra, Pedro Foncea, Quique Neira , Carlos Cabezas y Ema Pinto, entre otros. La primera cancion destacada del disco Ser Hümano es "El juego verdadero" que ha sido ampliamente difundida por la radio Rock and Pop y ya cuenta con un video clip realizado en cine por la productora CUBO NEGRO, filmado en el museo de historia natural de Quinta Normal y que es actualmente transmitido por la cadena Mtv y ocupo un lugar en el ranking latinoamericano de musica.
Tiro De Gracia ha desarrollado tres video clips mas de su exitoso disco "Ser Hümano", ellos son "Viaje Sin Rumbo", "Melaza" y "Chupacabras", estos dos ultimos con poca difusion.
Despues de grabar su primer largaduracion, renuncia el cerebro musical del grupo, Camilo Cintolesi, por discrepancias entre sus integrantes.
Al año siguiente (1999) TdG lanzo un nuevo disco"Decision", el cual fue grabado en New York, y conto con la colaboracion de Ivan Rodriguez . Pese a la distancia que toman de muchas instituciones y personas, en este album incluyen un tema encargado por el Ministerio de Justicia sobre la detencion por sospecha, titulado "Malasya". Tambien ofrecen un discurso sobre la paternidad responsable en "Eso de ser papa". El primer single habla de la marginacion territorial y social. Se llama "El joven de la pobla".
En Junio del 2000, Zaturno de desvincula de la banda, para concentrarse en el desarrollo de un nuevo grupo: "Tapia Rabia Jackson", integrado por antiguos colaboradores de colectivos de La Florida y Puente Alto, como Contrafaz y Kiclan.
Tiro de Gracia, en tanto, continuaría como trío, con los MC's Juan Pincel y Lengüa Düra, y el tecladista y programador Adonai.
A mediados de Septiembre del 2001, sale el tercer largaduración de la banda: Retorno de misericordia, que tiene en "Sueños" su primer promocional que constituye una recuperación de la idea original de dúo. De hecho, tal como en el primer trabajo, la foto de portada remite, de manera excluyente, a Juan Sativo y a Lengua Dura e instala a cualquier otro músico en la calidad de invitado. Han optado por un enfoque más individualista y aunque esto podría ligarse a una vuelta a las raíces fundaciones de Tiro de Gracia, la pareja ha evolucionado. En letras, sus textos expresan tanto su visión del trabajo colectivo y de los amigos ("Mi casa") hasta la relación con la marihuana ("María"). Se les observa más concisos (esta vez sólo hicieron 11 canciones) y muestran una declarada apertura musical, que incluye desde guajira ("El hip & el hop show") hasta aires andinos, marcados por la presencia de charango ("América"), sumados al tradicional funk y al alianza con el reggae que deriva en raggamuffin.
-Actualmente Tiro De Gracia esta integrado por Juan Pincel (voz), Lengüa Düra (voz) y Adonai (Samplers, Teclados y Drum Machine)
Juan Pincel Aparte de cantar soul, escribe metaforas y mezcla su estylo con letras peoticas siempre bien elaborado. Se ha convertido en la cuota de definición del estilo del grupo.
Lengüa Düra Es el que habla de la parte social y del entorno que lo rodea. Su fluidez en el escenario, lo convierten en un preciado elemento en el grupo. Adonai Esta a cargo del teclado y la programacion, con la partida de Camilo y Zaturno se ha convertido en la base musical del grupo.
Genre not found
Artist not found
Album not found
Search results not found
Song not found