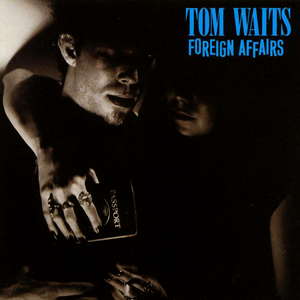 Foreign Affairs is the fourth studio album by Tom Waits, released in 1977 on Elektra Entertainment. It was produced by Bones Howe, and featured Bette Midler singing a duet with Waits on "I Never Talk to Strangers". Bones Howe, the album's producer, remembers the album's original concept and production approach thus: talked to me about doing this other material He said, "I'm going to do the demos first, and then I'm gonna let you listen to them. Then we should talk about what it should be." I listened to the material and said, "It's like a black-and-white movie." That's where
Read Full Bio
Foreign Affairs is the fourth studio album by Tom Waits, released in 1977 on Elektra Entertainment. It was produced by Bones Howe, and featured Bette Midler singing a duet with Waits on "I Never Talk to Strangers".

Bones Howe, the album's producer, remembers the album's original concept and production approach thus:
talked to me about doing this other material He said, "I'm going to do the demos first, and then I'm gonna let you listen to them. Then we should talk about what it should be." I listened to the material and said, "It's like a black-and-white movie." That's where the cover came from. The whole idea that it was going to be a black-and-white movie. It's the way it seemed to me when we were putting it together. Whether or not it came out that way, I don't have any idea, because there's such metamorphosis when you're working on . They change and change.

Pictured on the cover with Waits is a Native American woman named Marsheila Cockrell, who worked at the box office of The Troubadour in Los Angeles. "She was a girl who was... not a girlfriend but she thought she was a girlfriend."

For the album cover Waits wanted to convey the film-noir mood that coloured so many of the songs. Veteran Hollywood portraitist George Hurrell was hired to shoot Waits, both alone and in a clutch with a shadowy female whose ring-encrusted right hand clamped a passport to his chest. The back-cover shot of Tom was particularly good, casting him as a slicked-back hoodlum—half matinee idol, half hair-trigger psychopath. The inner sleeve depicted the soused singer clawing at the keys of his Tropicana upright.
Genre not found
Artist not found
Album not found
Search results not found
Song not found
To comment on specific lyrics,
highlight them