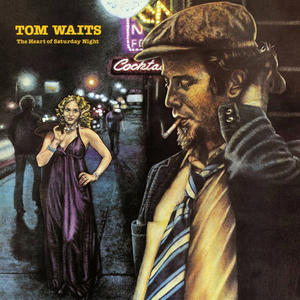 The Heart of Saturday Night
If Closing Time, Tom Waits' debut album, consisted of love songs set in a late-night world of bars and neon signs, its follow-up, The Heart of Saturday Night, largely dispenses with the romance in favor of poetic depictions of the same setting. On "Diamonds on My Windshield" and "The Ghosts of Saturday Night," Waits doesn't even sing, instead reciting his verse rhythmically against bass and drums like a Beat hipster. Musically, the album contains the same mixture of folk, blues, and jazz as its predecessor, with producer Bones Howe occasionally bringing in an orchestra to underscore the loping melodies. Waits'
Read Full Bio
If Closing Time, Tom Waits' debut album, consisted of love songs set in a late-night world of bars and neon signs, its follow-up, The Heart of Saturday Night, largely dispenses with the romance in favor of poetic depictions of the same setting. On "Diamonds on My Windshield" and "The Ghosts of Saturday Night," Waits doesn't even sing, instead reciting his verse rhythmically against bass and drums like a Beat hipster. Musically, the album contains the same mixture of folk, blues, and jazz as its predecessor, with producer Bones Howe occasionally bringing in an orchestra to underscore the loping melodies. Waits' songs are sometimes sketchier in addition to being more impersonal, but "(Looking For) The Heart of Saturday Night" and "Semi Suite" are the equal of anything on Closing Time. Still, with lines such as "...the clouds are like headlines/Upon a new front page sky" and references to "a 24-hour moon" and "champagne stars," Waits' imagery is beginning to get florid, and in material this stylized, the danger of self-parody is always present.
Genre not found
Artist not found
Album not found
Search results not found
Song not found
New Coat of Paint
Tom Waits Lyrics
Let's put a new coat of paint
On this lonesome old town
Set 'em up, we'll be knockin' 'em down
You wear a dress
Baby I'll a tie
We'll laugh at that old bloodshot moon
In that burgundy sky
All our scribbled love dreams are lost or thrown away
Here amidst the shuffle of an overflowin' day
Our love needs a transfusion let's shoot it full of wine
Fishin' for a good time starts with throwin' in your line.
So let's put a new coat of paint
On this lonesome old town
Set em' up, set em' up we'll be knockin' 'em down
You wear a dress baby
I'll wear a tie
We'll laugh at that old bloodshot moon
In that burgundy sky
Lyrics © BMG Rights Management
Written by: TOM WAITS

Lyrics Licensed & Provided by LyricFind
To comment on specific lyrics,
highlight them