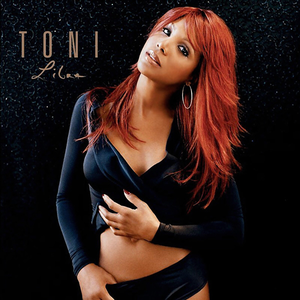 Libra is the fifth studio album by American recording artist Toni Braxton. It was released in the United States on September 27, 2005 by Blackground Records. The album's title is a reference to Braxton's astrological sign, Libra.

The album debuted at number four on the Billboard 200 and at number two on the Top R&B/Hip-Hop Albums, selling 114,000 copies in its first week. Only three singles were released from the album, and due to lack of promotion from Blackground Records
Read Full Bio
Libra is the fifth studio album by American recording artist Toni Braxton. It was released in the United States on September 27, 2005 by Blackground Records. The album's title is a reference to Braxton's astrological sign, Libra.

The album debuted at number four on the Billboard 200 and at number two on the Top R&B/Hip-Hop Albums, selling 114,000 copies in its first week. Only three singles were released from the album, and due to lack of promotion from Blackground Records, Braxton's then-record label, all of them failed to chart on the Billboard Hot 100, subsequently causing Braxton to terminate her contract with the label. Nonetheless, as a result of the European success of "The Time of Our Lives"—Braxton's collaboration with the group Il Divo, which served as the official 2006 FIFA World Cup theme song—, German label Edel Records re-released the album in continental Europe in late June 2006 including "The Time of Our Lives" as well as a brand-new cover art. Previously, the regular European edition of the album had included three bonus tracks: "Suddenly", "I Hate You", and "Long Way Home". The song "Stupid", which is track 8 of the album, has briefly appeared in the 2005 Tyler Perry film Diary of a Mad Black Woman.

Libra gained gold status by the Recording Industry Association of America on November 4, 2005, having sold over 441,000 copies within the U.S. to date, according to Nielsen SoundScan. The album cover was included on Maxim's list of Sexiest Album Covers.

From 1993 until 2000 Toni Braxton produced 12 top 10 singles and three consecutive multi platinum albums within the US alone. Two of which sold 8 million copies a piece in the states and 22 million combined worldwide. "Libra" was pushed back 3 times before finally being released in September 5, 2006.

Libra marks Toni Braxton's departure from Arista Records, her longtime label. It was a stormy relationship that ended with the fast death of 2002's fine More Than a Woman. Only one Neptunes-produced single was spun off from it, which peaked somewhere in the eighties of the Hot 100. Half a year after the album's release, Braxton was off Arista and on the Universal-distributed Blackground, but Libra didn't surface until fall of 2005. Libra is lean and balanced, it winds up a safe distance from the likes of the self-titled debut and Secrets.

An album rich with serene mellow tunes, Libra finds the singer at her adventurous best breathing soul into tales of love: some falling into love, others fading away from it, still others basking in its silky center. The songs throwbacks to some of her classics from her 1996 album "Secrets". It also features hip-hop tracks.

The album's first track and lead-single "Please" is produced by Scott Storch and it's an arresting danceable ballad recalling the glory moments of her early days. The second track, the ballad "Trippin' (That's the Way Love Works)", is sang in a rapping way, with fast talking where the melody isn't lost and harmonizing is inserted at the right moments. The album's third track "What's Good" is a decidedly traditional ballad, Isley Brothers-esque throwback and uses a clip from Joe Sample's "In My Wildest Dreams". The fourth track "Take This Ring" produced by Rich Harrison, is an upbeat heavily percussion driven record. An aggressive song that is balanced by well managed vocal arrangements lead by unapologetic lyrics. It was compared to Amerie's 1 Thing, also produced by Harrison. It has drum-and-bass-heavy accusational fire.

"Suddenly", which only appears on the European edition of the album, is a relatively jazzy track. It's easily comparable to How Could an Angel Break My Heart" and it features the trumpeter Chris Botti. "I Wanna Be (Your Baby)" is a ballad written by Babyface and Daryl Simmon. "Sposed to Be" is a "tranquil song" with a finger snapping groove. The self-recriminating "Stupid" was compared to the work of Anita Baker. "Finally" makes lyrical references to past hits like "Breathe Again". "Shadowless" is an acoustic guitar ballad in which she sings about a love lost and a plea to win it back.
Genre not found
Artist not found
Album not found
Search results not found
Song not found
La la la la la la la la
Santa, please, will you help me
'Cause I'm all alone with my Christmas tree
See, my honey's on his way, his flight's delayed
Can you bring him on your sleigh?
'Cause time is going
Slowly dragging me along
Santa, please bring my man home, ooh yeah
Santa, please, will you help me
'Cause I'm all alone and so unhappy
See, I need my baby here to hold me tight
Can you bring him here tonight?
'Cause time is going
Slowly dragging me along
Santa, please bring my man home, oh yeah
Santa, please, please help me
'Cause I'm all alone and I need, I need
Up to now I've been real good, so tell me why
Why is time taking its time and going so
Slowly dragging me along
Santa, please bring my man home
Slowly dragging me along
Santa, please bring my man home, ooh yeah
Call Dasher, call Dancer, call Prancer
Call Vixen
(Can you help me out real quick
It's an emergency)
On Comet, on Cupid, on Donner, on Blitzen
(Can you help me out St. Nick, Santa please
'Cause time is going)
Slowly dragging me along
Santa, please bring my man home
Slowly dragging me along
Santa, please bring my man home
Call your mom please
Call Dasher, call Dancer, call Prancer
Call Vixen
Call your boy in love to help a girl out, oh, no, oh pretty please, Santa please
Lyrics © Sony/ATV Music Publishing LLC, Peermusic Publishing
Written by: TONI BRAXTON, KEIRSTON JAMAL LEWIS, KERI LEWIS

Lyrics Licensed & Provided by LyricFind
To comment on specific lyrics,
highlight them