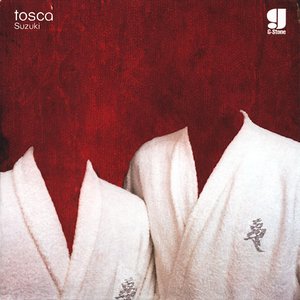 Tosca is an electronic music project of Richard Dorfmeister and Rupert Huber formed 1994 in Vienna. It is Dorfmeister's second such project, the first being Kruder & Dorfmeister. Tosca's first album, Opera, was released in 1997 by G-Stone Recordings.

Richard Dorfmeister and Rupert Huber first met in school, and began experimenting with tape machines, Indian music, and poetry lyrics, under the name of Dehli9. After school, Dorfmeister and Huber went their separate ways: Dorfmeister began producing and DJing with Peter Kruder
Read Full Bio
Tosca is an electronic music project of Richard Dorfmeister and Rupert Huber formed 1994 in Vienna. It is Dorfmeister's second such project, the first being Kruder & Dorfmeister. Tosca's first album, Opera, was released in 1997 by G-Stone Recordings.

Richard Dorfmeister and Rupert Huber first met in school, and began experimenting with tape machines, Indian music, and poetry lyrics, under the name of Dehli9. After school, Dorfmeister and Huber went their separate ways: Dorfmeister began producing and DJing with Peter Kruder, and Huber worked in the experimental music scene. His compositions were featured by Wiener Festwochen (Private Exile, 2004), Centre Pompidou (Sonic Process, 2002) and Ars Electronica (Radiotopia, 2002) as well as in TV series (C.S.I.: Miami, Sex and the City) and radio (signations for the ORF – Austrian Broadcasting Company).

In 1994, Dorfmeister and Huber released their first 12", entitled "Chocolate Elvis", on Kruder and Dorfmeister's G-Stone label. A string of critically acclaimed albums and remix collections followed - Opera (1996), Suzuki (1999), Dehli9 (2002) J.A.C. (2005) and No Hassle (2009) are considered milestones of the downtempo genre. The musical trademark of Tosca is a cheerful laid-back feel that emanate a warm, and occasionally melancholic atmosphere. The music of Tosca is played in clubs and living rooms, boutiques and wineries alike.

Lots of the singles and their ensuing remixes were released as remix albums - i.e. Souvenirs - The J.A.C. Remixes, Suzuki in Dub, Chocolate Elvis Dubs or the "Fuck Dub" remix collection - and featured on countless compilations. Tosca has performed in live shows in the USA, South America and Europe, including such prominent festivals as Coachella (Palm Springs, USA) and the Ars Electronica Festival (Linz, Austria). In 2001, Tosca was honored with Austria's Amadeus Music Award as best Pop/Rock group. In 2009 the release of No Hassle saw Tosca move into more ambient soundscapes and the world of live instrumentation. In 2013 their sixth studio album Odeon featuring vocalists Sarah Callier, Rodney Hunter and JJ Jones was released on their longtime home of !K7 Records.
Genre not found
Artist not found
Album not found
Search results not found
Song not found
Pearl In
Tosca Lyrics
We have lyrics for these tracks by Tosca:



03 Boss On The Boat Droppin this flavor (repeated many times)…
Baby Mammoth I say shake it baby gotta whole lotta shaking and you see…
Boss on Boat Droppin this flavor (repeated many times)…
Chocolate Elvis I say shake it baby gotta whole lotta shaking and you see…
Crazy Love I see it, I try and feel it You never beat…
Elista Hvis eg bare er helt stille, vil eg noen gang…
Facendo i conti Ti lascio il nastrino portafortuna Che non ci servì Mi prend…
Ho amato tutto Tre passi e dentro la finestra Il cielo si fa muto Resto…
Honey (Supatone 1 dub) I want my honey I want my honey I want my honey I…
Il terzo fuochista Gira volta gira volta volta gira vola Volta gira gira…
Jayjay I'm dear like, I'm dear like, I'm dear like Into the…
Me & Yoko Ono standing on the corner just me abd yoko ono he…
Nel respiro più grande Da quanto tempo Camminiamo accanto I giorni, i mesi, Le nott…
Pane vino e lacrime Mi guardo indietro e quasi non ti vedo più È tutto…
Postgirl zero, ichi, ni, yon, san, yon, ichi yon, etc etc (numbers)…
Rondo acapricio Rondo Acapricio Good morning Good morning Good morning to e…
Stuttgart Antes o meu coração tocava só pra Cira Antes é que…
Superrob Everything is said and done Everyone has had their fun Time…
Suzuki no loa conozco…
Worksong Keep on pushing …

The lyrics can frequently be found in the comments below or by filtering for lyric videos.