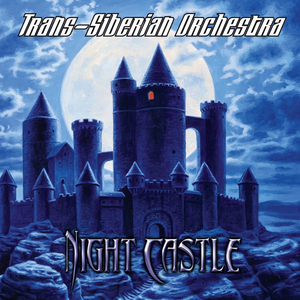 Night Castle is Trans-Siberian Orchestra's fifth studio album and second non-Christmas album. It is a 2-disc set and was released on October 27, 2009.

Portions of it have been performed live dating back as far as TSO's 2004 winter tour.

The album tells the story of a little seven-year-old girl on the last night of her seventh summer at a beach house her grandfather had built many years before her birth.
Genre not found
Artist not found
Album not found
Search results not found
Song not found
Here
Believe
A night
Enchanted
Seen
Here
The hopes of Gods are planted
Dream
Remember
Remember
All we do not see
Surrendered
Surrendered
All we wished to be
Lost and forgotten
Our Akhenaten
Body and spirit
No-one can hear it
Lost
In
Eternity
Forever
Hear us
Forever
Hear us
Forever
Hear us
Forever
Where our hopes have never ceased
To be
Death will embrace us
Hold and encase us
Time may deface us
Will God retrace us
Time speaks through seasons
God speaks through reason
Kindness compassion
Not random fashions
Hear
Yet to be
Hear
Yet to be
Hear
Yet to
Child of the night
Dreams dare alight
Anywhere your heart does wander
Know that they will walk with thee
Each grain of sand
Falls as was planned
And within each precious moment
Are the things still yet to be
Night in its vespers
Dreams are its gestures
Stars fear no distance
Fear no distance
For they will always guard you
Throughout eternity
Here
Believe
A night
Enchanted
Seen
Here
The hopes of Gods are planted
Dream
Remember
Remember
All we do not see
Surrendered
Surrendered
All we wished to be
Lost and forgotten
Our Akhenaten
Body and spirit
No-one can hear it
Lost
In
Eternity
Forever
Hear us
Forever
Hear us
Forever
Hear us
Forever
Where our hopes have never ceased
To be
Death will embrace us
Hold and encase us
Time may deface us
Will God retrace us
Time speaks through seasons
God speaks through reason
Kindness compassion
Not random fashions
Hear
Yet to be
Hear
Yet to be
Hear
Yet to
Be
Lyrics © Warner Chappell Music, Inc.
Written by: PAUL O'NEILL, PAUL F. O'NEILL

Lyrics Licensed & Provided by LyricFind
To comment on specific lyrics,
highlight them