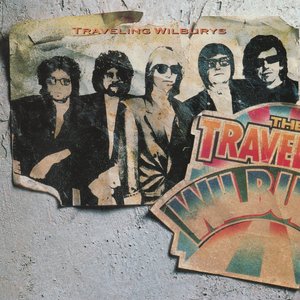 In early April 1988, George Harrison was in Los Angeles and needed to record a B-side for a European 12-inch single. Jeff Lynne was also in Los Angeles writing and producing some tracks for Roy Orbison on his album Mystery Girl (released posthumously), as well as Tom Petty's first solo album, Full Moon Fever. While having dinner with Lynne and Orbison, Harrison related how he needed to record a new track and wanted to do it the next day. Harrison asked if Lynne would help, and Orbison offered his old friend his hand as well, seeing how fun it would
Read Full Bio
In early April 1988, George Harrison was in Los Angeles and needed to record a B-side for a European 12-inch single. Jeff Lynne was also in Los Angeles writing and producing some tracks for Roy Orbison on his album Mystery Girl (released posthumously), as well as Tom Petty's first solo album, Full Moon Fever. While having dinner with Lynne and Orbison, Harrison related how he needed to record a new track and wanted to do it the next day. Harrison asked if Lynne would help, and Orbison offered his old friend his hand as well, seeing how fun it would be. Needing a studio on short notice, Harrison suggested they call Bob Dylan, who had a home studio. Dylan gladly let the group use his studio; and not wanting to intrude, Dylan asked kindly to join. After dinner, George stopped by Petty's house to pick up a guitar of his, and invited Petty along too. Gathering at Dylan's Malibu home the following day, they wrote and recorded the song "Handle With Care" in five hours, with all five sharing the vocals.

The track was considered too good to be used as a B-side, so Harrison decided to form a band and record another nine songs for an album. The group got together again for nine days in May, recording the basic tracks and vocals at Dave Stewart's home studio in Los Angeles. Overdubs and mixing were carried out in England at Harrison's home studio, FPSHOT (short for Friar Park Studio, Henley-on-Thames).

Masquerading as the Wilbury brothers, the participants would be known as Nelson (Harrison), Otis (Lynne), Lucky (Dylan), Lefty (Orbison), and Charlie T. Jr. (Petty) Wilbury with drummer Jim Keltner sitting in as Buster Sidebury. Harrison was no stranger to the use of alternate identities, as he had adopted them with Sgt. Pepper's Lonely Hearts Club Band and with his plethora of pseudonyms as a session musician, such as L'Angelo Misterioso, George O'Hara and Hari Georgeson. This concept, however, was taken a step further: their real names never appear anywhere on the album, liner notes, or even the songwriting credits.

With Harrison having the greatest claim to the band, he signed them up to Warner Bros. Records (which Petty eventually signed to himself, and which, through Reprise Records, released Lynne's solo album Armchair Theatre in 1990), his current label, and incorporated their own Wilbury Records label, in addition to producing the sessions with Lynne that spring.
Genre not found
Artist not found
Album not found
Search results not found
Song not found
Been beat up and battered 'round
Been sent up, and I've been shot down
You're the best thing that I've ever found
Handle me with care
Reputations changeable
Situations tolerable
Baby, you're adorable
Handle me with care
I'm so tired of being lonely
I still have some love to give
Won't you show me that you really care?
Everybody's got somebody to lean on
Put your body next to mine, and dream on
I've been fobbed off, and I've been fooled
I've been robbed and ridiculed
In daycare centers and night schools
Handle me with care
Been stuck in airports, terrorized
Sent to meetings, hypnotized
Overexposed, commercialized
Handle me with care
I'm so tired of being lonely
I still have some love to give
Won't you show me that you really care?
Everybody's got somebody to lean on
Put your body next to mine, and dream on
I've been uptight and made a mess
But I'll clean it up myself, I guess
Oh, the sweet smell of success
Handle me with care
Lyrics © BMG Rights Management, CONCORD MUSIC PUBLISHING LLC, Peermusic Publishing
Written by: Bob Dylan, George Harrison, Jeff Lynne, Roy K Orbison, Tom Petty

Lyrics Licensed & Provided by LyricFind
To comment on specific lyrics,
highlight them