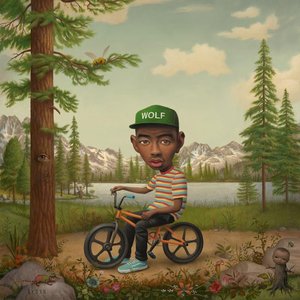 Wolf is the second studio album by American rapper Tyler, The Creator. It was released on April 2, 2013, by Odd Future Records, distributed by RED Distribution. Wolf is a set in a different direction compared to his other material. Bastard (2009) and Goblin (2011) respectively featured more violent content, while this album features a more production based sound and different themes. The album features guest appearances by Frank Ocean, Mike G, Domo Genesis, Earl Sweatshirt, Left Brain, Hodgy Beats, Erykah Badu, Casey Veggies and Pharrell. The album is produced solely by Tyler, The Creator, except for the final track
Read Full Bio
Wolf is the second studio album by American rapper Tyler, The Creator. It was released on April 2, 2013, by Odd Future Records, distributed by RED Distribution. Wolf is a set in a different direction compared to his other material. Bastard (2009) and Goblin (2011) respectively featured more violent content, while this album features a more production based sound and different themes.

The album features guest appearances by Frank Ocean, Mike G, Domo Genesis, Earl Sweatshirt, Left Brain, Hodgy Beats, Erykah Badu, Casey Veggies and Pharrell. The album is produced solely by Tyler, The Creator, except for the final track "Lone". The album was supported by a sole single "Domo23" along with additional music videos for "Bimmer", "IFHY", "Jamba", "Tamale" and "Answer". Wolf debuted at number 3 on the Billboard 200, selling 89,000 copies in its first week, and it received generally positive reviews from critics.
Genre not found
Artist not found
Album not found
Search results not found
Song not found
Fuck, fuck you, fuck you, fuck him
Fuck everything else I can see
I know, fuck you I hate you so fucking much
I know you think I'm crazy
'Cause I think you're a fucking fag
Sam the music sounds good man!
You've been practicing
Thanks
Sam, this is Wolf
He's new here
Sup b
Wolf this is Sam
Sam and his band have been here at Flog Gnaw for a while
Sam's gonna show you around while I fill out these last minute field trip slips, alright?
Now you guys have fun
So you guys are into jazz?
Look, Wolf, Prairie Dog, Ronzell
Whatever the fuck your name is
We don't fuck with you or anybody else here, alright?
You stay the fuck out of our way and we'll stay out of yours
Capisce?
Lyrics © Sony/ATV Music Publishing LLC
Written by: Tyler Okonma

Lyrics Licensed & Provided by LyricFind
To comment on specific lyrics,
highlight them