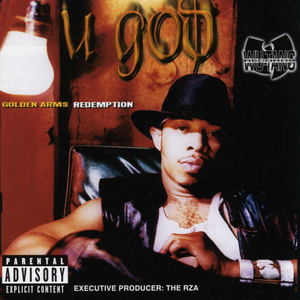 Lamont Jody Hawkins, better known as U-God, is an American rapper and member of the multi platinum hip hop collective, Wu-Tang Clan with over 12 million records sold worldwide. He has been with the group since its inception, and has been known for coming with strong verses on Clan albums as well as other members solo albums.

U-God was born in Brownsville, Brooklyn, New York. However he moved to Staten Island, New York as a youth. He was originally a beatboxer for clan affiliate Cappadonna
Read Full Bio
Lamont Jody Hawkins, better known as U-God, is an American rapper and member of the multi platinum hip hop collective, Wu-Tang Clan with over 12 million records sold worldwide. He has been with the group since its inception, and has been known for coming with strong verses on Clan albums as well as other members solo albums.

U-God was born in Brownsville, Brooklyn, New York. However he moved to Staten Island, New York as a youth. He was originally a beatboxer for clan affiliate Cappadonna, as well as being well known friends with future members Method Man, Inspectah Deck, and Raekwon. Sometime before the members united, U-God was mentored in rap by Cappadonna. He soon became friends with RZA and Ghostface Killah, and he began rhyming under the alias Golden Arms, based on the kung-fu movie The Kid with The Golden Arms. Later on narcotics possession prevented him from featuring heavily on the group's debut album Enter the Wu-Tang (36 Chambers), his input on the seminal LP consisting of only a short bridge on the group's debut single "Protect Ya Neck" in 1992 as well as the famous opening verse of "Da Mystery of Chessboxin'". Nevertheless, after his release he quickly became known to fans for his rugged flow and bass-like voice on Wu tracks such as "Winter Warz", "Knuckleheadz", "Investigative Reports", and "Black Jesus". He was featured heavily on the group's second album Wu-Tang Forever on which he was one of only four of the group to get a solo track - "Black Shampoo" (While the others being Inspectah Deck with "The City", Ol' Dirty Bastard with "Dog Shit" and RZA with "Sunshower"; clan affiliate and singer Tekitha sang 'Second Coming' solo). Around this time his young son was accidentally shot and injured, an ordeal the rapper documented on the Wu-Tang Clan track "A Better Tomorrow". He appeared with all the clan members during the VH1 Hip-Hop Honors, as well as on tour for the release of Wu Tang Clan's latest album, 8 Diagrams. U-God released his third studio album Dopium in 2009 and touring around the globe in support of 8 Diagrams. He released his fourth studio album Keynote Speaker in 2013.

Name: U-God
Real Name: Lamont Hawkins
Web: www.myspace.com/ugod
Genre not found
Artist not found
Album not found
Search results not found
Song not found
Enter U-God
U-God Lyrics
[U-God]
AW SHIT!
Now I got you tremble'n for the battle to begin
I'm not gonna leave this place with no sad face
'cause I'm gonna win
The battle everybody in the world just came to see
Golden Arms, (ah!) take out these cornwalled ass MC's
All y'all corns - walk out the door (ah!)
You run the same rhyme that the crowd don't want to hear no more
Gun blastin this and flashin that, reality now actually
You better listen, you better listen carefully
We came here (we came here), to dull the bass (ha, ha, ha)
And Mathematics catch the cut while RZA Ra just hold the bass
And I'm rhyme and on timin', it's so fresh from out the pack
Niggas got problems, 'cause the Wu is fighting back
Please don't sing (please don't sing), yo battle rap (ha, ha, ha)
We got the most, the sugar coated bully rhymes from out the back
And we breakin', and we taken everything you fuckin own
Not yo bitches, but yo FUCKIN' MICROPHONES!
[Talking]
y'all muthafuckas ready for the Redemption?
Bring it muthafucka *echos*
Yo Yo, dis you-God representin' that W
Tru, we comin' through, I'm comin' through
Wit the Redemption
This time it's me dolo solo here brah!
Guerilla Warfare you know how we do
Uptown, Downtown, Dirty South, LA, New York, Chi Town
We commin' through for this shit, represent (respresent)
Yo, Yo, Watch out! They let the hell out the gates
[Excerpt from '36 Chambers' Movie]
Now then, the Cheesaw have four chiefs
Number one is Golden Arms
Lyrics © O/B/O APRA/AMCOS

Lyrics Licensed & Provided by LyricFind
To comment on specific lyrics,
highlight them