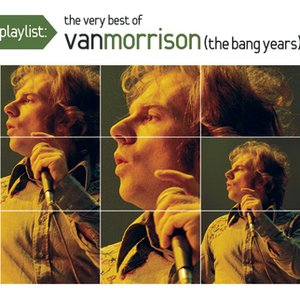 Playlist: The Very Best of Van Morrison
Sir George Ivan "Van" Morrison, OBE (generally known as Van Morrison or Van The Man) (born 31 August 1945) is a Grammy Award-winning artist from Belfast, Northern Ireland. He's a singer, songwriter, author, poet, and multi-instrumentalist, who has been a professional musician since 1958. He plays a variety of instruments, including the guitar, harmonica, keyboards, drums, and saxophone. Featuring his characteristic growl - a unique mix of folk, blues
Read Full Bio
Sir George Ivan "Van" Morrison, OBE (generally known as Van Morrison or Van The Man) (born 31 August 1945) is a Grammy Award-winning artist from Belfast, Northern Ireland. He's a singer, songwriter, author, poet, and multi-instrumentalist, who has been a professional musician since 1958. He plays a variety of instruments, including the guitar, harmonica, keyboards, drums, and saxophone. Featuring his characteristic growl - a unique mix of folk, blues, Irish, scat, and Celtic influences - Morrison is widely considered one of the most unusual and influential vocalists in the history of rock and roll. He has received numerous music awards during his career, including six Grammy Awards (1996–2007); inductions into the Rock and Roll Hall of Fame (January 1993), the Songwriters Hall of Fame (June 2003), and the Irish Music Hall of Fame (September 1999); and a Brit Award (February 1994).

Known as "Van the Man" by his fans, Morrison first rose to prominence as the lead singer of the Northern Irish band Them, writing their 1964 hit "Gloria". A few years later, Morrison left the band for a successful solo career, starting with the album Astral Weeks.

Morrison has pursued an idiosyncratic musical path. Much of his music is tightly structured around the conventions of American soul and R&B, such as the popular singles "Brown Eyed Girl", "Moondance", "Domino", and "Wild Night". An equal part of his catalogue consists of lengthy, loosely connected, spiritually inspired musical journeys that show the influence of Celtic tradition, jazz, and stream-of-consciousness narrative, such as his classic album Astral Weeks and lesser known works such as Veedon Fleece and Common One. The two strains together are sometimes referred to as "Celtic Soul," and Morrison rejects the characterization of his genre of music as Rock, citing Elvis Presley as a non-influence.

He continues to perform regularly and achieved his highest U.S. chart position (number ten on the Billboard 200) with his 2008 album, Keep It Simple.
Genre not found
Artist not found
Album not found
Search results not found
Song not found
The wine beneath the bed,
The things we've done and said
And all the memories that come glancing back to me
In my loneliness
You're standing in the breach
Beyond that stretch, but our love reach
Unconsciousness that find me sometimes wondering
Where you're at
Hmm, take me back again,
Take me back one more time, Spanish rose
The way you pulled the gate
Behind you when you said, "It ain't too late,
Come on, let's swing the town and have a ball tonight."
And hoping you'd come through
And many others, too,
And all the friends we used to have in days gone by,
I'm wondering
If you'll take me back again,
Take me back one more time, Spanish rose
And when the lights went out
And no one was abandoning the country in full bloom,
In the room we danced
And many hearts were torn
And when the word went around that everything was wrong
And just couldn't be put right
It tore me up, it tore me up
The way you held a note
The trembling in your throat,
That just beginning of your wondrous smile
The rising of the water
The winter winds of days gone by
I often ask myself and wonder why
It's gone
Oh take me back again
Take me back one more time, Spanish Rose.
In slumber you did sleep,
The window I did creep
And touch your raven hair and sang that song
Again to you
You did not even wince,
You thought I was the Prince
To come and take you from your misery
And lonely castle walls
Ah, take me back again,
Take me back one more time, Spanish rose
Ah ah, ah ah,
Mm, mm,
Da da da da da da da
Lyrics © Universal Music Publishing Group, Sony/ATV Music Publishing LLC
Written by: VAN MORRISON

Lyrics Licensed & Provided by LyricFind
To comment on specific lyrics,
highlight them