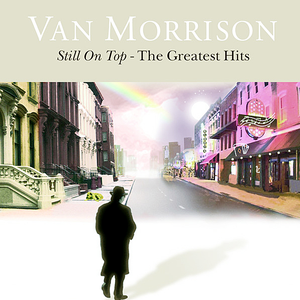 Still On Top - The Greatest Hits
Sir George Ivan "Van" Morrison, OBE (generally known as Van Morrison or Van The …
Read Full Bio ↴
Sir George Ivan "Van" Morrison, OBE (generally known as Van Morrison or Van The Man) (born 31 August 1945) is a Grammy Award-winning artist from Belfast, Northern Ireland. He's a singer, songwriter, author, poet, and multi-instrumentalist, who has been a professional musician since 1958. He plays a variety of instruments, including the guitar, harmonica, keyboards, drums, and saxophone. Featuring his characteristic growl - a unique mix of folk, blues, Irish, scat, and Celtic influences - Morrison is widely considered one of the most unusual and influential vocalists in the history of rock and roll. He has received numerous music awards during his career, including six Grammy Awards (1996–2007); inductions into the Rock and Roll Hall of Fame (January 1993), the Songwriters Hall of Fame (June 2003), and the Irish Music Hall of Fame (September 1999); and a Brit Award (February 1994).

Known as "Van the Man" by his fans, Morrison first rose to prominence as the lead singer of the Northern Irish band Them, writing their 1964 hit "Gloria". A few years later, Morrison left the band for a successful solo career, starting with the album Astral Weeks.

Morrison has pursued an idiosyncratic musical path. Much of his music is tightly structured around the conventions of American soul and R&B, such as the popular singles "Brown Eyed Girl", "Moondance", "Domino", and "Wild Night". An equal part of his catalogue consists of lengthy, loosely connected, spiritually inspired musical journeys that show the influence of Celtic tradition, jazz, and stream-of-consciousness narrative, such as his classic album Astral Weeks and lesser known works such as Veedon Fleece and Common One. The two strains together are sometimes referred to as "Celtic Soul," and Morrison rejects the characterization of his genre of music as Rock, citing Elvis Presley as a non-influence.

He continues to perform regularly and achieved his highest U.S. chart position (number ten on the Billboard 200) with his 2008 album, Keep It Simple.
Genre not found
Artist not found
Album not found
Search results not found
Song not found
Still On Top - The Greatest Hits
Van Morrison Lyrics
And It Stoned Me
Half a mile from the county fair And the rain came…
Baby Please Don't Go
Baby, please don't go Baby, please don't go Baby, please don…
Back On Top
You came to see me when the moon was new Saw…
Bright Side of the Road
From the dark end of the street To the bright side…
Brown Eyed Girl
Hey, where did we go? Days when the rains came Down in…
Celtic New Year
(Van Morrison) If I don't see you through the week See you…
Cleaning Windows
Oh, the smell of the bakery from across the street Got…
Crazy Love
I can hear her heart beat from a thousand miles Yeah,…
Days Like This
When it's not always raining there'll be days like this When…
Did Ye Get Healed?
I want to know did you get the feelin'? Did you…
Domino
Don't want to discuss it I think it's time for a…
Dweller On The Threshold
I'm a dweller on the threshold And I'm waiting at the…
Full Force Gale
Like a full force gale I was lifted up again I was…
Gloria
Like to tell you 'bout my baby You know she comes…
Have I Told You Lately
Have I told you lately that I love you Have I…
Here Comes the Night
Oooh, here it comes Here comes the night Here comes the nigh…
In The Garden
The streets are always wet with rain After a summer shower…
Into The Mystic
We were born before the wind Also younger than the sun Ere…
Irish Heartbeat
Oh won't you stay Stay a while with your own ones Don't…
Jackie Wilson Said (I'm in Heaven When You Smile)
Da, da, da, da, da, Jackie Wilson said It was "Reet-Petite" …
Little Village
Little village baby, ain't large enough to be a town From…
Moondance
Well, it's a marvelous night for a moondance With the stars…
Precious Time
Precious time is slipping away But you're only king for a…
Real Real Gone
Real real gone I got hit by a bow and arrow Got…
Saint Dominic's Preview
Shammy cleaning all the windows Singing songs about Edith Pi…
Someone Like You
I've been searching a long time Someone exactly like you I'v…
Stranded
I'm stranded at the edge of the world It's a world…
Tore Down a la Rimbaud
Showed me pictures in the gallery Showed me novels on the…
Tupelo Honey
You can take all the tea in China Put it in…
Vanlose Stairway
Send me your picture Send me your pillow Send it through kri…
Warm Love
Look at the ivy on the old clinging wall Look at…
Wavelength
This is a song about your wavelength And my wavelength, baby…
When Will I Ever Learn to Live in God
The sun was setting over Avalon The last time we stood…
Whenever God Shines His Light
Whenever God Shines His Light On Me Whenever God shines his…
Wild Night
As you brush your shoes, stand before the mirror And you…
Wonderful Remark
How can you stand the silence That pervades when we all…