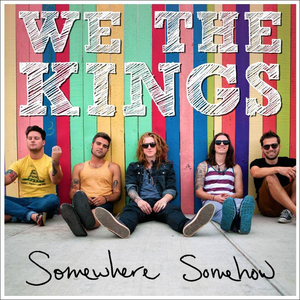 We the Kings is an American rock band from Bradenton, Florida, currently signed to record label S-Curve Records. The band has released six studio albums (the latest being 2018's "Six") and completed a variety of tours. We the Kings also sports their own miniature series of webisodes, called 'The King's Carriage," detailing life on their tour bus. Furthermore, on MTV, We The Kings appeared on the show Silent Library.

The band members (Travis Clark - Lead Vocals/Rhythm Guitar/Piano
Read Full Bio
We the Kings is an American rock band from Bradenton, Florida, currently signed to record label S-Curve Records. The band has released six studio albums (the latest being 2018's "Six") and completed a variety of tours. We the Kings also sports their own miniature series of webisodes, called 'The King's Carriage," detailing life on their tour bus. Furthermore, on MTV, We The Kings appeared on the show Silent Library.

The band members (Travis Clark - Lead Vocals/Rhythm Guitar/Piano, Hunter Thomsen - Lead Guitar ,Coley O'Toole - Backing Vocals/Piano, Charles Trippy - Bass, Danny Duncan - Drums) first met at Martha B. King Middle School in Bradenton, and their name refers to the school mascot. The group began playing together while at Manatee High School in the early 2000s, and landed on the PureVolume Top 10 list after hiring a manager.

Tours:
Touring with bands such as Metro Station and Valencia, We the Kings is on the path to success.
They have toured with All Time Low, Boys Like Girls, and The Audition; as well as Mayday Parade, Madina Lake, and Powerspace. They have also toured with Cobra Starship, The Cab, and Metro Station, and were on the 2008 Warped Tour line-up. They have toured with The Academy Is..., Carolina Liar, and Hey Monday on the "Bill and Trav's Bogus Journey Tour."
Genre not found
Artist not found
Album not found
Search results not found
Song not found
When the world fall into pieces
You'll be the one voice of reason
When I can't face all my demons
You are the one I believe in
Through the thunder and the rain
Together we fall together we fly away
Hold me closely
You are my one and only
You're the queen of hearts
Make me your king
You'll be the diamond
I got the ring
We could rule the world
Own everything
I'll be the Jay-Z
You'll be the B
'Cause you've got me upside down
I know you inside out
They'll call me crazy
But baby you saved me
Can't you see?
When the world fall into pieces
You'll be the one voice of reason
When I can't face all my demons
You are the one I believe in
Through the thunder and the rain
Together we fall together we fly away
Hold me closely
You are my one and only
Oh oh oh oh oh
One and only
Oh oh oh oh oh
You are my one and only
You're Mona Lisa
I'm Da Vinci
The smile on your face
Is all that I need
You could be my wild
I'd be your west
You know that I'd be your
Bulletproof vest
'Cause I've got you upside down
You've got me completely inside out
They call me crazy
But baby you saved me
Can't you see
When the world fall into pieces
You'll be the one voice of reason
When I can't face all my demons
You are the one I believe in
Through the thunder and the rain
Together we fall together we fly away
Hold me closely
You are my one and only
Oh oh oh oh oh
One and only
Oh oh oh oh oh
You are my one and only
You're everywhere I want to be
Even when you're far from me
I still hold you closer
Than you know
Well even if you wanna leave
I'd let you take that part of me
I know that it would kill me
But I'd swear I'd let you go
When the world fall into pieces
You'll be the one voice of reason
When I can't face all my demons
You are the one I believe in
Through the thunder and the rain
Together we fall together we fly away
Hold me closely
You are my one and only
Oh oh oh oh oh
One and only
Oh oh oh oh oh
You are my one and only
(Oh yeah, that's the one)
Lyrics © OBO APRA/AMCOS

Lyrics Licensed & Provided by LyricFind
To comment on specific lyrics,
highlight them