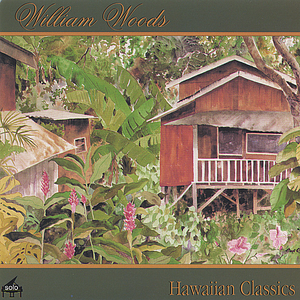 William Woods - Biography

The past few years have been very good for adult contemporary pianist/composer William Woods . His second CD, 'Cobalt Blue', was released to critical acclaim and picked up a Smoothie Award along the way. In addition, the first track lifted for radio play, 'Blue Me Down', was included by WJZW DJ Al Santos in his 2004 Top 50 Year End Countdown. His third release, the Top 40's 'Every Part Of Me', his first on the Whaling City Sound label received rave reviews including JazzTimes
Read Full Bio
William Woods - Biography

The past few years have been very good for adult contemporary pianist/composer William Woods . His second CD, 'Cobalt Blue', was released to critical acclaim and picked up a Smoothie Award along the way. In addition, the first track lifted for radio play, 'Blue Me Down', was included by WJZW DJ Al Santos in his 2004 Top 50 Year End Countdown. His third release, the Top 40's 'Every Part Of Me', his first on the Whaling City Sound label received rave reviews including JazzTimes, spent four months on the smooth jazz charts and was featured on the Music Choice cable network. Building on his success and momentum, he released his fourth and most compelling CD to date, 'The Hear and Now' on Whaling City Sound in September 2006.

Given that he is the son of professional violinist Lee Kanter, it's not surprising that Woods, who was born in Englewood, New Jersey, started out on strings. However at the age of nine he discovered a much greater affinity for piano and developed a passion for both improvisation and composition. A tragic side note to his musical development was written when, as a student of New York City composer and musicologist, Ernest Lubin, he arrived one day for class to find that his instructor had been murdered. He was able to move on from this horror and pursued his studies at Juilliard where he first performed some of his original works.

Woods graduated from Princeton and from Albert Einstein College of Medicine in New York. He works as a radiation oncologist treating cancer patients and, over the years, has found a satisfying balance between the rigorous schedule of a physician and the process of jazz composition and recording.

His music has been likened to 'an edgy brand of adult contemporary jazz that exists somewhere between a hip Boney James and a cerebral David Benoit' but this summation completely misses the point of where William Woods is at. Certainly there is some Benoit in there and at times a little Culbertson too but what Woods brings to the party is smooth jazz for grown ups and as such is far closer to Bob James or the sound of Fourplay.

'The Hear and Now' features Woods on piano and keyboards, Denny Jiosa on Guitar, Jeffrey Scott Wills on saxophone, Chris Kent on electric bass, Alana Rocklin on acoustic bass, Derico Watson on drums and Glen Caruba on percussion. Having touched down on the national charts, the CD made the New Age Sampler Top 20 list for October. The music provides a fresh approach to smooth jazz combining beauty, passion, grace and energy. Best of all, 50% of profits from the CD will go to Habitat for Humanity.
Genre not found
Artist not found
Album not found
Search results not found
Song not found
We have lyrics for 'Hawaii' by these artists:



Aisles There's a star in the sky Where I'll take you by…
Astro Oh, Ha-waii, quiero una ola que me lleve. Es la única…
Bijou Phillips He likes to argue She likes it loud He likes his bath…
Blackbird Blackbird Im moving on and on Im moving on and on And on Im…
Ciclo Radius Eu já me cansei de esperar em frente a igreja…
David Singer Outside. snow turns to slush in a day. the taxis…
DJ B.BOY Do you want to go Straight to Hawaii (Hawaii) Hawaii (Hawaii…
Don Ho I want to go back to my little grass shack…
Evan Roman theres no wrong when im acting shy theres no wrong when i…
Furslide I love to wake in the morning light the kind…
Haley Bonar 缂栬緫: marshallvivi QQ: 729410708 鐚?挭鍥炴潵鍚?鐙楃嫍涓€鐩村湪绛変綘 Take me …
Hard Core Logo Lets go to fucking Hawaii Go get drunk in the sun I…
Jan & Dean Hawaii's got two or three of my good years Hawaii Is whe…
Jesse Colin Young I want to go back to my little grass shack…
Las Pelotas Luna de miel en Hawaii, acariciando arena los billetes flo…
Last Perfect Thing Try to keep my focus In this not so ordinary day Time…
Lawrence Welk Night and you and Blue Hawaii The night is heavenly…
Lea Lu It's two o'clock in the morning and I cannot fall…
Max Webster The headaches are all gone And it's morning in this…
McIntyre Night and you and Blue Hawaii The night is heavenly and…
Mecano Hawaii-Bombay Son dos paraisos Que a veces yo Me monto en…
Meiko I wanna go to Hawaii Build my castle out of sand And…
Mew You know time goes by fast like rain. It swallows your…
Michael Hardinger Hawaii, en duft af ananas og karry en palme staar paa…
Petite Meller Baby, hi [?] Baby, hi [?] When I was young Always told the…
Songbird I wanna be in Hawaii I wanna be where no one…
Supla I want you I need you 'cause I need Something…
Supreme Boi 여긴 지금 하와이 I swim, I swim 내 곁에 이쁜 너도 같이 다이빙…
The Beach Boys Do you wanna go Straight to Hawaii (Hawaii) Hawaii (Hawaii) …
The Queers Do you wanna go Straight to Hawaii (Hawaii) Hawaii (Hawaii…
The Strokes Whether you're in L.A., Sunny laid back L.A. Whether you'r…
Tom Felton I woke this morning And much to my dismay, The snows been…
V/Acation I want to go back to my little grass shack…



We have lyrics for these tracks by William Woods:



Every Part of Me The way you know me The way you love me It's so…

The lyrics can frequently be found in the comments below, by filtering for lyric videos or browsing the comments in the different videos below.