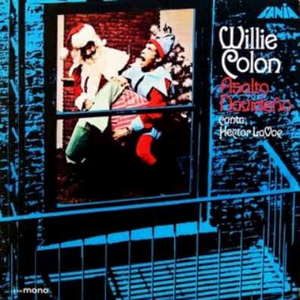 Trombone player, composer, and bandleader, William Anthony Colón Román (born Apr 28, 1950 in Bronx, NY, USA) was one of the pioneers of Latin American music. Despite initial criticism, Colón's album El Malo has become known as one of the first albums to feature the "New York Sound" that sparked a renewed interest in Latin music during the 1970s. Colón has been instrumental in the careers of such Latin musicians as Rubén Blades, who first sang with Colón's band in 1975
Read Full Bio
Trombone player, composer, and bandleader, William Anthony Colón Román (born Apr 28, 1950 in Bronx, NY, USA) was one of the pioneers of Latin American music. Despite initial criticism, Colón's album El Malo has become known as one of the first albums to feature the "New York Sound" that sparked a renewed interest in Latin music during the 1970s. Colón has been instrumental in the careers of such Latin musicians as Rubén Blades, who first sang with Colón's band in 1975, and Celia Cruz, for whom Colón has produced such albums as Only They Could Have Done This Album in 1977 and the highly successful duet album Celia & Willie in 1981. Colón has also produced albums for Ismael Miranda, Sophy, Soledad Bravo, and the late Hector Lavoe, who sang with his band in the early '70s. Inspired by the music of various cultures, Colón has recorded with such musicians as Puerto Rican cuatro player Yomo Toro and David Byrne. Colón's composition "Che Che Coli," adapted from a Ghanaian children's song, was used by Ntozake Shange in the musical play For Colored Girls Who Have Considered Suicide When the Rainbow Is Enuf. In addition to 11 Grammy nominations and one Grammy award, Colón has received a CHUBB fellowship from Yale University, the most prestigious award given by the Ivy League school. Colón ran for the United States Congress, representing New York's 17th Congressional District, in 1992.

Starting to play the trumpet at the age of 12, Colón switched to the trombone two years later. Making his recording debut in 1967, for Al Santiago's Futura label, Colón became a victim of misfortune when the label folded. Colón was much more successful when he signed with Johnny Pacheco's Fania label. When his vocalist failed to make Colón's first session for the label, Pacheco suggested Hector Lavoe as a replacement. The collaboration proved fruitful when two singles from Colón's first two albums (El Malo, Guisando) — "Jazzy" and "I Wish I Had a Watermelon" — became hits. Lavoe remained a vital member of Colón's band until the mid-'70s when an increased drug addiction caused him to miss or show up late for several gigs. Although their partnership formally ended in 1975, Colón and Lavoe continued to work together. Lavoe's last album, Strikes Back, released in 1987, was produced by Colón.

In 1975, Colón balanced his schedule as director of the Latin Jazz All Stars with studies in music theory, composition, and orchestration. His increased knowledge paid off quickly. In 1978, Colón was named Musician, Producer, and Trombone Player of the Year in a readers poll conducted by Latin New York. Three years later, he received an award as Musician of the Year and his album Fantasmas was named Album of the Year. Colón continued to garner acclaim when his album Canciones del Solar de los Aburridos received a Grammy award in 1982.

Although they met backstage before a concert in Panama in 1969, Colón and Blades didn't begin collaborating until five years later. While working on the album The Good-The Bad-The Ugly, Colón asked Blades to sing on the Blades-penned tune "El Cazanguero," which reflected on Blades' experiences as a law student working in a Panamanian prison. The session was so satisfying that Blades became a full-time member of Colón's band following the departure of Lavoe. Their 1978 album Siembra became the top-selling album in Fania's catalog. Despite their success, Blades severely quarreled with label president Jerry Mascucci over money. Although Colón recorded two solo albums — El Baquine de Angelitos Negros in 1977 and Solo in 1979 — and Blades recorded a solo album, Maestra Vida, in 1980, their solo work failed to match the commercial success of their joint efforts.

In 1981, the two musicians resumed their partnership with Blades playing coro on Colón's solo album Fantasmas. The following year, they collaborated on the Grammy-winning album Canciones del Solar de los Aburridos, which yielded the hits singles "Tiburon," "Ligia Elena," and "Te Estan Buscando." Their partnership again proved short-lived as Colón and Blades split up after working on the film The Last Fight. The split was far from amiable and the two musicians continued to feud until reuniting for a concert at the Hiram Bithorn Stadium in San Juan in March 1992. Despite collaborating on the album Tras la Tormenta in 1995, Colón and Blades recorded their parts separately. Following a reunion concert at the Hollywood Bowl in 1997, Colón and Blades performed a series of concerts together.

In the late '80s, Colón formed a new band, Legal Aliens, with younger musicians. Signing with Sony, Colón and the band recorded Color Americano in 1990 and Honra y Cultura in 1991. Two years later, Colón recorded Hecho en Puerto Rico with an all-star band featuring ex-members of the Fania All-Stars, Papo Lucca and Bobby Valentin. Since leaving Sony over a lack of promotional support, Colón continued to remain active.
Genre not found
Artist not found
Album not found
Search results not found
Song not found
We have lyrics for 'Introducción' by these artists:



Dennis Lloyd Recuerdo el tiempo contigo Los buenos tiempos, los malos tie…
Heavysaurios -Hola a todos! -Hola. -Hola, Mr Heavysaurio. -Perdón por la …
Lafourcade Natalia Me escondí otra vez bajo de un papel para que no…
Los Tigres Del Norte Nosotros somos Los Tigres del Norte 50 años después del conc…
Paulina Rubio Planeta Paulina ¿Me recuerdas? Planeta Paulina Planeta Pa…



We have lyrics for these tracks by Willie Colón:



Abuelita Cruisin' down the street in my 6-4 Jockin' the freaks, cloc…
Aguanile Aguanile, aguanile Santo Dios, santo fuerte, santo inmortal…
Aguijon (Aguijon ni enfermo o no el no se pierde ni…
Ah Ah O No Dices que me quieres Se que no puede ser Pero cuendo tu…
Ah Ah/Oh No Dices que me quieres Se que no puede ser Pero cuando tu…
Ah-Ah / O-No Dices que me quieres Se que no puede ser Pero cuendo tu…
Aires de Navidad Ya van a empezar las fiestas Las fiestas de navidad…
Amor Verdadero Uhlalalalalauhla Me da pena preguntarte Tal vez te haga rei…
Asi Es La Vida Ni hablar compay, Asi es la vida Coro: Que va, que va, no c…
Asia Veo tu cara en la plaza, no me atrevi a…
Atrapado No sabe hace cuánto tiempo entró en el negocio, La verdad…
Ausencia Ha terminado otro capítulo en mi vida la mujer que amaba…
Barrunto Barrunto en mi corazón Presentimiento De que pronto llegar…
Buscando Guayaba Me fui pa'l monte buscando guayaba Por la vereda del 8…
Calle Luna Calle Sol Mete la mano en el bolsillo saca y abre tu cuchillo…
Canto A Borinquen Borinquen te quiero porque en ti nací y en ti fue que…
Casanova Siempre hablando de que lindo eres, Que anoche saliste con …
Celo Celo Ya ves lo que has hecho A vuelto mi mundo alrevez Matas…
Che Che Cole Vamos todos a bailar Al estilo Africano Si no lo sabes baila…
Cueste Lo Que Cueste Cuánto me cuesta dejarte Hoy que se cumple la historia Dicen…
Demasiado Corazón Ninguna de estas calles tiene nombre, Ninguna de estas sombr…
Desde Hoy Atras quedan tantos años El dolor el desengaño Y la pena de…
Dime Dime cómo me arranco del alma esta pena de amor Esta…
El día de mi suerte Pronto llegará, El día de mi suerte Sé que antes…
El Dia De Suerte Pronto llegará El día de mi suerte Sé que antes de…
El Entierro En el entierro habían más de mil, el chocolate por poco…
El Gran Baron En la sala de un hospital a las 9:43 nació…
El malo No hay problema en el barrio Que quien se llama El…
El Titan Jugué con un jugador con 60 años que juega traté de ganarle…
Eso Se Baila Asi Que una jeva que yo tengo, me dijo: Héctor ven acá, que…
Falta De Consideración Al conocerte, por primera vez Que persona mas chevere Eso pe…
Gitana Por si un día me muero Y tú lees este papel Que…
Gran Varon En la sala de un hospital a las 9:43 nació…
Guajiron Guajirón guajira son, guajirón cubano. ¡Eh! que rico y s…
Guisando Señores voy a contarles lo que le pasó a Vicente El…
Hasta Que Te Conoci No sabia, de tristezas, ni de lagrimas, Ni nada, que me…
Idilio Solo me alienta el deseo divino de hacerte mía Mas me…
Juana Pena Ella era una mujer que a muchos hombres había engañado pero…
Juanito Alimana La calle es una selva de cemento Y de fieras…
La Banda Llegó la banda tocando salsa Para que entren en la bachata …
La Mora Óyeme mora! Acaba de llega' que hace rato estoy esperando…
La Murga Vamos a bailar La Murga La Murga de Panamá Los muchachos se…
Ligia Elena Ligia Elena, la cándida niña de la sociedad Se ha fugado…
Lluvia De Tu Cielo Era un bohío tras un cafetal muy triste y sombrío…
Malo No hay problema en el barrio Que quien se llama El…
Maria Lionza En la montaña de Sorte por Yaracuy En Venezuela, vive una…
Mi Sueno Yo quiero esconderme nena bajo de tus alas para huir…
Montero (Vengo del monte, montero Con Jala jala caliente) (Jala jala…
Murga Vamos a bailar La Murga La Murga de Panamá Los muchachos s…
Navaja Pedro Por la esquina del viejo barrio lo vi pasar Con el…
No Esta vez Protesta no es simplemente lo que quiero También qu…
No Me Digan Que Es Muy Tarde No me digan que es muy tarde ya Para hallar otro…
Oh Que Sera Yo creo en muchas cosas que no he visto, y…
Oh Qué Será? Yo creo en muchas cosas que no he visto Y ustedes…
Ojos Hay ojos de miles miradas Cristales que observan al mundo p…
Pa Los Pueblos Quiero saludar A todos los pueblos En las navidades Y en el …
Pablo Pueblo Muchas gracias, thank you very much Ahora, now Le vamos a in…
Panamena CORO: Vamos a bailar la murga la murga del Panamà …
Pedro Navaja Por la esquina del viejo barrio lo vi pasar Con el…
Pena De Amor Solo me alienta el deseo divino de acerte mía Más me…
Primera Noche De Amor Tus labios dijeron, lo que pensabas. Tus ojos expresaron lo …
Que Lio Qué problema, caballero En el que me encuentro yo Decía Ra…
Ran Kan Kan Ran kan kan kan, kan kan Pero suenan, suenan los timbales …
Se Acaba Este Mundo El mundo, el mundo... se va a acabar (¡Ay Dios!) Con…
Serenata La luna va surgiendo color de plata, Lo alto en la…
Si Te Contara Si tu supieras Mi sufrimiento Si te contara La pena t…
Sin Poderte Hablar Se que no debo decir Lo que dicta mi emoción Siento que…
Sonero Mayor A todos los criticones que me quieran criticar, llegó el son…
Sueño de Papelote Cuando niño ya tenía en el mirar Esa loca fantasía de…
Talento de Television No tiene talento pero muy buena mosa Tiene buen cuerpo y…
Talento de TV No tiene talento pero muy buena mosa Tiene buen cuerpo y…
Te Conozco Yo te conozco bacalao no vengas con pugilatos, que tu vienes…
Tiempo Pa' Matar Por la tarde no hay nada Salgo a buscar mis panas Nos…
Timbalero Timbalero, prepárate Timbalero, no pierdas tiempo Pronto lle…
Todo Tiene Su Final Todo tiene su final Nada dura para siempre Tenemos que recor…
Traigo La Salsa Lolelo la la la, lolelo la la la lolelo la la…
Tras La Tormenta Si el cielo se pone oscuro, no tengas miedo No le…
Usted Abuso Usted abusó, sacó provecho de mí, abusó Sacó partido de mí…
Voló Llegó, llegó Una pobre campesina es de Nueva York Y se creyó…
Yo Sin Tí Tu cariño es una promesa que me atraviesa, que navega de cos…
Yo Te Podria Decir Yo te podria decir que este amor tuyo es tal…
¿Oh qué será? Yo creo en muchas cosas que no he visto, y…

The lyrics can frequently be found in the comments below, by filtering for lyric videos or browsing the comments in the different videos below.