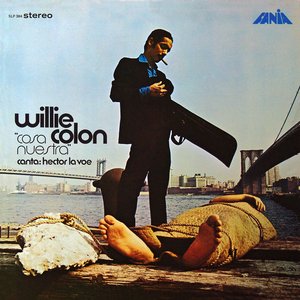 Trombone player, composer, and bandleader, William Anthony Colón Román (born Apr 28, 1950 in Bronx, NY, USA) was one of the pioneers of Latin American music. Despite initial criticism, Colón's album El Malo has become known as one of the first albums to feature the "New York Sound" that sparked a renewed interest in Latin music during the 1970s. Colón has been instrumental in the careers of such Latin musicians as Rubén Blades, who first sang with Colón's band in 1975, and Celia Cruz, for whom Colón has produced such albums as Only They Could Have Done This Album in
Read Full Bio
Trombone player, composer, and bandleader, William Anthony Colón Román (born Apr 28, 1950 in Bronx, NY, USA) was one of the pioneers of Latin American music. Despite initial criticism, Colón's album El Malo has become known as one of the first albums to feature the "New York Sound" that sparked a renewed interest in Latin music during the 1970s. Colón has been instrumental in the careers of such Latin musicians as Rubén Blades, who first sang with Colón's band in 1975, and Celia Cruz, for whom Colón has produced such albums as Only They Could Have Done This Album in 1977 and the highly successful duet album Celia & Willie in 1981. Colón has also produced albums for Ismael Miranda, Sophy, Soledad Bravo, and the late Hector Lavoe, who sang with his band in the early '70s. Inspired by the music of various cultures, Colón has recorded with such musicians as Puerto Rican cuatro player Yomo Toro and David Byrne. Colón's composition "Che Che Coli," adapted from a Ghanaian children's song, was used by Ntozake Shange in the musical play For Colored Girls Who Have Considered Suicide When the Rainbow Is Enuf. In addition to 11 Grammy nominations and one Grammy award, Colón has received a CHUBB fellowship from Yale University, the most prestigious award given by the Ivy League school. Colón ran for the United States Congress, representing New York's 17th Congressional District, in 1992.

Starting to play the trumpet at the age of 12, Colón switched to the trombone two years later. Making his recording debut in 1967, for Al Santiago's Futura label, Colón became a victim of misfortune when the label folded. Colón was much more successful when he signed with Johnny Pacheco's Fania label. When his vocalist failed to make Colón's first session for the label, Pacheco suggested Hector Lavoe as a replacement. The collaboration proved fruitful when two singles from Colón's first two albums (El Malo, Guisando) — "Jazzy" and "I Wish I Had a Watermelon" — became hits. Lavoe remained a vital member of Colón's band until the mid-'70s when an increased drug addiction caused him to miss or show up late for several gigs. Although their partnership formally ended in 1975, Colón and Lavoe continued to work together. Lavoe's last album, Strikes Back, released in 1987, was produced by Colón.

In 1975, Colón balanced his schedule as director of the Latin Jazz All Stars with studies in music theory, composition, and orchestration. His increased knowledge paid off quickly. In 1978, Colón was named Musician, Producer, and Trombone Player of the Year in a readers poll conducted by Latin New York. Three years later, he received an award as Musician of the Year and his album Fantasmas was named Album of the Year. Colón continued to garner acclaim when his album Canciones del Solar de los Aburridos received a Grammy award in 1982.

Although they met backstage before a concert in Panama in 1969, Colón and Blades didn't begin collaborating until five years later. While working on the album The Good-The Bad-The Ugly, Colón asked Blades to sing on the Blades-penned tune "El Cazanguero," which reflected on Blades' experiences as a law student working in a Panamanian prison. The session was so satisfying that Blades became a full-time member of Colón's band following the departure of Lavoe. Their 1978 album Siembra became the top-selling album in Fania's catalog. Despite their success, Blades severely quarreled with label president Jerry Mascucci over money. Although Colón recorded two solo albums — El Baquine de Angelitos Negros in 1977 and Solo in 1979 — and Blades recorded a solo album, Maestra Vida, in 1980, their solo work failed to match the commercial success of their joint efforts.

In 1981, the two musicians resumed their partnership with Blades playing coro on Colón's solo album Fantasmas. The following year, they collaborated on the Grammy-winning album Canciones del Solar de los Aburridos, which yielded the hits singles "Tiburon," "Ligia Elena," and "Te Estan Buscando." Their partnership again proved short-lived as Colón and Blades split up after working on the film The Last Fight. The split was far from amiable and the two musicians continued to feud until reuniting for a concert at the Hiram Bithorn Stadium in San Juan in March 1992. Despite collaborating on the album Tras la Tormenta in 1995, Colón and Blades recorded their parts separately. Following a reunion concert at the Hollywood Bowl in 1997, Colón and Blades performed a series of concerts together.

In the late '80s, Colón formed a new band, Legal Aliens, with younger musicians. Signing with Sony, Colón and the band recorded Color Americano in 1990 and Honra y Cultura in 1991. Two years later, Colón recorded Hecho en Puerto Rico with an all-star band featuring ex-members of the Fania All-Stars, Papo Lucca and Bobby Valentin. Since leaving Sony over a lack of promotional support, Colón continued to remain active.
Genre not found
Artist not found
Album not found
Search results not found
Song not found
Vamos todos a bailar
Al estilo Africano
Si no lo sabes bailar
Yo te enseñaré mi hermano
A ti te gusta la bomba
Y te gusta el baquiné
Para que goces ahora
Africano es el bembé
Che che colé, (que bueno e')
Che che cofriza (muerto e' la risa)
Coqui saranga (ay viene la malanga)
Caca chilanga (viene de catanga)
Ayeiye, (a ver e' tu lo ve)
Che che colé, (que bueno e')
Che che cofriza, (muerto e' la risa)
Coqui saranga, (coqui saranga)
Caca chilanga, (caca chilanga)
Ayeiye, (a ver e' tu lo ve)
Oye tú sentado allá
Pareces venezolano
Ven aquí vamo' a bailar
Que todos somos hermanos
Lo bailan en Venezuela
Lo bailan en Panamá
Este ritmo es africano
Y donde quiera va' acabar
Che che colé
Che che cofriza
Coqui saranga
Caca chilanga
Ayeiye,
Che che colé
Che che cofriza
Coqui saranga
Caca chilanga
Ya yo sé que te gustó
Quieres bailarlo otra vez
Báilalo en la punta del pie
Y veras que bueno es
Ya yo sé que te gustó
Quieres bailarlo otra vez
Pues ponte bien los zapatos
Que los tienes al revés
Che che colé (que bueno e')
Che che cofriza (muerto e' la risa)
Coqui saranga (ay viene la malanga)
Caca chilanga (viene de catanga)
Ayeiye, (a ver e' tu lo ve)
Che che colé, (que bueno e')
Che che cofriza (muerto e' la risa)
Coqui saranga (ay viene la malanga)
Caca chilanga (viene de catanga)
Ayeiye, (a ver e' tu lo ve)
Lyrics © Universal Music Publishing Group, CONCORD MUSIC PUBLISHING LLC
Written by: Willie Colon

Lyrics Licensed & Provided by LyricFind
To comment on specific lyrics,
highlight them