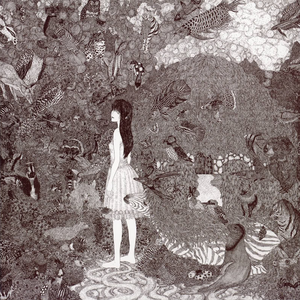 World's End Girlfriend is a Japanese composer whose work blends complex sound structures with beautiful melodies, reaching from electronic glitch to jazz-infused rock to modern classical. Captivating, enthralling and like nothing you've heard before, WEG makes for a surprising yet central addition to London contemporary music label Erased Tapes.

His brand new album 'SEVEN IDIOTS' will finally be released outside of Japan this April. Shifting seamlessly from catchy pop hooks to elaborate orchestrations and brutal IDM drones
Read Full Bio
World's End Girlfriend is a Japanese composer whose work blends complex sound structures with beautiful melodies, reaching from electronic glitch to jazz-infused rock to modern classical. Captivating, enthralling and like nothing you've heard before, WEG makes for a surprising yet central addition to London contemporary music label Erased Tapes.

His brand new album 'SEVEN IDIOTS' will finally be released outside of Japan this April. Shifting seamlessly from catchy pop hooks to elaborate orchestrations and brutal IDM drones, it's an irregular pop album – filled with twists and turns that will have you reaching for the repeat button. At first recorded with vocals, he took the unusual composing method of building up the songs before erasing all of their vocal parts. By dismantling and re-constructing each track, WEG has produced a genre-defying album that truly transcends categorisation.

World's End Girlfriend hails from Nagasaki Kyushu, Japan and currently resides in Tokyo. Fascinated by his father's classical music collection, he began his foray into sound at the tender age of 10, creating his early compositions on keyboard, guitar, tape recorders and computers. To date he has composed more than 600 songs, for the most part unreleased testaments of his early experimentations.

WEG first came on Europe's radar in 2002, invited to perform at Barcelona's renowned Sonar Festival. On the back of the collaborative album 'Palmless Prayer / Mass Murder Refrain' with Japanese post-rock band Mono, he embarked on extensive tours in Europe and North America in 2005, returning for an appearance at ATP Festival in 2008. Recently performing as a seven-piece ensemble, WEG's ostentious live show is currently selling out 800 capacity venues in Asia. Filmmakers seem smitten too, with the Go Shibata directed movie 'Late Bloomer' (2004) and the internationally renowned 'Air Doll' (2009) by award-winning director Hirokazu Koreeda both featuring soundtracks created by World's End Girlfriend.

The music video for 'Les Enfants du Paradis', taken from 'SEVEN IDIOTS', has already received over 90.000 views on YouTube. Directed by Yohei Saito, this beguiling visual represents the high level of interest given to WEG's music, not widely available outside of Asia – until now.




'The one album that would turn the entire music world on its head' (8.5/10) #6 Top 100 Releases – The Silent Ballet (US)

'There are few artists who can make a human being as overjoyed, ardent, or terrified as Katsuhiko Maeda through the sheer art of music. …there is no other conscientious artist in activity that crafts music in the same distinctive style as World's End Girlfriend' (8/10) – PopMatters (US)

'A defining statement and a full-length that has more than realised his potential to be one of the most unique and vital solo artists in modern music' (9/10) – Contact Music (UK)

'World's End Girlfriend sign to the label renowned for its recognition of innovative acts... and promises to blend sideways pop with strange and addictive hooks' – Bearded Magazine (UK)
Genre not found
Artist not found
Album not found
Search results not found
Song not found
We have lyrics for 'Wandering' by these artists:



A_Rival Unreachable Now I'm on the other side... And I just realized…
Ben Folds She's a million miles away From me Separated by a…
City Calm Down Like a rat in a cage I'm easily satisfied, you know So…
Frank Sinatra Sometimes I think that I'm on the right track, But I…
Head Phones President Is the style my own style Is the style Your style Your o…
Hungry Lucy You always said you'd rescue me someday Did you forget, or…
James Taylor I've been wandering early and late From New York City…
Jude Shuma She always leaves Leaves me lying oh I'm trying I cannot see…
Lethian Dreams The long September evening dies In mist along the fields an…
Menam Driving lonely Imploring spirits of my destiny As far as m…
Paige Aufhammer I've seen these streets before, So many streets I've tread …
Peter Breinholt Now I've been wandering For miles on the road And I'v…
Radical Face I fall asleep in a comforting mess The room is yellow…
Radici nel cemento Wandering, you just a' wandering Wandering, you just a' wan…
Reef Walking homeward. When will I see my home again? I've been…
Sunbeam Sound Machine Feeling more late I know, I know, That half of the time The…
Susan James Hey little honey, take a ride with me Travel down roads…
Taarka Oh snakes in the mountain eels in the sea I was a…
The Hidden Cameras I had this feeling of life Wandering Through the field of …
Tim O'Brien My pathway leads into the west They say it never really…



We have lyrics for these tracks by World's End Girlfriend:



Call Past Rain Call Past Rain 2:45 遠い記憶  To ii kioku A distant memor…

The lyrics can frequently be found in the comments below, by filtering for lyric videos or browsing the comments in the different videos below.