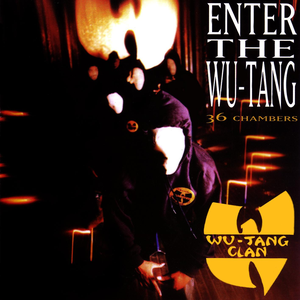 Enter the Wu-Tang (36 Chambers)
Enter the Wu-Tang (36 Chambers) is the legendary debut album of American hip hop group Wu-Tang Clan, released November 9, 1993 on Loud Records and distributed through RCA Records. Recording sessions for the album took place during 1992 to 1993 at Firehouse Studio in New York City, and it was mastered at The Hit Factory. The album's title originates from the martial arts film The 36th Chamber of Shaolin (1978). The group's de facto leader RZA, also known as Prince Rakeem
Read Full Bio
Enter the Wu-Tang (36 Chambers) is the legendary debut album of American hip hop group Wu-Tang Clan, released November 9, 1993 on Loud Records and distributed through RCA Records. Recording sessions for the album took place during 1992 to 1993 at Firehouse Studio in New York City, and it was mastered at The Hit Factory. The album's title originates from the martial arts film The 36th Chamber of Shaolin (1978). The group's de facto leader RZA, also known as Prince Rakeem, produced the album entirely with heavy, eerie beats and a sound largely based on martial-arts movie clips and soul music samples.

The distinctive sound of Enter the Wu-Tang (36 Chambers) created a blueprint for hardcore hip hop during the 1990s and helped return New York City hip hop to national prominence. Its sound also became hugely influential in modern hip hop production, while the group members' explicit, humorous, and free-associative lyrics have served as a template for many subsequent hip hop records. Serving as a landmark record in the era of hip hop known as the East Coast Renaissance, its influence helped lead the way for several other East Coast hip hop artists, including Nas, The Notorious B.I.G., Mobb Deep, and Jay-Z.

Despite its raw, underground sound, the album had surprising chart success, peaking at number 41 on the U.S. Billboard 200 chart. By 1995, it was certified platinum in sales by the Recording Industry Association of America (RIAA), after sales of 1 million copies. Although it initially received some mixed criticism, Enter the Wu-Tang (36 Chambers) has been regarded by music writers as one of the most significant albums of the 1990s, as well as one of the greatest hip hop albums of all-time. In 2003, the album was ranked number 386 on Rolling Stone magazine's list of the 500 greatest albums of all time.
Genre not found
Artist not found
Album not found
Search results not found
Song not found
Shaolin shadowboxing, and the Wu-Tang sword style
If what you say is true,
The Shaolin and the Wu-Tang could be dangerous
Do you think your Wu-Tang sword can defeat me?
En garde, I'll let you try my Wu-Tang style
Bring da motherfuckin' ruckus
Ghostface, catch the blast of a hype verse
My glock bursts, leave in a hearse, I did worse
I come rough, tough like an elephant tusk
Ya head rush, fly like Egyptian musk
Aw shit, Wu-Tang Clan spark the wicks an'
However, I master the trick just like Nixon
Causin' terror, quick damage ya whole era
Hardrocks is locked the fuck up, or found shot
P.L.O. style, hazardous, cause I wreck this dangerous
I blow sparks like Waco, Texas
I watch my back like I'm locked down, hardcore
Hittin' sound, watch me act bugged, and tear it down
A literate type asshole, songs goin' gold, no doubt
And you watch a corny nigga fold
Yeah, they fake and all that
Carryin' gats but yo, my Clan
Rollin like forty Macs
Now ya act convinced, I guess it makes sense
Wu-Tang, yo suu, represent
I wait for one to act up
Now I got him backed up
Gun to his neck now, react what?
And that's one in the chamber
Wu-Tang banger, 36 styles of danger
Bring da motherfuckin' ruckus
I rip it hardcore, like porno-flick bitches
I roll with groups of ghetto bastards with biscuits
Check it, my method on the microphone's bangin'
Wu-Tang slang'll leave your headpiece hangin'
Bust this, I'm kickin' like Segal, Out For Justice
The roughness, yes, the rudeness, ruckus
Redrum, I verbally assault with the tongue
Murder one, my style shot ya knot like a stun-gun
I'm hectic, I wreck it with the quickness
Set it on the microphone, and competition get blown
By this nasty ass nigga with my nigga, the RZA
Charged like a bull and got pull like a trigga
So bad, stabbin' up the pad with the vocab, crab
I scream on ya ass like your dad, bring it on
Bring da motherfuckin' ruckus
Yo, I'm more rugged than slave man boots
New recruits, I'm fuckin' up MC troops
I break loops, and trample shit, while I stomp!
A mud hole in that ass, cause I'm straight out the swamp
Creepin' up on site, now it's Fright Night
My Wu-Tang slang is mad fuckin' dangerous
And more deadly than the stroke of an axe
Choppin' through ya back swish
Givin' bystanders heart-attacks
Niggas try to flip, tell me who is him
I blow up his fuckin' prism
Make it a vicious act of terrorism
You want to bring it, so fuck it
Come on and bring the ruckus
And I provoke niggaz to kick buckets
I'm wettin' cream, I ain't wettin' fame
Who sellin' gain, I'm givin' out a deadly game
It's not the Russian it's the Wu-Tang crushin'
Roulette, slip up and get fucked like Suzette
Bring da fuckin' ruckus
Bring da motherfuckin' ruckus
So bring it on
Punk nigga!
Lyrics © Universal Music Publishing Group, Downtown Music Publishing
Written by: Clifford Smith, Corey Woods, Dennis David Coles, Gary E. Grice, Jason Hunter, Lamont Hawkins, Robert F. Diggs, Russell T. Jones

Lyrics Licensed & Provided by LyricFind
To comment on specific lyrics,
highlight them