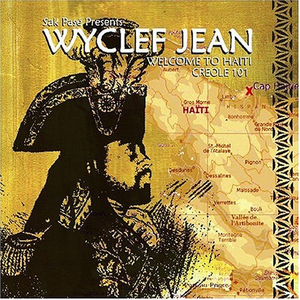 Welcome To Haiti Creole 101
Welcome to Haiti: Creole 101 is the artist Wyclef Jean's fifth studio album. It was released in 2004, and has strong Caribbean influences. Several of the songs are in Jean's mother tongue, Haiti Creol.

Track Listing
1. "Jean Dominique Intro"
2. "24 é Tan Pou Viv"
3. "President"
4. "Bicentennial" (Featuring Sweet Mickey)
5. "Generation X"
6. "Party By The Sea" (Featuring T-Vice & Buju Banton)
7. "Haitian Mafia" (Featuring Foxy Brown)
Read Full Bio
Welcome to Haiti: Creole 101 is the artist Wyclef Jean's fifth studio album. It was released in 2004, and has strong Caribbean influences. Several of the songs are in Jean's mother tongue, Haiti Creol.

Track Listing
1. "Jean Dominique Intro"
2. "24 é Tan Pou Viv"
3. "President"
4. "Bicentennial" (Featuring Sweet Mickey)
5. "Generation X"
6. "Party By The Sea" (Featuring T-Vice & Buju Banton)
7. "Haitian Mafia" (Featuring Foxy Brown)
8. "Le Ou Marye"
9. "Fistibal Festival" (Featuring Melky & Bud)
10. "La Bamba" (Featuring Ro-K & Gammy)
11. "Bay Micro'm Volume"
12. "Proud To Be African" (Featuring 2Face, Sound Sultan & Faze)
13. "Douce"
14. "Lavi New York" (Featuring Buggah)
15. "Kreyol" (Featuring Admiral T)
16. "Nou Va Rive"
17. "President Remix" (Bonus Track)
Genre not found
Artist not found
Album not found
Search results not found
Song not found
Jean Dominique Intro
Wyclef Jean Lyrics
Ehhhh, zhe, zhe, zhe, zhe
I was four, four years old
When the Marine left Haiti, the U.S. Marine left Haiti
I was a kid and every time a Marine battalion passed in front of the house
My father took my hand and said,
"Don't look at that, don't look at that."
And every May 18, which is the flag day, the father came
Put the Haitian flag in front of the house
And I said, "Father, what is that, what does that mean for you?"
And he said,"That means that you are Haitian.
That mean that my great grandfather fought at Vertières
Never forget that.
You are Haitian. You are from this land.
You are not French, you are not British, you are not American
You are Haitian."
Contributed by Nicholas G. Suggest a correction in the comments below.
To comment on specific lyrics,
highlight them