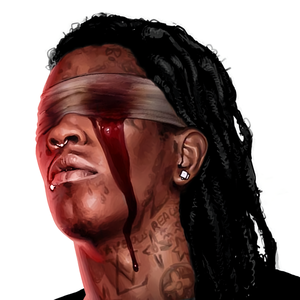 Slime Season 3 is a mixtape by American rapper Young Thug. It was released on March 25, 2016 as the final installment in the Slime Season series. The project consists of eight tracks, with guest appearances from Yak Gotti, Duke and PeeWee Roscoe, and production from Mike Will Made-It, London On Da Track, Allen Ritter, Isaac Flame & MariiBeatz.
Genre not found
Artist not found
Album not found
Search results not found
Song not found
Thugger Thugger baby
Fuck all that let's get to it
What lil' shawty say?
She suck on that dick on the plane and I just called her airhead (Woo!)
I just went hunting, I found me a rabbit, I picked out the carrots
I'm just tired of smoking kush, I need some Moonrock out in Cali
I got a white bitch and she give me that Becky but her name is Sari
I pimp, I don't play with them
She bad, I might stay with her
Stack it up like a Lego, yeah
Homicide, you can lay with them
Got some hoes, you can slay with them
You know that we players, we paying them
She can't be my wife, I can't lay in there
Diamonds all black like I'm racist now
Riding through the city, windows tinted, AC blast
I got bitches wanna fuck me, so so wrong, do me bad
I got cash in my pants, I got cash on her ass
AP dance, bitches glance, 'cause my diamonds look like glass
I wanna fuck her but she play more games than the NBA
Monday morning, got a dentist appointment, lil' bitch you can check out the dentistry
I got so much jewelry, baby I got so much water this shit like a mini-lake
Fuck nigga play I'mma send him to meet his maker then ask God for forgiveness bae
Cop a chopper, end up flipping nigga
Yeah, you better stop tripping nigga
I don't use words when I kill a nigga
We don't use phones, we no silly niggas
I think I need help with my kidney nigga
No cat but you know I'm just kidding with you
I make this shit fly out the ceiling nigga
I'm hot like an eye on a skillet nigga (Ya dig)
She suck on that dick on the plane and I just called her airhead (Woo!)
I just went hunting, I found me a rabbit, I picked out the carrots
I'm just tired of smoking kush, I need some Moonrock out in Cali
I got a white bitch and she give me that Becky but her name is Sari
I pimp, I don't play with them
She bad, I might stay with her
Stack it up like a Lego, yeah
Homicide, you can lay with them
Got some hoes, you can slay with them
You know that we players, we paying them
She can't be my wife, I can't lay in there
Diamonds all black like I'm racist now
You can't take jack, fall into this mouse trap
Riding through the bity, got a AK on my lap
I'm not talking shit, but I'm ready to shoot some craps
If he think he wanna see me, I'mma send a hundred straps
(Lil, Blood)
I got some birds like I'm Julio
My outfit outdated, its Coogi tho
I want pussy or head, you a groupie ho
Balmain with a motherfuckin' Gucci coat
I won't talk to that bitch, let that coochie know
Yeah, let that coochie know
Diamonds from Tiffany Co
Paid a whole 100 racks for those
You should get down with this slime shit
Tonight I'm 'bout geeked out my mind shit
My credit good, I don't need a dime shit
Pour Act' inside that lemon lime shit
That petty thief, need to stop tryin' shit
If you need help I got some dime bitches
I cannot stand none these lyin' bitches
I need a website for some fine bitches
She suck on that dick on the plane and I just called her airhead (Woo!)
I just went hunting, I found me a rabbit, I picked out the carrots
I'm just tired of smoking kush, I need some Moonrock out in Cali
I got a white bitch and she give me that Becky but her name is Sari
I pimp, I don't play with them
She bad, I might stay with her
Stack it up like a Lego, yeah
Homicide, you can lay with them
Got some hoes, you can slay with them
You know that we players, we paying them
She can't be my wife, I can't lay in there
Diamonds all black like I'm racist now
Lyrics © Universal Music Publishing Group, RESERVOIR MEDIA MANAGEMENT INC, Warner Chappell Music, Inc.
Written by: MICHAEL LEN WILLIAMS, BRAYLIN PHILLIP BOWMAN, JEFFREY WILLIAMS

Lyrics Licensed & Provided by LyricFind
To comment on specific lyrics,
highlight them