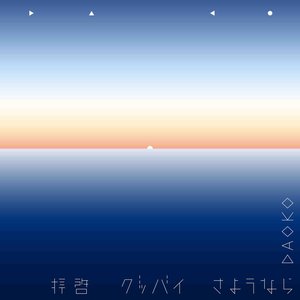 "Haikei Goodbye Sayonara" is DAOKO's second digital single. It was also later included in DAOKO's second major-label album, "THANK YOU BLUE" as track #8. It was used as the ending theme song for the anime "Shingeki no Bahamut: Virgin Soul".
Genre not found
Artist not found
Album not found
Search results not found
Song not found
拝啓グッバイさようなら
DAOKO Lyrics
We have lyrics for these tracks by DAOKO:



%E3%83%91%E3%83%AC%E3%83%BC%E3%83%89%E3%81%B8%E3%82%88%E3%81%86%E3%81%93%E3%81%9D 人形が笑う こっち見て笑ってる 夢見る少女はパレードの続きを知ってる 呻く罪人 再認識 意識は未だに不明 明々 明るくな…
%E6%B5%81%E6%98%9F%E9%83%BD%E5%B8%82 流星都市に生まれて消え行く命の粒に 祈った願い流れ星になり眺めるきみと ふたり消えゆく光りに 包まれ輝くこども 銀河のベ…
8階 一体 どうすれば 見えない 雲の上で 視界は 曇り空 到着しない 飛行機内 一体 どうすれば 見えない 雲の上で 視界は…
a n n i v e r s a r y everybody, everybody 飛び跳ねる鼓動の音は脳裏すら揺らす ah なんでかなんてこと わかりきった道…
Again 透明な瓶に入った汚い字の手紙を頼りに 先の見えない水の上を ゆっくりとゆっくりと 少女は旅する あの人を探して あの人を…
BANG! ちょっとみて よそ見しちゃ駄目駄目 開けた目 アタシ見る為 そっとギュッてして 刺激的かつ狂気沙汰の愛に溺れる ちょっ…
Boy T-O-K-Y-O, answer, by all means Again today this town is noi…
bUd 祝われなかった誕生 内傷に いたい殺生 遺体結晶みたい キラキラ 皆今生きてんだじゃああの子は これが運命?笑わせるね …
Cinderella step Shararanla Shararanla, yeah Shararanla Shararanla, Cinderell…
fly 最近はどうにも憂鬱な空模様 毎日が灰色の絵の具を溶かしたようで 生ぬるいもう良い寝よう 朝来るし寝返りして過ごす テレビ…
Fog 心のこのあたりがぐじゅぐじゅするの 膿んでは落 ちる気持ち 水たまり 人間なんて肉の塊 たまに思 い出す形の線渕 あなた…
Guchiguchi 外は暗く 大人らしく 振る舞う 孤独の上に装飾品で着飾って 気になる ゴシップ 男女交際の噂よく 聞くさこりゃ いっぱい…
Ichiban Boshi 嫌いなあの子が 死体になっちゃっても だれも気にしないんだろうなあ 星たちの消滅 よくあることのひとつ しんどい時消えそ…
Island 最初 憧れの対象 紫に染まる空 グラデーション だいだい色の雲が揺らめく 見て コントラスト チカチカネオンにくらくらり…
Juicy レインボーゲロ 虹を咲かせましょ コンクリート地面の上 カラフル水溜り ハッピーな花火 まつりのあと 踊って 狂って …
Kakete Ageru Hu hu hu hu この世界に生まれたからには 形がちょっとだけ違うものが 混ざりあって重なりあって また違うもの…
Nounai Disco 今晩いつもの場所 待ってる また踊ろう 子供はNG この頃憧れてる Letsダンシング わたしだけ乗り遅れ あれまってま…
Now Loading 外は暗く 大人らしく 振る舞う 孤独の上に 装飾品で着飾って 気になる ゴシップ 男女交際の噂よく聞くさこりゃ いっぱい…
Parade He Youkoso 人形が笑う こっち見て笑ってる 夢見る少女はパレードの続きを知ってる 呻く罪人 再認識 意識は未だに不明 明々 明るくな…
Ranunculus とんでもない とんでもないです私なんてまだ飛んでもいない 甘い夢見て涎垂らした 現実に戻り涙流した きらきら 光るあの時…
Ryusei Toshi 流星都市に生まれて消え行く 命の粒に 祈った願い 流れ星になり 眺める きみと ふたり消えゆく 光りに包まれ 輝く こど…
Samishii Kamisama 触れたら崩壊 仮想の世界 何度も創りなおして ずっと待ってた 身体甘くして 月の裏側から さみしいかみさま あたしのこ…
ShibuyaK ハチ公前 待ち惚け 一般ピーポーを越えて スクランブルを交差して TSUTAYA スタバ ビル QFRONT 见上げ 抜…
Suisei Taiyou ga terasu Odakyu-sen-nai Ano ko no naka ja ima mo…
TOKYO-KICK-ASS 溜息ばかりをのみこんで いますぐに破裂しちゃいそう 大人達が口々に言ってた ユートピアへ繰り出そう 人と人行き交う交差点…
Twins 一生一緒二人で一緒 きっと きっと前世も一緒 二人で一つの完成体 手繋いで祈るのサイレントナイト ぐっないオヤスミ …
Ututu 皆の普通が私の苦痛 このまま淡々と 憂鬱続くの むつかしいututuの中で 偏屈 一心不乱に空気を吸う肺 辛い過去も下げ…
おちゃらけたよ 渋滞した脳幹に囁やけば 勝算なんか冗談にして 好感を買えるのは 余裕かどうか必死かどうか どちらかなんだ どんな気持ち…
かけてあげる hu hu hu hu この世界に生まれたからには 形がちょっとだけ違うものが 混ざりあって重なりあって また違うものが…
ぐちぐち furetara houkai kasou no sekai nandomo tsukurinaoshite zutto…
さみしいかみさま 触れたら崩壊 仮想の世界 何度も創りなおして ずっと待ってた 身体甘くして 月の裏側から さみしいかみさま あたしのこ…
ずれてる 放課後一緒に... 恥ずかしいよこんなの イキナリじゃちょっと変だよね わかってるよ だからチョット一時保存 君のことも…
はじめましての気持ちを 想い出になって弾ける泡になって 消えないように あなたの瞳を 覚えていたいから じっと見つめ ピント合わせ 答え合わせ …
もしも僕らがGAMEの主役で もしも僕らが game の主役で もしも僕らが世界変えれたら いつも僕らは悲しみの中で 藻掻く 藻掻く ゆうしゃ sup…
ゆめみてたのあたし ゆめみてたのあたし 天と地の丁度真ん中 浮遊する揺るがないあたし 誰もが羨むんだ 唯一 絶対的な存在 こんにちは こ…
キラキラ 10年後20年後連想する将来 五年前願い事 誇大妄想 今である価値 ひしひしと感じ リアルわかちあう 違う これじゃない…
サイケデリック / OKOK メーター吹っ切れそうだ 変なエンジンがかかった 寝る前に読んだAKIRAのせいかな なんて考えてる 脳味噌の奥 チリチリ…
ダイスキ with TeddyLoid すき キライ 好き きらい すき 嫌い キライ 嫌い きらい 嫌い 自己満 中途半端はやめて 一番ダサいことの体現者 …
ニルバーナ feat. Jinmenusagi 幸福論にのっとって 君の幸せを考えたんだ 想像以上に好きに なってしまったんだ ゆうなれば しきそくぜっこうの ぐうで…
パレードへようこそ 人形が笑う こっち見て笑ってる 夢見る少女はパレードの続きを知ってる 呻く罪人 再認識 意識は未だに不明 明々 明るくな…
ミルクティ feat. Paranel 部屋の中に蜘蛛がいるよ 一緒住んで10日経った 殺さないで生かす理由 ちゃんとあるよ近づくだけ 朝蜘蛛は縁起物のいきもの…
一番星 嫌いなあの子が 死体になっちゃっても だれも気にしないんだろうなあ 星たちの消滅 よくあることのひとつ しんどい時消えそ…
千客万来 千客万来 プレイバック 人の影に隠れ生きていた 最低限な暮らしの中 最低な気持ちだが楽な生き方を選んだ 卑怯か? 「壊…
弊害 有名人と話せるツール反面 直ぐ切れちゃう繋がりは 暗がりに 羨ましいあの子とあの子の会話 依存しそう端から見たらしてるよ…
御伽の街 御伽の街に私落とし前つけにきました これはマジ 根こそぎ撃ち 獲物達 頭直に バチバチ 溝に落とす針 たちまちに踊り音に…
打上花火 あの日見渡した渚を 今も思い出すんだ 砂の上に刻んだ言葉 君の後ろ姿 寄り返す波が足元をよぎり 何かを攫う 夕凪の中 日…
水星 太陽が照らす小田急線内 あの子の中じゃ今もまだ圏外 恋愛 縁無い やっぱ焦んない 携帯からのミュージック安定剤 会社で…
流星都市 流星都市に生まれて消え行く 命の粒に 祈った願い 流れ星になり 眺める きみと ふたり消えゆく 光りに包まれ 輝く こど…
浪漫非行 赤い靴履いた 少女が入っていった アヤカシの道 誤ちの陣地 電信柱に寄っかかって 少年少女囲んだら かごめかごめ 『遊ん…
真夏のサイダー 揺らいだカーテンの隙間から輝いた君の寝顔 天使のチアリング 夕べのシャンプーの香り 風に乗って僕の元へ 不意にお届け 長…
終わらない世界で 深く息を吐いたら自然と初めましての空気 苦痛に感じていた淀みを洗ってくれる待ちに待った blooming ふつうでいよう…
蛇の心臓 虚ろの座を抱く者よ 我は彼なり 生まれ無きく霊であり 強大にして 不滅の炎であり あ、 雷鳴を轟かせ あ、 真実の眼…

The lyrics can frequently be found in the comments below or by filtering for lyric videos.