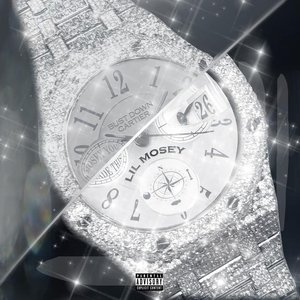 Lathan Moses Echols (born January 25, 2002), known professionally as Lil Mosey, is an American rapper, singer, and songwriter. He first gained mainstream success with his song "Noticed", which peaked at #80 on the Billboard Hot 100. He dropped his debut mixtape Northsbest in 2018, which was eventually certified Gold. A year later, he dropped his sophomore mixtape, Certified Hitmaker, featuring Gunna, Chris Brown, and Trippie Redd. Shortly afterwards
Read Full Bio
Lathan Moses Echols (born January 25, 2002), known professionally as Lil Mosey, is an American rapper, singer, and songwriter. He first gained mainstream success with his song "Noticed", which peaked at #80 on the Billboard Hot 100. He dropped his debut mixtape Northsbest in 2018, which was eventually certified Gold. A year later, he dropped his sophomore mixtape, Certified Hitmaker, featuring Gunna, Chris Brown, and Trippie Redd. Shortly afterwards, he released the single "Blueberry Faygo", which peaked within the top 10 of the Billboard Hot 100 as Mosey's biggest hit to date.
Genre not found
Artist not found
Album not found
Search results not found
Song not found
Bust Down Cartier
Lil Mosey Lyrics
Ooh, ooh
Yeah
Mosey-Mosey you made this?
She a bad bitch, I gotta have it (Gotta have it)
Since yesterday, got a brand new bust down Patek (Bust down)
Bust down Cartier, yeah (Ooh)
Getting bands today (Bands)
Fly out on a jet, just for me to get away
She a bad bitch, I gotta have it (Gotta have it)
Since yesterday, got a brand new bust down Patek (Bust down)
Bust down Cartier, yeah (Bust)
Getting bands today (Bands)
Fly out on a jet, just for me to get away
I can't stop fuckin', it's a habit, yeah (Gang, gang)
Me and my niggas shootin', it's a habit, yeah (Boom, grrr)
Hard knocks too and I know they can't have it, yeah
Got some stars on the roof, 'cause you know I had to grab it
Gucci on my waist, Burberry headband
Punch him in the face, yeah, we on his head, man
Two-tone splashin' all this water, feel like a snow-man
I done broke away 'cause he still a broke man (Broke bitch)
She a bad bitch, I gotta have it (Gotta have it)
Since yesterday, got a brand new bust down Patek (Bust down)
Bust down Cartier, yeah (Ooh)
Getting bands today (Bands)
Fly out on a jet, just for me to get away
She a bad bitch, I gotta have it (Gotta have it)
Since yesterday, got a brand new bust down Patek (Bust down)
Bust down Cartier, yeah (Bust)
Getting bands today (Bands)
Fly out on a jet, just for me to get away
V12, bad bitch and she ridin' with no seatbelt (Lil' bitch)
BM, I'm the type, stop askin' for details
Might just re-up, takin' change, feel like Griezmann
I still pop Xans, but I said I ain't need them, uh-huh
Pop a bean, have her over here in the outer space
Pull up with my niggas, let it shine like L.A
Left my old city to the wood to get a K
Youngest nigga, they gon' have see to it my way (My way)
She a bad bitch, I gotta have it (Gotta have it)
Since yesterday, got a brand new bust down Patek (Bust down)
Bust down Cartier, yeah (Ooh)
Getting bands today (Bands)
Fly out on a jet, just for me to get away
She a bad bitch, I gotta have it (Gotta have it)
She's just a date, got a brand new bust down Patek (Bust down)
Bust down Cartier, yeah (Bust)
Getting bands today (Bands)
Fly out on a jet, just for me to get away
Now I'm flying
Lyrics © Sony/ATV Music Publishing LLC
Written by: Moses Lathan-Stanley Echols, Royce David Pearson

Lyrics Licensed & Provided by LyricFind
To comment on specific lyrics,
highlight them