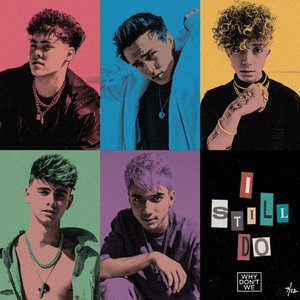 Why Don't We (commonly abbreviated as WDW) is an American pop quintet that was a…
Read Full Bio ↴
Why Don't We (commonly abbreviated as WDW) is an American pop quintet that was assembled on September 27, 2016, consisting of Jonah Marais, Corbyn Besson, Daniel Seavey, Jack Avery, and Zachary "Zach" Herron, each of whom had previously recorded as solo artists. Their fandom name is called "Limelights", due to a lyric from their debut single.

The band was originally formed on September 27, 2016, and announced it the next day via their YouTube account. Since then, the band has released three EPs and two albums.

On October 7, 2016, the group released their debut single "Taking You", a track from their debut EP, Only the Beginning, which was released on November 25 of the same year. Their second EP, Something Different, was released on April 21, 2017. Its title track was released as the lead single the same day. They released their third EP, Why Don't We Just, on June 2, 2017.

They released their debut album 8 Letters on August 31, 2018. It debuted and peaked at number 9 on the Billboard 200.

In 2021, they released singles Love Back and Mistletoe. They also released their sophomore album, The Good Times and The Bad Ones, along with the singles Fallin' (Adrenaline), Slow Down, and Lotus Inn. The album debuted and peaked at number 3 on the Billboard 200.

The band has currently been releasing music they've written themselves, something they have recently committed to doing. They have recently released Let Me Down Easy (Lie), Just Friends, and How Do You Love Somebody. In January 2022, they released Don't Wake Me Up, a collaboration with Jonas Blue.

They had originally planned to go on tour in the United States, The Good Times Only Tour, in 2022 from July 27 to October 1, but because of unforeseen consequences, the band canceled the tour and began an official hiatus.
Genre not found
Artist not found
Album not found
Search results not found
Song not found
Come To Brazil
We was up late to the daytime She was movin' to…
I STILL DO
There is no better view (no better) Than watching you strip…