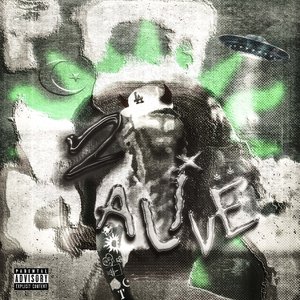 2 Alivë is the sequel to Yeat's April 2021 project, Alivë and his September 2021 project, Up 2 Më. 2 Alivë is released through Interscope Records. On December 13, 2021, Yeat shared the project's official cover art via social media, teasing fans with a January 2022 release date. On January 31, 2022, Yeat announced in both an Instagram story and an Instagram post that he had turned the project in. He teased that it would be released between February 11 and February 18. On February 11, 2021, Yeat released the project's lead single, "Still countin", along with a music video
Read Full Bio
2 Alivë is the sequel to Yeat's April 2021 project, Alivë and his September 2021 project, Up 2 Më. 2 Alivë is released through Interscope Records.

On December 13, 2021, Yeat shared the project's official cover art via social media, teasing fans with a January 2022 release date.

On January 31, 2022, Yeat announced in both an Instagram story and an Instagram post that he had turned the project in. He teased that it would be released between February 11 and February 18.

On February 11, 2021, Yeat released the project's lead single, "Still countin", along with a music video directed by Cole Bennett.

The project features YSL rappers Young Thug, Gunna, and Yung Kayo. As well as Yeat's frequent collaborator and fellow TwizzyRich member SeptembersRich, and Hubert Paul Flatt, better known as Ken Car$on, with Carson's vocals recorded via his iPad.
Genre not found
Artist not found
Album not found
Search results not found
Song not found
Poppin
Yeat Lyrics
I need my drugs, I need my love (we get high)
Bitches pullin' up and they suck us up (hey)
I'm in the Tonka, baby, yeah, come show me love (ooh)
Ion't fuck with nobody, lil' bitch, I show you nun' (show you nun')
I ain't trustin' nobody, lil' bitch, I keep a gun
If a problem come up (yeah), you know I'm not gon' run
Feel like Osama to us, 'cause we blow up like a bomb (boom)
Roll him like a filter, yeah, then smoke him like a bong (phew)
We been outside, man, all day
We just countin' racks, all day, don't play
Huh, huh-huh, we been outside, man (ooh)
We been outside, man (BenjiCold, why you icy?)
We got racks out, bitch, we goin' shoppin' (shoppin')
When you get like this, you rich, lil' bitch, you poppin'
It ain't been a day that I ain't been high, bitch, Percs', I pop 'em, yeah
They told me that they broke, that's not my problem, yeah (that's not my problem)
You know he test the gang, you know we pop him, yeah (boom, boom, boom)
We ain't got time to play, we outside, popped him, yeah (LA, LA, LA)
I told my bitch I need one, need a topper, a bopper
I pulled inside this Lamb', I chopped it up like helicopter
Slide in the coupes, we fucked the driveway up (skrrt, skrrt, skrrt)
Hopped inside the mansion, fucked the drywall up
Kickin' holes in the wall, and fuckin' hoes in my draws
I don't feel the same at all, I'm havin' Percocet withdrawl
No, you don't know me like you say you did, you don't know me, not at all (not at all)
You might catch me in the Tesla, 'cause it's drivin', I'm noddin' off
Yeah, they tried to show me they music, told that bitch to turn it off
And we pulled up to the show, we turned they city up a notch (yeah)
I need my drugs, I need my love (we get high)
Bitches pullin' up and they suck us up (hey)
I'm in the Tonka, baby, yeah, come show me love (ooh)
Ion't fuck with nobody, lil' bitch, I show you nun' (show you nun')
I ain't trustin' nobody, lil' bitch, I keep a gun
If a problem come up (yeah), you know I'm not gon' run
Feel like Osama to us, 'cause we blow up like a bomb
Roll him like a filter, yeah, then smoke him like a bong (phew)
We been outside, man, all day
We just countin' racks, all day, don't play
Huh, huh-huh, we been outside, man (ooh)
We been outside, man (BenjiCold, why you icy?)
We got racks out, bitch, we goin' shoppin' (shoppin')
When you get like this, you rich, lil' bitch, you poppin'
It ain't been a day that I ain't been high, bitch, Percs', I pop 'em, yeah
They told me that they broke, that's not my problem, yeah (that's not my problem)
You know he test the gang, you know we pop him, yeah (boom, boom, boom)
We ain't got time to play, we outside, popped him, yeah (LA, LA, LA)
I told my bitch I need one, need a topper, a bopper
I pulled inside this Lamb', I chopped it up like helicopter
Slide in the coupes, we fucked the driveway up (skrrt, skrrt, skrrt)
Hopped inside the mansion, fucked the drywall up
Kickin' holes in the wall, and fuckin' hoes in my draws
I don't feel the same at all, I'm havin' Percocet withdrawl
Lyrics © STREAMCUT MEDIA, LLC
Written by: Noah Oliver Smith, James Madison

Lyrics Licensed & Provided by LyricFind
To comment on specific lyrics,
highlight them