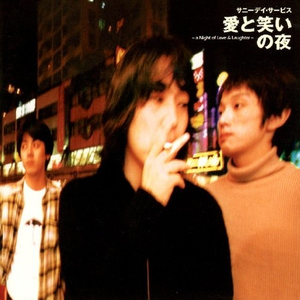 Sunny Day Service is a three-piece guitar band from Japan. Originally formed in 1992 as a punk band, the group consisted of 曽我部恵一 (Keiichi Sokabe), Takashi Tanaka, and other members. They released the EP "Cosmo-Sports" and independent album "Super Disco", and in 1994 the "Hoshizora no doraibu" (Starry Sky Drive) and "Cosmic Hippie" EPs. Their sound evolved with time, and when Harushige Maruyama joined the band (now a three-piece) they released their first major label mini album,『若者たち』(Wakamonotachi, "Young People"). From their own admission, the album's sound owed much to the Japanese guitar group Flipper's Guitar, of which they were big
Read Full Bio
Sunny Day Service is a three-piece guitar band from Japan. Originally formed in 1992 as a punk band, the group consisted of 曽我部恵一 (Keiichi Sokabe), Takashi Tanaka, and other members. They released the EP "Cosmo-Sports" and independent album "Super Disco", and in 1994 the "Hoshizora no doraibu" (Starry Sky Drive) and "Cosmic Hippie" EPs.

Their sound evolved with time, and when Harushige Maruyama joined the band (now a three-piece) they released their first major label mini album,『若者たち』(Wakamonotachi, "Young People"). From their own admission, the album's sound owed much to the Japanese guitar group Flipper's Guitar, of which they were big fans. Their sound was also reminiscent of the folk music revolution, exemplified in the music of late 60s Japanese group はっぴいえんど (Happy End). Sunny Day Service has gained considerable recognition for their acoustic work from this album.

Continuing their success and releasing a number of albums and singles, at the end of their Love Album Tour in 2000, Sunny Day Service announced they would disband. Since disbanding, a best of and b-side compilations have been released, while Keiichi Sokabe has gone on to a successful solo career.
Genre not found
Artist not found
Album not found
Search results not found
Song not found
We have lyrics for these tracks by サニーデイ・サービス:



baby blue さあ出ておいで きみのこと待ってたんだ 昼間っから夢を見てばかり 約束の時間さ 伝説では世界はそんなふうさ それだったら…
セツナ 夕暮れの街切り取って ピンクの呪文かける魔女たちの季節 緩やかな放物線描き空 落下するパラシュートライダー はじめっから…
恋におちたら 晴れた日の朝には 君を誘ってどこかへ 行きたくなるような気分になったりする 誰かと話したくて 僕は外へ出るんだ 住みたく…
東京 赤い唇が色あせる前に その熱い血潮の枯れぬまに きみは駆け出すんだね 今日は春の中へ 瞳の中に花が咲いて おんぼろ列車に…

The lyrics can frequently be found in the comments below, by filtering for lyric videos or browsing the comments in the different videos below.