Until
中山愛梨沙 Lyrics
聞こえますか 僕の声が 君の事を そっと想う季節が続く
それは決して 悲しい物じゃなく 強くて優しい
こんなこんな 遠い場所から 歌ってるよ
君のことが忘れられない 僕は大人になって子供になってく
いつかどこかで出逢える日など 来ない方がいいよ
きっと あの日みたい 恋してしまう
黄金色に 光るススキの海
見つめていた あのときの君の横顔
それは はかない 時の中で見えた 永遠の様さ
こんな僕に 教えてくれたあの気持ちを
君のことを忘れないよ 僕はいろんな人と出会ってくけど
いつかどこかで思い出の中笑う君がいるよ
ずっと変わらないよ僕の心に
そして僕は 果てしないこの旅を続ける
思い出たちを優しい歌に変えて
君のことが忘れられない 僕は大人になって子供になってく
いつかどこかで出逢える日など 来ない方がいいよ
まだ 君のことを忘れないよ 僕はいろんな人と出会ってくけど
いつかどこかで思い出の中笑う君がいるよ
ずっと変わらないよ僕の心に
Writer(s): 未海, 未海

Contributed by Alexandra R. Suggest a correction in the comments below.
To comment on specific lyrics,
highlight them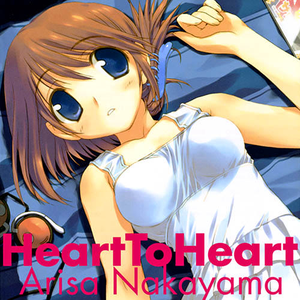 Arisa Nakayama (中山愛梨沙) is a Japanese singer who belonged to F.I.X. RECORDS.
She came out by "Routes" (Leaf Visual Novel Series 4 "Routes" Opening Music).
There is a rumor that she'd sung "Tsutsumikomu yoni..." (Misia) and won the prize in Osaka Song Grand Prix before then.
After the debut, she sang many title tunes by AQUAPLUS (Leaf).
She also sang "Fly", the title tune of TV Anime "Comic Party Revolution".
First mini album "Heart To Heart" was released on June 22, 2005.
Read Full Bio
Arisa Nakayama (中山愛梨沙) is a Japanese singer who belonged to F.I.X. RECORDS.
She came out by "Routes" (Leaf Visual Novel Series 4 "Routes" Opening Music).
There is a rumor that she'd sung "Tsutsumikomu yoni..." (Misia) and won the prize in Osaka Song Grand Prix before then.
After the debut, she sang many title tunes by AQUAPLUS (Leaf).
She also sang "Fly", the title tune of TV Anime "Comic Party Revolution".
First mini album "Heart To Heart" was released on June 22, 2005.



"Routes", "Kimi wo Nosete" (君をのせて) from "Routes"
"Tears to Tiara", "Until" from "Tears to Tiara"
"Heart to Heart" from "ToHeart2"
"Fly" from "Comic Party Revolution" (TV Anime)
"Dream in the sky" from "Comic Party" (PSP)
Genre not found
Artist not found
Album not found
Search results not found
Song not found