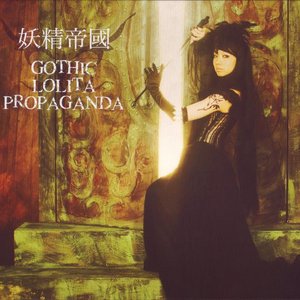 妖精帝國 (Yōsei Teikoku, sometimes Das Feenreich, literally Fairy Empire) are a five member Japanese band. Part of Team Fairithm, the band previously consisted of just vocalist and lyricist Yui with guitarist and composer Takaha Tachibana. The band has since included bass player Nanami, drummer Gight, and lead guitarist Shiren to their line up. The group have been active since 1996 and have done their rounds around the doujinshi/indies music circuit. Their earliest releases are very hard to find. They did however, gain exposure from 2005 onwards with the release of their album Stigma and have since gained popularity through the
Read Full Bio
妖精帝國 (Yōsei Teikoku, sometimes Das Feenreich, literally Fairy Empire) are a five member Japanese band. Part of Team Fairithm, the band previously consisted of just vocalist and lyricist Yui with guitarist and composer Takaha Tachibana. The band has since included bass player Nanami, drummer Gight, and lead guitarist Shiren to their line up.

The group have been active since 1996 and have done their rounds around the doujinshi/indies music circuit. Their earliest releases are very hard to find. They did however, gain exposure from 2005 onwards with the release of their album Stigma and have since gained popularity through the use of their music in various media.

Yousei Teikoku's sound is very German, gothic and industrial. Yousei Teikoku merges heavy guitars and fantastical story telling. Yui's voice is not the typical growling associated with metal/hard rock, she carries an ethereal and siren-like quality as she flits gracefully through Tachibana's compositions. Their music combines elements of electronic, ambient, heavy rock, neoclassical, gothic, industrial and anison.

When she's not being Fairy Yui and claiming to be 4325 years old, Yousei Yui (Yui Itsuki in the real world) is a voice actor and a massive nerd. She has three computers - one of which she built, coded her personal website and Yousei Teikoku's website and voraciously on top of technology and massive video game player.

The other members of Yousei Teikoku have nominated Yui to be the frontwoman of the band so that they can get on with their job of composing music. Plus even from the group's early days, Takaha Tachibana was always secretive that during lives, he would intentionally play from the back of the stage rather than stand beside Yui. Team Fairithm, the production group behind Yousei Teikoku have always been veiled in secrecy - however there is no doubt that Takaha and Yui are part of the team and take a hands on role with their music.

They released several independent albums before signing with their current publisher Lantis circa 2006. With Lantis they have released 5 full albums and 15 singles, as well as several anime/video game theme songs and soundtracks.

Members:
Vocal: Yui (ゆい)
Keyboard/Guitar: Takaha Tachibana (橘尭葉)
Lead Guitar: Shiren (紫煉) - Joined Jan 12, 2013
Bass: Nanami - Joined 2010
Drums: Gight - Joined Jan 12, 2013

Former Members:
Drums: Relu (2010 - Jan 12, 2013)
Genre not found
Artist not found
Album not found
Search results not found
Song not found
Patriot Anthem
妖精帝國 Lyrics
We have lyrics for 'Patriot Anthem' by these artists:



Yousei Teikoku 我が元に集い 旗に忠義を 手にするは鉤の物理武装 枯れた池にそそぐ皆が命は 幾千の惰命よりも重し 我が元に集…



We have lyrics for these tracks by 妖精帝國:



Astral Dogma 時は奏でる陰鬱な大時計蒸気の帳で 無我夢中 金塊を蓄えて聳える摩天楼で毎夜のマスカレード 錆びた真鍮に金箔を施した幻想…
call my name 寄り添う花びら双つ ふわふわ 揺れている 灯した刻は短く ゆらゆら 溶けていく 同じ魂を別つ2人は 遠く惹き合う 互…
Canary 最期の蝋燭が咲く夜 鏡に堕とした罪色 静かに佇む揺らめきに 触れたら融けゆく過ちは 焔を泳けば鳥になる …
Dea x Crisis 無限で満たした虚勢を射る力は 無慈悲な闇から痛みを継ぐ 稚拙な日々の波が 剥がれ出ずる異形の死の女神 その命を その…
Gothic Lolita Propaganda bara no kaoru kara hitsu ni ima mo shizuka ni nemuru…
Hades:The bloody rage 毒を秘ませたザクロの実は 甘く艶やかに蜜を纏う 誘いの月夜 朱に染まる胸 苦戦死闘呪縛放つ Hades! 意力乱す疑…
Hades:The end 燻(くゆ)りし薫り立つ金の香爐(こうろ)に 葬(はふ)るは純潔の亡骸よ 願わくは安寧(あんねい)を 心空(しんくう)に…
last moment Be in the grip of Death! Jesus! Mercy killing. Last…
Mischievous of Alice 出でし扉の聖なる使者よ 我が身飾りて凜と成せ 終わりも知らず 果てなく続く遊技に 高まる鼓動 私は満ちてゆく 歪な世…
Schwarzer Sarg 筺に睡る贄の少女 深紅の瞳と漆黒の髪 罪を纏う双の手首に 喰い込んだ棘の痕 誰もが皆贄を嘆き 彼女の死を悼むけれど そ…
The Creator この世は戦乱堕ちても薫り高く 目蓋を閉じれば蘇りし空想 時空を操り自在に支配をする 生と死を賭ける未来のsurviva…
Vermilion Tiara あつく 熔けた 鼓動の中 目で呼び合う 哀しみなら このまま静かに 永遠に墜ちよ 抱きしめながら美しい…
Wisdom 誰もが羨むような知性も 誰にも真似の出来ない美学も 私の中に宿ってる 気高い精神満たせない 幻想など持たない 虚飾などい…
昏き世界の慟哭 埋めた奥底で疼く声が 癒えぬ傷を抉る慟哭を 生ける屍の成す未来は 驕る世界を散らす衝突か 痛みなど従えて 疑いは避けて…
機械少女幻想 創られた躰を手に入れて 脆弱な肢体を捨て去りたいの 完璧な理論と行動を 何故愚かな私達欲しがるの 緻密な機械頭脳で 主観…
神的創造 何を守り抜くべきか 心に疼く形のない何か 本当のこと隠し続け いつも側にいることを選んだ 裏切り過ちも全て受け入れよう…
赤い扉 扉に鍵を 挿し込むように 呼びあうように 惹きあうように 必然と云う 運命の下に 死を成すため 手に慈悲を 生成すた…
霊喰い 風が踊る部屋のすみ 静かに鳥籠揺れる 迷い込んだ黒い影 舞い散る羽根 連なってクルクル嗤う あやかし生霊(いきすだま) …
鮮血の誓い 妖かしの誘いに応え給え 呼び出したるそなたへと 導かれし身を 差し出すは鮮血の 指先の証 光の神も 欺…

The lyrics can frequently be found in the comments below, by filtering for lyric videos or browsing the comments in the different videos below.