Reminiscence
岡崎律子 Lyrics
春の風吹く道で
あなた想えば 甘い記憶
ここで待ちあわせした
あなたに早く話したくて
いつもいつも つきあわせてごめん
夢中になると何もみえなくなって
つまずいても そばで笑ってくれる
守られていた
空のひらけた川辺
二人の夢を高く飛ばそう
風に乗ったラジコン
空を滑り やがて落ちた
いつか こんな空の下で
どんな夢をみているだろう
まだ知らないまま
ずっとそばにいたい そう思ってた
守られていた
今も思う あのサヨナラの時
今 この指を決して離してはだめ
知っていたのに なぜ
私にはその覚悟がなくて
Writer(s): 岡崎 律子, 岡崎 律子

Contributed by Adam N. Suggest a correction in the comments below.
To comment on specific lyrics,
highlight them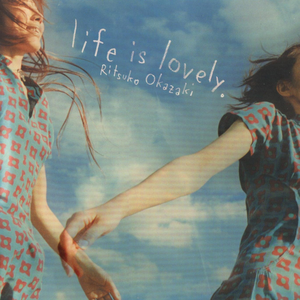 Ritsuko Okazaki (岡崎律子, December 9 1959 - May 5 2004) was a Japanese composer and singer-songwriter. She is best known for her contributions to the animated series Magical Princess Minky Momo, Love Hina, Fruits Basket, Princess Tutu and Sister Princess RePure, as well as other series such as UFO Ultramaiden Valkyrie, Stratos 4, Okusama ha Mahou Shôjo, as one half of the duo Melocure (メロキュア). Okazaki's songs were characterized by poetic imagery, depth of emotion, gentle optimism and simplicity.
Read Full Bio
Ritsuko Okazaki (岡崎律子, December 9 1959 - May 5 2004) was a Japanese composer and singer-songwriter. She is best known for her contributions to the animated series Magical Princess Minky Momo, Love Hina, Fruits Basket, Princess Tutu and Sister Princess RePure, as well as other series such as UFO Ultramaiden Valkyrie, Stratos 4, Okusama ha Mahou Shôjo, as one half of the duo Melocure (メロキュア). Okazaki's songs were characterized by poetic imagery, depth of emotion, gentle optimism and simplicity. Her voice was considered to be of a particularly remarkable litheness and subtlety. For these reasons, some describe her voice as "angelic".

Okazaki was born in Nagasaki but her family moved to Tokyo when she was in third grade. As a high school student, she formed a band with two classmates called Eleanor (エレナー), in which she played piano and sang backup vocals. It was at this time she began writing original songs. She began her professional career in 1985 composing music for TV programs and commercials as well as for other singers under a variety of names, the most frequently used being Ritsu ("Ritz") Morino (森野律). She debuted as a solo artist in 1993 with the single "Kanashii jiyû" (悲しい自由) followed shortly by her first album, "Sincerely yours,". She spent much of the 1990s creating solo works. Around 2000 until her death, her career became profoundly more focused on music for animated series. To this end, in 2001 she teamed up with singer-songwriter Megumi Hinata (日向めぐみ) to form Melocure, a project that produced music for a variety of series.

In the spring of 2003, Okazaki discovered she had stomach cancer. This information was not announced to the public at the time and she continued to pursue her professional activities to the best of her ability. On May 5, 2004, she passed away suddenly and unexpectedly from septic shock. She was 44 years old. Her album "For RITZ", which was in production when she passed, was completed with what voice recordings were available (some were only preliminary) and released as a tribute.

-- -- -- -- -- --

長崎県西彼杵郡高島町(現長崎市)端島出身。高校一年の時に同期生2人とバンド「エレナー」を結成し、3人で音楽活動を始める。当時の担当はピアノ、コーラスだった。

音楽業界に入った後に「森野律」などの名義でコマーシャル音楽などを手がけたり、アーティストに楽曲を提供していた。OVA『1月にはChristmas』主題歌「冬のないカレンダー」で、歌手の「岡崎律子」としてトーラスレコード(その後、会社自体がポリグラム(現在はユニバーサルミュージック)に編入された)からデビュー、晩年はスターチャイルドに移籍した。テレビアニメ『魔法のプリンセスミンキーモモ』イメージソング「4月の雪」「約束」を担当。歌手活動と並行して、ラジオやエッセイなどで活躍したり、アニメ・ゲーム作品や声優の曲を数多く手がけている。日向めぐみとのユニット「メロキュア」も、広く注目を得る。ヤマハ音楽教室のピアノ・エレクトーン教室の音楽教材にも、曲をいくつか提供しており、音楽教室の生徒向け教材CDに収録されている。

2004年5月5日に敗血症性ショックのため死去。44歳没。

その死後、2003年春にスキルス胃がんを発病して、闘病生活を送りつつ創作活動を続けていたことが明らかになった。交流のあった芸能関係者以外では一部の例外を除き、親族の意向により墓所は一般公表されていない。遺作となった『for RITZ』は、制作途中であったため、発表時には冥福を祈る意味でタイトルが変更された。同アルバムには、本番収録が間に合わずテスト状態で収録された曲もある。
Genre not found
Artist not found
Album not found
Search results not found
Song not found