約束
東方神起 Lyrics
広がる青い空shiny day
日曜の午後はdarling
君と手をつないで歩くよ
片方ずつで聴くearphone
同じリズムが流れfeel so right
僕は君のことをねぇ
うまく愛せてるのかな
世界の誰より
君をずっと離さないよ
僕だけを見ていて
いつまでも僕の腕の中
you belong to me
晴れた日も雨の日も
そばにいて守るから
ふたりで交わす 約束 叶えてゆく
眠れぬ夜に見るsilver moon
君も今頃はきっと
同じように見てるかな
crescent night
声が聴きたいからtelephone
でもホントは会いに行きたい
毎日僕が君と
一緒にいられる未来は
もうすぐ...信じて
僕がもっとできること
君をもっと愛せる
笑っていて僕の腕の中
you belong to me
希望の日も不安な日も
そばにいて守るから
always大切な 約束 抱きしめてる
君をずっと離さないよ
僕だけを見ていて
いつまでも僕の腕の中
you belong to me
晴れた日も雨の日も
そばにいて守るから
ふたりで交わす 約束 叶えてゆく
Lyrics © O/B/O APRA AMCOS
Written by: H.U.B.

Lyrics Licensed & Provided by LyricFind
To comment on specific lyrics,
highlight them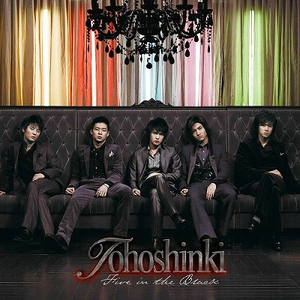 TVXQ (often stylized TVXQ!), an acronym for Tong Vfang Xien Qi (東方神起), is a South Korean duo (formerly quintet) formed under SM Entertainment in 2003. In South Korea they are also known as Dong Bang Shin Gi (동방신기, DBSK); the group were also introduced in Japan as Tohoshinki (東方神起, Tōhōshinki) under the Avex sub-label Rhythm Zone in 2005. Their name translates as "The Rising Gods of the East".

Debuting in South Korea on December 26, 2003, they quickly became a popular teenage chorus group in their homeland.
Read Full Bio
TVXQ (often stylized TVXQ!), an acronym for Tong Vfang Xien Qi (東方神起), is a South Korean duo (formerly quintet) formed under SM Entertainment in 2003. In South Korea they are also known as Dong Bang Shin Gi (동방신기, DBSK); the group were also introduced in Japan as Tohoshinki (東方神起, Tōhōshinki) under the Avex sub-label Rhythm Zone in 2005. Their name translates as "The Rising Gods of the East".

Debuting in South Korea on December 26, 2003, they quickly became a popular teenage chorus group in their homeland. By the date of their Japanese debut in 2005, Dong Bang Shin Ki had not only made themselves known in Korea as a dance only boyband, but a group that had the ability to harmonize, vocalize, and dance to perfection; earning them many praises by many other Korean artists that they would refer to as sunbae's.

With major success in Korea, Dong Bang Shin Ki made their way to Japan, eager to conquer a foreign land. With that thought in mind, Dong Bang Shin Ki decided that they did not want to come to Japan as Hallyu stars but as Japanese Pop idols and so their struggle began. For the first few months of their Japanese career, which had started with the release of the single: "Stay With Me Tonight", the members of Dong Bang Shin Ki spent that time learning/improving their Japanese, battling the depression they got from both homesickness and not achieving the response they wanted immediately, language barriers, and thoughts of giving up completely in turn to go home. While promoting Purple Line (Korean Ver.) in Korea, the members stated that they at first didn't want to work in Japan and were forced rather than having that motivation to work hard.

After months of hard work and intense Japanese studies, Dong Bang Shin Ki finally got the break they were looking for with their second single, "Somebody To Love", which ranked at number fourteen on the Oricon chart and included their first ballad song. In November, Dong Bang Shin Ki released "My Destiny", their first ballad single and with this single earned them the popularity they wanted. After "My Destiny" was released and sold more than any of their other singles, as well the gain of more fans, they released "明日は来るから". With the release of "明日は来るから", that song became an instant success and was used as the seventeenth ending for the popular anime, ONE PIECE and soon the release of their final single for their first album, "Rising Sun/Heart, Mind and Soul" had arrived. Although the "Rising Sun/Heart, Mind and Soul" single hadn't done as well as the other singles, their first album, "Heart, Mind and Soul", was still a huge hit. Things had finally started to look up for the five members known as Dong Bang Shin Ki and after the release of their album in 2006, they held their first nationwide tour: 1st Live Tour 2006: Heart, Mind and Soul. Tickets to 1st Live Tour 2006: Heart, Mind and Soul were sold out immediately.

With the success of their first five singles and their first album, they began working harder on their sixth single. In June, they released "Begin", a sweet, ballad song with an upbeat B-side("High Time") and they also appeared in the Avex summer festival A-Nation '06 that July and August. Their next and seventh single, "Sky", ranked number six on the Oricon chart making it their first single to be ranked in the Top Ten and at that time, the highest ranking single of their Japanese career. Three months later, Dong Bang Shin Ki returned with yet another single, "Miss You/"O" -正・反・合" and this single ranked number three on the Oricon charts and was the first of many to come to be ranked in the Top Five as well as, replaced "Sky" as their highest ranking single. Somehow, they managed to hold conerts in Thailand, Malaysia, and China, earning them more fans and success. While their popularity was slowly, but surely growing in Japan, Dong Bang Shin Ki's popularity in Korea rose even more and in turn they earned lots of awards, these awards included: MKMF's Best Music Video for "Rising Sun (순수)", MKMF's People's Choice Award, MKMF's Artist of the Year, China-Ten Most Popular Music Group, China-Ten Most Popular Song, etc. . . After their second tour The 2nd Asia Tour Concert 'O' and with their increasing popularity in Japan, Dong Bang Shin Ki released "Step by Step" and "Choosey Lover" both that were ranked in the top ten among very popular artists ("Step by Step" ranked number seven and "Choosey Lover" ranked number nine), not to mention that "Choosey Lover" was the opening theme song for Xenos Xenos. Finally recognized as Japanese Pop idols, they released their second album titled "Five in the Black" (ranked number ten on the Oricon charts) and held yet another nationwide concert to support this album. As they sang their song "Proud", Junsu and Yoochun broke out into tears, finally happy that they achieved their dream of breaking through in foreign territory and getting as far as they had.

In May of 2007, Dong Bang Shin Ki attended the MTV Japan Music Awards and won the award "Best Buzz Asia in Korea" for their "'O'-正.反.合." album. From June to December of 2007, Dong Bang Shin Ki released a string of five singles: "Lovin' You", "Summer: Summer Dream/Song for You/Love in the Ice", "Shine/Ride On", "Forever Love" and "Together". "Summer: Summer Dream/Song for You/Love in the Ice" peaked at number two on the Oricon charts, marking that single as their highest ranking single of the time. In November of 2007, Dong Bang Shin Ki collaborated with Koda Kumi to create "LAST ANGEL", which peaked at number two and was the image song for the movie "Resident Evil: Extinction".

2008 marked the start of Dong Bang Shin Ki's supreme rise in Japan. First in January, they released "Purple Line", marking that as not only their first single to peak at number one on the Oricon charts, but the first single to be produced by a non-Japanese band to peak at number one as well as the start of their reign as number one on the Oricon charts and their first single to be created by a non-Japanese staff. Before their amazing reign atop the Oricon charts could begin to rise, they released their third Japanese studio album titled "T" as well as indivdual singles that spelt out T.R.I.C.K (T: Two Hearts/WILD SOUL - Changmin, R: Runaway/MY GIRLFRIEND - Yoochun, I: If...?!/RAINY NIGHT - Junsu, C: Close to You/CRAZY LIFE - Yunho, K: Keyword/MAZE - Jaejoong). Following the release of the T.R.I.C.K singles, Dong Bang Shin Ki released "Beautiful You/千年恋歌" in April, their second single to peak number one on the Oricon charts and the single that broke the twenty four year old record set by Ou-Yang Fei Fei (two singles to peak number one on the charts by a foreign artist). After "Beautiful You/千年恋歌" ", Dong Bang Shin Ki returned to Korea for the 14th Annual Dream Concert on June 7th. Immediately following that concert, they wrapped their Asia tour in Beijing. Returning back to Japan, they released "どうして君を好きになってしまったんだろう?", their third single to peak at number one the Oricon charts and the single that made them the first non-Japanese artist to have three consecutive singles peak at number one. Following that release, they performed at Avex Trax's 20th Anniversary meeting and A-Nation '08. In August of 2008, Dong Bang Shin Ki returned back to Korea to take part in SMTown '08 alongside BoA, 천상지희 The Grace, 張力尹, 소녀시대, SHINee and Super Junior.

They released the fourth Korean studio album titled "Mirotic", another chart topping Korean album with 502,837 copies sold and earning them another record for the first Korean album in six years to sell more than 500,000 copies. In October, Dong Bang Shin Ki returned to the Japanese Pop scene with "呪文 -MIROTIC- ", the Japanese counterpart of the title single to their fourth Korean album. "呪文 -MIROTIC- " peaked number one, causing Dong Bang Shin Ki to destroy their previous record with four single to peak number one. Dong Bang Shin Ki then attended Kouhaku Uta Gassen Music Festival on New Year's Eve, making them the first Korean group to attend.

Tohoshinki's twenty-fifth single, "Bolero/Kiss the Baby Sky/忘れないで", released on January 21, 2009 was yet another single that peaked number one atop the Oricon charts, making them the first foreign artist to have five consecutive number one singles and the song "Bolero" was used theme song for the Japanese movie, "Subaru". In March, they released "Survivor", this single peaked at number three and subsequently ended their amazing number one reign. "Survivor" was succeeded by the release of their fourth Japanese studio album, "The Secret Code", which debuted at number two on the charts and thus, they embarked on their fourth live tour: Dong Bang Shin Ki 4th Live Tour 2009: The Secret Code to help support the album. Dong Bang Shin Ki 4th Live Tour 2009: The Secret Code ended in the Tokyo Dome, making them the first Korean group to perform on that stage. In April, they released "Share the World/ウィーアー!", another one of their singles that peaked number one and extended their record to six number one singles(not consecutive). In July, they released "Stand By U" and debuted at number two on the charts. On September 30, 2009, Jejung and Yuchun came together to produce the single "COLORS ~Melody and Harmony~/Shelter". "COLORS ~Melody and Harmony~" was composed and written by Yuchun and Jejung, while "Shelter" was also composed and written by Yuchun and Jejung with the help of Junsu. "COLORS ~Melody and Harmony~/Shelter" debuted at number one and therefore making Dong Bang Shin Ki the first non-Japanese artists to have seven singles top the Oricon charts. As of March 24, 2010, Dong Bang Shin Ki has released yet another single, "時ヲ止メテ", a slow ballad song that was originally featured in a CF for the cosmetics brand Menard as well as TOHOSHINKI THE LIVE 2009.
After conflicts with the lawsuit filed by three of the members (Jaejoong, Yoochun and Junsu) against SM Entertainment, on April 3, 2010, Avex announced that TVXQ would be ceasing all of their Japanese activities for the time being and that it would focus on helping each member with their solo activities. It was later announced in early May 2010 that the three members of TVXQ would appear as a subunit in the Thanksgiving Live in Dome concert in Japan. The three-member group was announced by Rhythm Zone and would be called JYJ, representing the first letter of each of their names.
On November 23, 2010, SM Entertainment announced that TVXQ would be returning by now as a duo consisting of Changmin and Yunho and have their comeback in Korea in early 2011. On November 24, 2010, Avex Entertainment, as well as SM Entertainment Japan, released a statement about the renewal of contracts of SM artists signed to Avex. The special edition of TVXQ's newest album, Keep Your Head Down, was released in South Korea on January 5, 2011 and their single 왜 (Keep Your Head Down) was released by Avex Trax in Japan on January 26, 2011.

Current Members

U-Know Yunho 유노윤호/ユンホ
Birthday: 1986.02.06
Height: 184cm
Weight: 66kg
Blood type: A

Max Changmin 최강창민/チャンミン
Birthday: 1988.02.18
Height: 186cm
Weight: 61kg
Blood type: B

Former Members

Hero Jaejoong 영웅재중/ジェジュン
Birthday: 1986.01.26
Height: 178cm
Weight: 63kg
Blood type: O

Micky Yoochun 믹키유천/ユチュン
Birthday: 1986.06.04
Height: 180cm
Weight: 64kg
Blood type: O

Xiah Junsu 시아준수/ジュンス
Birthday: 1986.12.15
Registered Birthday: 1987.01.01
Height: 178cm
Weight: 60kg
Blood type: B
Genre not found
Artist not found
Album not found
Search results not found
Song not found