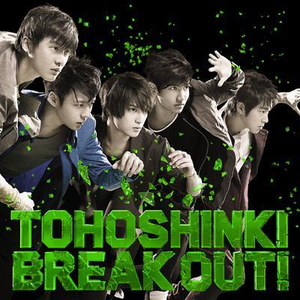 BREAK OUT! is Korean pop group TVXQ's twenty-ninth Japanese language single. BREAK OUT! was released on January 27th, 2010. The single created a new record for the group. The single topped the Oricon selling 256,000 copies in its first week breaking Elton John's record for the highest sales for a foreign artist which lasted for 12 years and 4 months. They also set the record for having the highest first week sales by a foreign artist in Japan.

It is their first single since the conflict originating from the law suits
Read Full Bio
BREAK OUT! is Korean pop group TVXQ's twenty-ninth Japanese language single. BREAK OUT! was released on January 27th, 2010. The single created a new record for the group. The single topped the Oricon selling 256,000 copies in its first week breaking Elton John's record for the highest sales for a foreign artist which lasted for 12 years and 4 months. They also set the record for having the highest first week sales by a foreign artist in Japan.

It is their first single since the conflict originating from the law suits, resulting in an indefinite 'hiatus' in full, 5-member group activities.
Genre not found
Artist not found
Album not found
Search results not found
Song not found
BREAK OUT!
東方神起 Lyrics
We have lyrics for 'BREAK OUT!' by these artists:



DBSK/동방신기 [Yoochun]I keep praying Don't forget it Baby, we keep the fa…
Hold X True Straight ahead, escape from weekdays/ I won't give in, it…
Union Square So here I go again The world is on my…



We have lyrics for these tracks by 東方神起:



Beautiful you Ah Sono koe ni sawatte nemuretara ii noni Aenai yoru mo dait…
Lovin' you あの駅に着いたなら君は もう僕の彼女じゃなくなる 少しゆっくり歩いて 君は言葉探してる 最後まで言わなくてもいいよ その…
Million men [U-Know, Micky] Donimyon one one nugudun ok [Hero] Jabu…
Share The World Ano oozora ni todoku made I believe hitotsu no ashita he…
Stand by U 君が「サヨナラ」も告げずに 出て行ったあの日から この街の景色や匂いが 変わった気がするよ 君の全てになりたくて 交わし…
ウィーアー! Arittakeno yume o kakiatsume Sagashi mono sagashini yuku no…
約束 広がる青い空shiny day 日曜の午後はdarling 君と手をつないで歩くよ 片方ずつで聴くearphone 同じ…
운명 The Chance of Love Woo woo Woo woo Ay ay 인위적인 건 너무 재미없어 Ay 흐르던 시선…
주문 MIROTIC 시작은 달콤하게 평범하게 나에게 끌려 언제나 그랬듯이 먼저 말을 걸어와 모든 가능성…

The lyrics can frequently be found in the comments below, by filtering for lyric videos or browsing the comments in the different videos below.