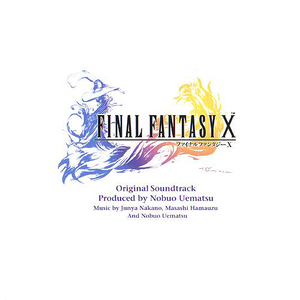 "This is the artist page for the Japanese composer Nobuo Uematsu. If you're look…
Read Full Bio ↴
"This is the artist page for the Japanese composer Nobuo Uematsu. If you're looking for the artist 'FF7', see his redirected profile. To ensure your scrobbles are shown under the correct name, please turn corrections off in your account settings."

--

Nobuo Uematsu (植松伸夫 Uematsu Nobuo) (born March 21, 1959) is a Japanese composer of video game music. He is best known for his work with game developer Squaresoft (now Square Enix), having provided scores for a majority of installments of Square's Final Fantasy series of role-playing games. Uematsu's body of work - composed, in its entirety, on keyboards - is known for its distinct eclecticism, and has secured his status as one of the most popular and beloved composers of video game music in the world.

Nobuo Uematsu was born in Kōchi, Kōchi Prefecture, Japan. A self-taught musician, he began to play the piano when he was eleven or twelve years old, and he did not take any formal piano lessons. After graduating from Kanagawa University, Uematsu played the keyboard in several amateur bands and composed music for television commercials.

When Uematsu was working at a music rental shop in Tokyo, a Square employee asked if he would be interested in creating music for some of the titles they were working on. Although he agreed, Uematsu considered it a side job, and he did not think it would become a full-time career. He said it was a way to make some money on the side, while also keeping his part-time job at the music rental shop. His first score for Square was Cruise Chaser Blassty, released in 1986.

Uematsu enjoyed massive commercial success with the song "Eyes on Me" performed by 王菲 and featured in Final Fantasy VIII. The single sold 400,000 copies, a record for a video game song, and won the "Song of the Year" award at the 1999 Japan Gold Disc Awards. Uematsu was subsequently named in Time Magazine's list of the Top 100 Innovators - Music, and has toured Japan playing classical concerts on several occasions.

His music itself is notoriously eclectic, tracks featured skip between pop-style balladry, to fusion styles incorporating African traditions, to, in recent years, a number of Celtic-influenced recordings and releases. Many of his works also contain elements of progressive rock and hard rock. His formation of The Black Mages, a rock band, in 2003, allowed him to experiment with his own compositions, releasing band renditions of a significant number of tracks from his soundtracks. The Black Mages disbanded in 2010, but Uematsu formed a new band featuring other ex-Black Mages members and some new faces, Earthbound Papas, in its wake.

In 2004, Uematsu formed his own production company, Smile Please, to which Uematsu's compositions for CG-animated film Final Fantasy VII: Advent Children is credited. Uematsu continues to compose for Square Enix and other video game developers, such as Mistwalker. Notably, he worked on the soundtrack for the Nintendo crossover fighting game, Super Smash Bros. Brawl, having composed its main theme.
Hymn
植松伸夫 Lyrics
We have lyrics for 'Hymn' by these artists:
2-BPM
I wish I could see Into you You're riding my dreams And I…
4 Clubbers
Give us this day, All that you showed me, The power and…
A.G.A.
Drink from me, drink from me (oh-ah-oh-ah) Then we'll shoot …
Adiemus
Yeah, yeah, yeah, yeah Yeah, yeah, yeah, yeah Yeah, yeah, ye…
Adiemus / Karl Jenkins
yeh... i ma lo ma i i ma lo ma yei…
ADIEMUS Karl Jenkins
Yeah, yeah, yeah, yeah Yeah, yeah, yeah, yeah Yeah, yeah, ye…
Adiemus; London Philharmonic Orchestra; Miriam Stockley
yeh... i ma lo ma i i ma lo ma yei…
Adiemus; London Philharmonic; Miriam Stockley
Yeah, yeah, yeah, yeah Yeah, yeah, yeah, yeah Yeah, yeah, ye…
Age Pee
Give us this day all that you showed me The power…
Alex Pizzuti
Drink from me, drink from me (oh-ah-oh-ah) Then we'll shoot …
Alicja Majewska
Bądź pochwalony na wieki Nasz Boże w Trójcy Jedyny Ciebie pr…
Ambrotype
I can never rest I still remember Your face and your name A…
Andy Stochansky
Fly down back by to my arms. And sing your songs…
Audrey
I can still taste you in the corner of my…
Austin P. McKenzie
I should be sleeping But I′m thinking Of the millions of way…
B.O.Y.L.
Oh oh Oh oh Oh whoa oh Oh oh No no Oh oh oh I don't…
Barclay James Harvest
Valley's deep and the mountain's so high If you want to…
barclay james harvest [feat. les holroyd] & prague philharmonic orchestra
Valley's deep and the mountain's so high If you want to…
Bedoes & Kubi Producent
Jeśli jesteś z nami pokaż S Jeśli jesteś z nami pokaż…
Big Head Todd and the Monsters
The city is spread Reach to the heavens This cloud cover…
Birdeatsbaby
I danced at your wedding For the bride and the groom I…
Bjear
There is a man He runs right to me He wraps his…
Boys & Girls
Mine eyes have seen the glory Of the coming of the…
Brett Anderson
Shining through the plate glass, hyacinths and Spanish stars…
Brooke Fraser
If to distant lands I scatter If I sail to farthest…
C.K. Dezerterzy
Jehovah, Thou hast promised The isles shall wait for Thee Th…
Caballero
Give us this day all that you showed me. The power…
Cabballero
Give us this day all that you showed me. The…
car seat headrest
I feel it in my heart Feel it in my heart Feel…
Chris Garneau
Try and think of nice things to say Or I might…
Coko
Jesus, keep me near the Cross; There a precious fountain Fre…
Coldplay feat Beyonce
Drink from me, drink from me (oh-ah-oh-ah) Then we'll shoot …
Coldplay feat. Beyonce
Me, drink from me, drink from me (oh I-) Shoot across…
Communions
Waltzing through the ghetto carried by the wind Her legs zig…
Dan Berglund
Inte förrän jag sprang på stigens barr Som skimrade som guld…
Diane Coffee
Play, play me your tune One that you wrote with your…
Dj Jaxx
Give us this day all that you showed me The power…
Duncan Sheik
All the storms and oceans All the sheltering sky All this ea…
Dunkelwerk
Trooping his colour. I crossed the world on dust roads.…
Edguy
Give us this day all that you showed me The faith…
Erato
Wonderful; the land Where water hits the sand Lost in ocean …
EXEC
I don't want to share your world I don't need…
Fear Of Comedy
Wake from your sleep Rise from oceans deep I've waited patie…
FFX / X-2 HD Remaster
Ten Bridges we have to cross, ten paths we have…
Filmosound
Oh oh oh oh oh oh Ah ah ah ah ah…
Fleurie
Somewhere high up in the air there I had long forgotten…
Frans Kulick
REALLY REALLY REALLY REALLY OH WAH REALLY REALLY REALLY REAL…
Freedom Call
The battle is over, silence reigns the land Darkness surroun…
Frobe
Give us this day all that you showed me The…
Front 242
One of us is waiting, one side of us waiting Some…
Frozen Skies Feat. Mark Engels
And said drink from me, drink from me (Oh-ah-oh-ah) That we …
Garneau Chris
Try and think of nice things to say Or I might…
Gregorian
Valley's deep and the mountains so high, if you want…
H.I.M. (HER In Mind)
Hymns and a father done Been blowing my guts like a…
H.I.M. - HER In Mind
Panie, Ty jesteś moją mocą Mym źródłem męstwa, moim oc…
Hymn
Czasem w świetle gwiazd marzysz Ty marzę ja Wciąż jednak w…
Immediate Music (Themes For Orchestra And Choir)
Mine eyes have seen the glory of the coming of…
Indwelling
Enthroned and exalted I rejoice that you've befriende me …
Jaala
I write all these hymns for you I hum 'em out.…
Jacek Kaczmarski
Kto w twierdzy wyrósł po co mu ogrody Kto krew ma…
James Taylor
I got holy children to show me the light, Singing…
Janis Ian
When we grow old And love grows cold And time…
Janis Ian Phoebe Snow & Odetta
Mine eyes have seen the glory of the coming of…
Jars of Clay
Oh refuge of my hardened heart Oh fast pursuing lover…
Joe Pug
To meet me is to dare into the darkness If you…
John Lees
Valley's deep and the mountain's so high If you want to…
John Lees' Barclay James Harvest
Valley's deep and the mountain's so high If you want to…
John Metcalfe
Life Die free…
Kabaret SZUM
Малая в Америке зовёт меня Игорь Игорь крутой, Игорь Крутой …
Kaczmarski Gintrowski Łapiński
Kto w twierdzy wyrósł po co mu ogrody Kto krew ma…
Karl Jenkins
Yeah, yeah, yeah, yeah Yeah, yeah, yeah, yeah Yeah, yeah, ye…
Karl Jenkins & Adiemus
yeh... i ma lo ma i i ma lo ma yei…
Karl Jenkins - Adiemus I
Yeah, yeah, yeah, yeah Yeah, yeah, yeah, yeah Yeah, yeah, ye…
Karl Jenkins/London Philharmonic Orchestra/Miriam Stockley
yeh... i ma lo ma i i ma lo ma yei…
Ke$ha
Even the stars and the moon don't shine quite like…
Kesha
Even the stars and the moon Don′t shine quite like we…
Kesha Kesha
Even the stars and the moon don't shine quite like…
Kevin Ayers
Why do we waste our lives Why do we stay asleep So…
Kirlian Camera
Give us this day all that you showed me. The power…
Like Wendy
When darkness sings of obscure things behold these wings …
Lilys
Give us this day all that you showed me The power…
Lisa Ramey
I've been holding my arms out for you Waiting all day…
Lunatica
Give us this day all that you showed me The power…
Luxtorpeda
Oooooo.. Wiara, siła, męstwo to nasze zwycięstwo x2 Kie…
Mägo de Oz
Give us this day all that you showed me The power…
Manushan
میخوانم نامت را میرقصم آوازت را میخوانم نامت را میرقصم آوازت…
marie-mai
My heart was distressed 'neath Jehovah's dread frown, And lo…
Mark St. James
Yeah Just chill Just chill Just chill Yeah Waldorf just chil…
Micky Faust
Now it′s time to do what's right Now it′s time to…
Midge Ure
Give us this day all that you showed me The…
Midge Ure/Ultravox
Give us this day all that you showed me The…
Mighty Clouds Of Joy
Sunday morning, very bright, I read Your book by colored…
Miriam Stockley/London Philharmonic Orchestra
Yeah, yeah, yeah, yeah Yeah, yeah, yeah, yeah Yeah, yeah, ye…
Moby
Hymn (This Is My Dream) This is my dream ????? this is…
Music Instructor
Ladies and Gentlemen, We would like to show you how…
Mythos 'N DJ Cosmo
Give us this day all that you showed me The power…
Nina Utashiro
鏡よ鏡 鏡よ鏡 手と手を合わせて ありがたき 鏡よ鏡 鏡よ鏡 手と手を合わせて 汝ではなくて 私に生まれて なんて幸せ …
Noel Paul Stookey
Sunday morning, very bright, I read Your book by colored…
Octavia
Breathing without air Screaming with no voice Existing with …
Octavia Sperati
Attempting to ignore how you affect The presence of my soli…
Patti Smith
When I am troubled in the night he comes to…
Paul McCartney & Wings
With holy voice I call the stars on high Pure sacred…
Peter Paul & Mary
Sunday morning, very bright, I read Your book by colored…
Porcupine Tree
[instrumental]…
Ramba Zamba
Give us this day All that you showed me The power and…
Randy Stonehill
In this land of the walking wounded In this desert of…
Raubtier
Ingenting är evigt och ingenting är vunnet i hemmets härd In…
Resource Feat. Tina Cousins
Give us This day All that you showed me - The power and…
Rhye
Mm, I'm in a wicked state So come on fade So come…
Romanovsky & Phillips
May the words from my mouth today Only speak love and…
Ronald-V
""You say, I am beautiful, But you cannot, Read my mind, You…
Sainkho Namchylak Tri - O
Hymns and a father done Been blowing my guts like a…
Salem Al Fakir
Husch little lady, don't you worry This is the end of…
Sarah Brightman
Valley's deep And the mountains so high If you want to see…
Simon And Gerümpel
يا ايشوع محميانن ايت ايوت مرحمانن بكل مپلتا دعينتن ومحامت…
Small Feet
You following them around Well it's just what they're after…
Smith Patti Group
When I am troubled in the night he comes to…
Stephanie Rearick
How do we Keep on? All we ever knew Was wrong God…
Stoop Kids
When a piano stops playing That's when you will start Prayin…
Taylor Dayne
One true love All the soul can know One true heart Yearning …
Team Rockit
Kallade dig för baby Vad ska en do Det är ok men…
The Czars
People say to me you cannot change People say you always…
The Gregorians
Valley's deep and the mountains so high, if you want…
The Lees
Valley's deep and the mountain's so high If you want to…
The Mighty Clouds Of Joy
Sunday morning, very bright, I read Your book by colored…
The Mission
I've felt the heat in the city of angels Dust up…
These 5 Down
Spirit of addiction Spirit of confusion Spirit of perversi…
These Five Down
Spirit of addiction Spirit of confusion Spirit of perver…
Tina Cousins
Give us This day All that you showed me - The…
Tina cousins ( gammer g spencer remix )
Give us This day All that you showed me - The power and…
Top Ringtones
Finjo ser invisível Pra não ter que te encarar Afogo na pisc…
Trio
Kto w twierdzy wyrósł po co mu ogrody Kto krew ma…
Ultravox
Give us this day all that you showed me The…
Valerio Lysander
I′ve been told it's not the right sentiment But I know…
Vangelis
Oooooo... Ooo... Aaah... Aaah... Ha ri me no ca ri ha …
Various Artists
Give us this day all that you showed me The power…
William S. Burroughs
Mine eyes have seen the glory of the coming of…
★Moby
Hymn (This Is My Dream) This is my dream ????? this is…
We have lyrics for these tracks by 植松伸夫:
The lyrics are frequently found in the comments by searching or by filtering for lyric videos
Genre not found
Artist not found
Album not found
Search results not found
Song not found