All I Got
2FACE Lyrics
Hey
Oh oh oh
Yeah yeah
Oh oh oh
Yeah yeah
Oh oh oh
Yeah yeah
Hey hey
Don't nobody wanna live right no more
Everybody wanna live wrong
And they wanna give up
Don't really wanna fight no more
Shit's been going on way too long
But if you take a look at this
And listen to it
I guarantee that you'll know
Homie I got yo back
I'm not gon' leave you out to dry
I will take you off the street
And I'm gon' show you everything you can without it
If I got then you got it (And we got it)
If I got then you got it (And we got it)
If I got then you got it (And we got it)
If I got then you got it (And we got it)
If I ain't got it we gon' get it
Get it get it get it get it get it get it get it
Get it get it get it ooh
If I got then you got it (And we got it)
If I got then you got it (And we got it)
And we got it
If I eat ain't nobody around me ever gon' starve
24/7, No days off, a nigga work hard
I know my niggas
My niggas know me
On everything I love 'cause I struggle real hard
Just to feed these streets
A real live nigga, so real
You can ask Big Meech ('Bout me)
You can ask T Money (T Money)
You can ask South West T (Fo real)
Ain't got a whole lot of time
But I got a whole lot of money
Whole lot of homies, a lot more love to give
So if I got then you got it (And we got it)
If I got then you got it (And we got it)
If I got then you got it (And we got it)
If I got then you got it (And we got it)
If I ain't got it we gon' get it
Get it get it get it get it get it get it get it
Get it get it get it ooh
But if I got then you got it (And we got it)
If I got then you got it (And we got it)
And we got it
You see a hungry man is an angry man
It could be hunger for some knowledge, hunger for the truth
So I gotta keep my hustle on, so I can get it
And I acquire the knowledge and I pass it on to you
One man down, to another everything go
One by one, the whole world will know
But it's funny how sometimes the world will make you want to give up
So I tell you now one melody
If I tell you truth make it one melody
So feel free, feel free
If I got then you got it (And we got it)
If I got then you got it (And we got it)
If I got then you got it (And we got it)
If I got then you got it (And we got it)
If I ain't got it we gon' get it
Get it get it get it get it get it get it get it
Get it get it get it ooh
If I got then you got it (And we got it)
If I got then you got it (And we got it)
We got it
Lyrics © Universal Music Publishing Group
Written by: Aliuane Thiam, Faheem Najm

Lyrics Licensed & Provided by LyricFind
To comment on specific lyrics,
highlight them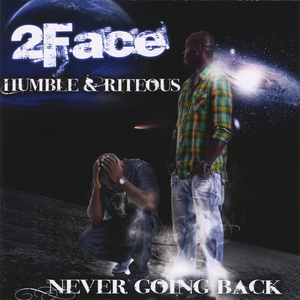 Born in Harlem N.Y., grew up in Da Bronx. At the age of 15 tragically getting shot in the face is where the name 2face is derived from. Thankful to be alive with his head on his shoulder 2FACE knows he's blessed to be here serving a bigger purpose. Its not a gimmick but its very marketable.
2FACE is a brand on the rise as a recording artist/songwriter/producer his goal is to touch people of all races with good tranquil, intense, uplifting, street smart hiphop/reggae music. That will captivate the listeners mind body & soul.
Read Full Bio
Born in Harlem N.Y., grew up in Da Bronx. At the age of 15 tragically getting shot in the face is where the name 2face is derived from. Thankful to be alive with his head on his shoulder 2FACE knows he's blessed to be here serving a bigger purpose. Its not a gimmick but its very marketable.
2FACE is a brand on the rise as a recording artist/songwriter/producer his goal is to touch people of all races with good tranquil, intense, uplifting, street smart hiphop/reggae music. That will captivate the listeners mind body & soul.
2FACE started taking his music career more serious in 2005 inking his Publishing company FacesOfDonCarroll under BMI Publishing.
2FACE started Opening up for numerous well known artist up and down the east coast well known artist like Beenie Man, Everton Blender, Too Short, Khia (thug mistress), Boys in da hood, Lil Scrappy, StagaLee, Sasha just to name a few big entertainers. 2FACE has performed in Florida, Alabama, South Carolina, North Carolina, New York and Atlanta home of Club 291, Apache Cafe, Central Park & Bistro, Royal Garden, Club Savoy, MJQ's, Cafe290, Black Lion, Club Vibes, Moonlight, Mingles, Foot Prints Bar & Lounge, Scores, Club Dreamz, Crowe's Nest, Prestige, Peacock, Django's, DeKalb Tech, O'Reilly's,Mingles SportsBar, Intrigue, Atrium, Motions, Club Crucial, Chit Chats, Drunken Monkey, Oceans 66....just to name a few has extended his creativity and directives towards the career he chose. Opening up for successful performing artists, Black Jack, Big Kuntry, Blood Raw, and Shonuff Records..
Atlanta's music scene has embraced 2FACE and it's well known music professionals and promoters started to take notice of 2FACE's artistry through word of mouth, special events, fundraisers, including The Women Breast Cancer Association at Dekalb Tech performing at Wade Walker Park and Exchange Park.
2FACE is definetly a favored artist with the Dj's such as DJ Just, DJ Sizahand, Dj Red Alert, Dj Blazentraks, Dj Chico Brown, Dj Mook, Dj Deputy (King AP), Reptile sound, Dj Lazy K, Dj Ironhorse, Dj Juggla, Dj Jungle, Dj Smiles, Dj Danger Marcus Dj Kash just to name a few...In 2009 2FACE song "Out In Da Streets" got several placements on mixtapes with Dj Shak & Dj Gates "The Formula Vol. 15 and Dj Mischief's "Money Don't Never Sleep" supports 2Face and believes without a doubt 2FACE is on his way to the top.
Meanwhile various media outlets taking great interest in 2 FACE's influential Music about the struggle, grind, hustle spinning his music and interviewing his Reggae/Hip Hop brand of music. Such as 107.9fm WGFS 1430 AM Afro Carib Radio, 1010 AM Radio, 98.9 FM Blazin Radio, 2hot4radio.com, Collabomuzik247radio.com , Nworcsradio.com , Dj Sincere & MrRaww of DrtyBsmnt Internet Radio show, Sirius Satellite and many more..
I(2FACE) "put my trust and faith in God...That force that governs this universe. He who makes all things possible. Im built for longevity, I expect to be here in t'he music industry a very longtime. I admire the great legends like Bob Marley, Quincy Jones, Michael Jackson, Jay'Z" just to name a few that has done it all....

https://plus.google.com/u/0/b/108732912843055197805/108732912843055197805
https://www.facebook.com/2FaceOnline
http://www.reverbnation.com/2faceonline
http://www.youtube.com/2faceVEVO
https://twitter.com/Follow2Face
https://soundcloud.com/2faceonline
http://instagram.com/2faceonline
https://myspace.com/2face_
http://2faceonline.tumblr.com/
Genre not found
Artist not found
Album not found
Search results not found
Song not found