I get so high, I touch the sky 'til I can't even function
I get so high, I fuck around and wanna leave the function
The only thing that's on my mind is I'm gon' leave with something
But it's nothing, and we roll one with the 'tussin, and we gon' get
Get lit
It's about to go down, drunker than a bitch
Afterparty with my niggas slumber party with your bitch
Finna hit the lick, 10 56, takin' sips, let the syrup sit
Let it get the mix, everyday we gettin' gettin' lit
That Purrp purp and I get lit, 'methazine, tell 'em sip this
I'm on that Memphis, that 666, trip six shit, bitches
A 50 box of them Swishers, Ghost slabs on them 6's
In the back seat full of bitches, tryna hit licks, we gon' get lit
Get lit
Niggas so throwed like we don't know no better
We disobedient, nigga
Mama wanna grab the switch
We like "fuck that, nigga, we out here, mayne"
Coming down, coming live
Just light the candle on the nightstand, sitting by the lotion
I got her open, got her floating off this purple potion
Just take a hit, no time to quit because you gotta smoke this
I gotta focus when I pour it cause it's kinda potent
(She like them all gold slugs) No diamonds on it
I chunk the deuce I'm coming down and I be riding spokes and
I be that pretty muthafucka and you got to know this, this
Now we gotta go get, get, now we gotta go get
Get lit
Young nigga from the southside of H-Town
Fat Tony up in this bitch
Fuckin' with ASAP Rocky in this bitch
You know how young niggas connect from state to state
Feeling great, nigga
Puttin' it in ya face, nigga
Lyrics © Sony/ATV Music Publishing LLC
Written by: RAKIM MAYERS, SOUFIEN RHOUAT

Lyrics Licensed & Provided by LyricFind
To comment on specific lyrics,
highlight them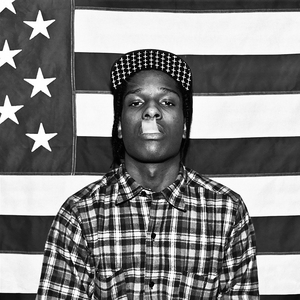 Rakim Mayers (born October 3, 1988 in Harlem, New York NY, United States), aka Pretty Flacko, better known by his stage name ASAP Rocky (stylized as A$AP Rocky), is an American rapper, director, and member of the New York based Hip-Hop collective ASAP Mob. ASAP Rocky gained recognition among the hip hop community in 2011 with his first mixtape LIVE.LOVE.A$AP. He released his first album 'Long.Live.A$AP' in 2013, and his second album 'AT.LONG.LAST.A$AP' was released on May 26, 2015. Both albums debuted at number one on the Billboard 200.
Genre not found
Artist not found
Album not found
Search results not found
Song not found