She's all that I want
She's all that I need, I'm filling your cup up
With Sprite and codeine, she get me so high
But I'm down on my knees, was it your desire?
Your life or that lean? Wait a minute
Cause ain't shit changed, just a different day
This the kinda pain I just couldn't take away
Something like Wayne cause you couldn't feel your face
Is you in it for the feeling or the taste? Wait a minute
What's the mothafuckin' problem? Me and my niggas mob
Throwing up gang signs, fuck a goon and a goblin
Gold grill shining, don't ask me how I got 'em
Styrofoam cups with jolly ranchers at the bottom
She's all that I want
Hey and now I'm blowing hella smoke
Talking on my cellaphone and I got that purple on me
She sipping on my styrofoam cup
Telling me she wanna bone but I ain't got no condoms on me
She claiming I'm a Pimp C
Cause I'm sipping big mo when I'm on that screw juice
She sip it 'til it's empty
Purple on the mustache, now it's time to screw you
And I wanna chop and screw you, girl
Moving like it's turtle time feeling like the world is my mine
And I be on my Fergenstein
I stay on my money grind and I'm going outta my mind
Flying through the purple sky
And I'm in a different world and you kinda look like Jasmine guy
And I'm kissing on that pink juice, sipping on that pimp juice
She's all that I want
Wait a minute
You can smoke that weed
Sip that lean, get high (She's all that I want)
Bitch
Lyrics © Sony/ATV Music Publishing LLC
Written by: Rakim Mayers

Lyrics Licensed & Provided by LyricFind
To comment on specific lyrics,
highlight them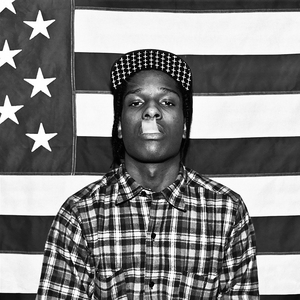 Rakim Mayers (born October 3, 1988 in Harlem, New York NY, United States), aka Pretty Flacko, better known by his stage name ASAP Rocky (stylized as A$AP Rocky), is an American rapper, director, and member of the New York based Hip-Hop collective ASAP Mob. ASAP Rocky gained recognition among the hip hop community in 2011 with his first mixtape LIVE.LOVE.A$AP. He released his first album 'Long.Live.A$AP' in 2013, and his second album 'AT.LONG.LAST.A$AP' was released on May 26, 2015. Both albums debuted at number one on the Billboard 200.
Genre not found
Artist not found
Album not found
Search results not found
Song not found