Let me know, know what's up
Before I roll, roll one up
I been rolling up that reefer got me high
I been rolling up that weed, it got me high
I been rolling up sativa got me high
I been rolling all week, it got me high
Puff puff pass take a drag just don't steam it tho
Smoking on that captain kush, this shit is unbelievable
My shit come from Mexico, yeah I got that dimelo
Mama said leave weed alone but I think I need it
Oh, oh, niggas getting throwed, oh oh, we blowing purple smoke
Oh, oh, the kush and purple haze, oh oh, we flying paper planes
Cause I'm always talking fly shit fashion be the topic
That's why all these hoes wanna hop and jump on my dick
Then she looked at me and said how lower can your eyes get?
Let me know who's chipping in this before I cop it
Let me know, know what's up
Before I roll, roll one up
Rotation is like basketball blunts is going back and forth
Niggas mixing hash and dro with cinnamon that's applesauce
Show this what you asking for liqour is my last resort
Steaming niggas grab the torch then puff puff pass it off
Uh, and tell me what you think about it
I been getting high, I'm tryna get a drink around it
Now my high is higher than it's ever been
I'm so mothafuckin' high, I think I might never land
They be talking crazy but I been rolling hazies up
I been having like a 20, 40 then that 80 bucks
Man I come through get that Mercedes drunk and them ladies fuck
They already know we got them blunts and we blazing up
Let me know, know what's up
Before I roll, roll one up
Lyrics © Sony/ATV Music Publishing LLC
Written by: Rakim Mayers

Lyrics Licensed & Provided by LyricFind
To comment on specific lyrics,
highlight them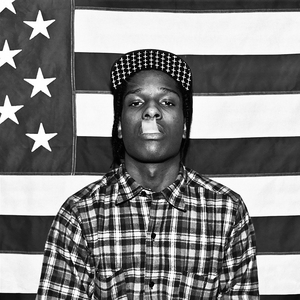 Rakim Mayers (born October 3, 1988 in Harlem, New York NY, United States), aka Pretty Flacko, better known by his stage name ASAP Rocky (stylized as A$AP Rocky), is an American rapper, director, and member of the New York based Hip-Hop collective ASAP Mob. ASAP Rocky gained recognition among the hip hop community in 2011 with his first mixtape LIVE.LOVE.A$AP. He released his first album 'Long.Live.A$AP' in 2013, and his second album 'AT.LONG.LAST.A$AP' was released on May 26, 2015. Both albums debuted at number one on the Billboard 200.
Genre not found
Artist not found
Album not found
Search results not found
Song not found