熟悉的那街道现在在哪里
未知的风景 是否如你 在等着我
记忆中 那片空地 那座山丘
它们都 一点点 在我眼中 悄然消失
镜前的我 不知不觉 慢慢长大
那段过往 那些记忆 带给你和我的 是过去 还是未来
I wanna go
Love trip 等时间 给你答案
Love trip 回归了吗
一直都 深藏在 我心中
那一段 美好时光
I was there
Love trip 想知道 你在哪里
Love trip 见面好吗
我要把 一直都 没说完 的话题 都对你说
就算 有些故事 有些经历 在某一天 会被代替
但我懂 最初的你 始终不会 被忘记
让我们永远都能深藏着彼此 好吗
夏日天空之下我遇见了你
毕业照片里 那一个最爱笑的你
就算有狂风暴雨在眼前
我会陪你面对
期待我们要的明天
我的世界
因为有你而更完美
未知的所有考验
我都能量加倍
准备好全力奉陪
I wanna do
Love trip
我一直寻觅着你
Love trip
找到了吗
想和你再回到
记忆中单纯的那段青春
You were there
Love trip
我还在等待什么
Love trip
勇敢一点
我要把一直都
没说完的话题都对你说
如果我把喜欢留在心里
总有一天我会遗憾
我终于带着勇气
面对着你别抗拒
你已经听到我在
心底的声音对吗
夏天将不会结束
我和你再相遇那一刻
我们会怎样开口
眼神都充满着温柔
追着奔跑的暖风
变成大人的我们
终于可以更诚恳
面对着对方
I wanna go
Love trip
等时间 给你答案
Love trip
回归了吗
一直都 深藏在 我心中
那一段 美好时光
I was there
Love trip 想知道 你在哪里
Love trip 见面好吗
我要把 一直都 没说完 的话题 都对你说
我们所有过去所有经历
所有的爱不会消失
你始终是我内心
无法抹去的记忆
因为你永远是我
夏日的晴空对吗
Writer(s): Yasushi Akimoto, Haruyuki

Contributed by Mason P. Suggest a correction in the comments below.
To comment on specific lyrics,
highlight them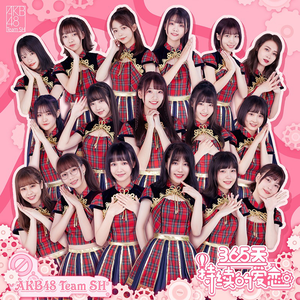 AKB48 Team SH (short for Shanghai) (SH队) is a Chinese idol group and the 4th international sister group of AKB48. The group was announced on October 26, 2017 and on April 10, 2018, the application process was opened, in which 38,066 girls registered by May. The 1st Generation members were announced on July 24, 2018. The debut single, LOVE TRIP, was released digitally on December 3, 2018.
Genre not found
Artist not found
Album not found
Search results not found
Song not found