道に 灯が
ひとつ ひとつ点り
山のふもとに
童話のような汽車が行く
幼い日々へと運ぶのは
草の小舟か森の梟か
わたしの名前を呼ぶ声は誰
振り返れば
懐かしい顔が
笑っている
抱えきれない想い
こぼれおちて
何も言葉に
できない時があるの
夕闇迎える蛍火や
ささやき交わす風や木々の音は
かつてわたしを愛した人たちの
形見のように
やさしさに満ちて
いまを 包む
探してた夢は
ここにあるわ
小さなわたしが
握りしめてる
道をひらけば
真っ白な花が舞うの
夏が終わったらこの道を
ひとりでまた辿って行くでしょう
もしも忘れ物があったとしたら
それは遠い
昨日までの
儚い わたしの影
Contributed by Parker V. Suggest a correction in the comments below.
To comment on specific lyrics,
highlight them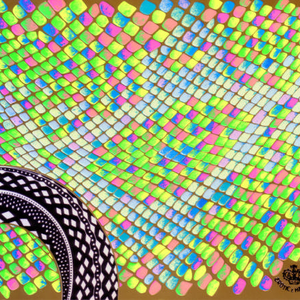 ALI PROJECT is a Japanese neoclassical duo with a strong Gothic Lolita image, consisting of Arika Takarano (宝野アリカ) - vocals & lyrics and Mikiya Katakura(片倉三起也) - music & arrangement.

They made their debut in the charts back in 1988 as Ant Project (蟻プロジェクト Ari Purojekkuto) with their album Gensō Teien. The basis of the music of this album is powerful, multifaceted sound of electronic instruments in combination with complex piano parties and clean, clear female vocals.
Read Full Bio
ALI PROJECT is a Japanese neoclassical duo with a strong Gothic Lolita image, consisting of Arika Takarano (宝野アリカ) - vocals & lyrics and Mikiya Katakura(片倉三起也) - music & arrangement.

They made their debut in the charts back in 1988 as Ant Project (蟻プロジェクト Ari Purojekkuto) with their album Gensō Teien. The basis of the music of this album is powerful, multifaceted sound of electronic instruments in combination with complex piano parties and clean, clear female vocals. Selection of songs was also unusual, consisting of both original objects, and fragments of classical music, plus - traditional Japanese songs.

Under mysterious name there are two musicians hiding: a well-known for his work in the field of classical music composer Mikiya Katakura and singer with an amazing voice, Arika Takarano. Intending to try out a new genre, Mikiya Katakura looking for a new project vocalist, has not yet met with a very eccentric woman. Apparently, having listened to her and noticed that she is wrong, but did not for the worse side, Mikiyya Katakura realized that is exactly what they're looking for. Arika Takarano's talent is not limited to singing as she is also a great poet and, as a result, she composes the lyrics.

There wasn't a full confidence in the group mainly because of its very unusual sound basing on the late 80's mixed with progressive rock and classical, but after the success of the first album (later reissued three times: in 1992, 1996 and 2000), they sign a contract first major recording company, Toshiba EMI.

In 1992, they changed name from Ant Project (Written in kanji) to Ali Project (Written in romaji only) and made their major debut with the single Fall in Love, Maiden (恋せよ乙女 Koiseyo Otome). With Toshiba EMI will be connected for three of their subsequent work: Gekka no Ichigun - «The crowd watching the moon» (1992), Dali (1994), Hoshi to Tsuki no Sonata - «Sonata of stars and moon» (1995).

The album Gekka no Ichigun is different from its predecessor in 1988 with modern sound of electronics and more elegant neoclassical compositions. Dali - fully justify its name, as composed of things that would be public-spirited creation of this strange artist: daring, impossible, is very far from the definition of easy listening. And Hoshi to Tsuki no Sonata - that half a collection of songs from the album Gekka no Ichigun, very harmoniously complemented by new sounds.

Later in life of the group comes a remarkable event - it gets the honor to work on music for the adoptation of manga of famous quartet from Osaka - CLAMP Gakuen Tanteidan - "School Detectives CLAMP". Ali Project wrote entire 10 wonderful songs, which were issued only in the soundtrack anime "CLAMP Gakuen Tanteidan - Vocal Collection" 1997. But without them the picture of the perception of the group, even at that point would be incomplete: the songs from aristocratic sound does not stay a little, and the voice of Arika Takarano becomes so cute and childish that this is totally confusing sense of people who started to get acquainted with Ali Project with these things. Cooperation with CLAMP to ALI Project does not end, then follow the music for the failed anime adoptation on manga "Wish" - "Desire" with a charming song of the same name, in the 1998 soundtrack to "St. Luminous Mission High School" and the complete soundtrack for the anime Avenger O.S.T. - Avenger, remaining in the history only because of magnificence of its soundtrack.

But work on the music to the anime does not stop there: in 2000, Ali Project recorded its most famous thing - opening to the anime Noir. Mad and dark composition Coppelia No Hitsugi perfectly fit into the overall concept of Noir and surprisingly good harmony with the music Yuki Kajiura (梶浦由記) - another great composer, who wrote the rest of the soundtrack. Coppelia No Hitsugi was the very characteristic sound Ali Project during the period from 1998 to 2002. At this time the duo recording three albums: Noblerot 1998 (a term from the wine-making), Aristocracy 2001 and Erotic & Heretic 2002. All of them have more rigid than before, "industrial" sound, vocal of Arika Takarano acquires sharp, cranky, "demonic" notes, the image of the group live is even more glamorous, while strongly influenced by growing popularity of Gothic style. Mana, guitarist and leader of the group MALICE MIZER, who is the founder of the style "Gothic & Lolita", has expressed its approval of creativity group. In the start their musical style tended to light, invigorating songs. However, at present their musical style has changed and their music began to dominate the dark and mystical tone. Arika Takarano explained these changes as a shift from the White Ali (白アリShirō Ari) to the Black Ali (黒アリKuro Ari).

In 2003-2005, Ali Project are beginning to rethink their previous works, and produce three albums totally acoustic cover versions of their old songs: 月光嗜好症 - "drunk Moon" 2003, Etoiles - "Stars" 2004 and Kamigami no Tasogare - "Twilight of the Gods" 2005. Some fans are not accustomed to low dynamic of sound of classical music, these albums seem to be boring, but true connoisseurs of art groups, no doubt, will have fun, listen to, for example, the opening "Noir" accompanied by string quartet or a song from "School Detectives CLAMP" Nichiyoubi no Shiesuta - jazz melody, arrangement for strings alone. In 2003 Ali Project has recorded soundtracks for "Maria-sama ga Miteru" 2003 and in 2004 - for its spring sequel. Openings for the anime "Rozen Maiden" and its sequel - in 2003 and 2004.
Moreover, there is nothing to prevent to produce "normal" albums : in 2005, leaving one more album that incorporated all the works Ali Project for the entire period of its existence, Dilettante 2005.
In 2006 Ali Project recorded endings for anime ".Hack / / Roots" and "Code Geass Hangyaku no Lelouch".

Right now we can break down ALI PROJECT's music style into three groups
1) Single releases - mainly uptempo tunes with heavy arrangements, braced with plethora of 'odd' sounds. The singles are put on compilations albums but not on regular albums
2) Regular albums - at least one single-like song, yet most of them more experimental, trying off new sounds, mixes, with both electronica-driven and full orchestra-arranged songs.
3) Strings albums - new compositions/classical covers/previous ALI PROJECT's songs selfcovers - all of them rearranged for orchestra sound.
Most of their records were released by Toshiba EMI, Victor Entertainment and Tokuma Japan. Nowadays their records are released by Mellow Head. To date, ALI PROJECT had numerous albums and classical strings album.

http://www5b.biglobe.ne.jp/~alipro/ || http://aliproject.jp/
Genre not found
Artist not found
Album not found
Search results not found
Song not found