Someone cruel gave me my dreams last night. I barely stood before a darkened closet, baring skin and soul before its unseen jaws. "You will never be the creature that you were when you were younger," it whispered. We get disconnected from our childhood. We tell our stories like we read them in a book but had not lived them. I don't remember much from then but I do remember what a closet becomes when the lights go off and I know the many things that fill it up. When we used to have dreams like this we called them nightmares. We ran barefoot through the halls of our house and clung to our parents sheets like they were the only real thing left in the world. And my mother? She would save us, you and I. She would lead us hand in hand through the hallway that made us feel silly for seeming run by shadows and endless only moments before. And I'm here now, barely standing in the land of dreams before it, and I see you, I see myself as a child sitting inside. Scared. Crying. And you have every reason. Because while we grow up through song and story learning that love is everything in this world and that while we believe it and want it more than any single thing...I know that when we have it, we destroy it. That when we grow up, you and I, that we cheat. That we find the girl we love and that we lose her because we learn to love ourselves much more. That the friends that we make will drift away once we have leeched them dry. That the mother who turned our darkened scary hallways into pathways to a bedroom will call us and miss us and love us and we will stay hidden. That really, we will be cruel! That in the stories we want told to us before we fall asleep, the heroes are ideals that never get reached and the villains are absolutely ordinary. And we are absolutely ordinary. And you stare back at me through the closet and into the world that I never really changed and ask me the only thing you want to know. "When we grow up, do we still get scared when the lights go out?"
Lyrics © OBO APRA/AMCOS

Lyrics Licensed & Provided by LyricFind
To comment on specific lyrics,
highlight them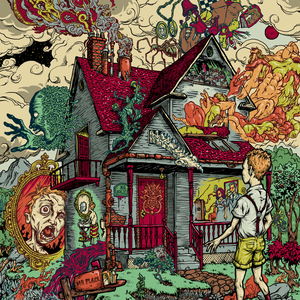 A Lot Like Birds is a six piece progressive rock/post-hardcore outfit from Sacramento, CA, formed in September 2009, known for their tendency to experiment with several diverse genre influences and their incorporation of orchestral and ambient sound-scapes contrasted by chaotic, schizophrenic episodes. On January 9th of 2011, A Lot Like Birds announced that Kurt Travis (Ex of Dance Gavin Dance, Five Minute Ride, No Not Constant, and O! the Joy) would be the new singer and second front-man, alongside Cory Lockwood.
Read Full Bio
A Lot Like Birds is a six piece progressive rock/post-hardcore outfit from Sacramento, CA, formed in September 2009, known for their tendency to experiment with several diverse genre influences and their incorporation of orchestral and ambient sound-scapes contrasted by chaotic, schizophrenic episodes. On January 9th of 2011, A Lot Like Birds announced that Kurt Travis (Ex of Dance Gavin Dance, Five Minute Ride, No Not Constant, and O! the Joy) would be the new singer and second front-man, alongside Cory Lockwood. With their acclaimed addition, the band quickly signed to Doghouse Records (All American Rejects, Say Anything, The Get Up Kids) and acquired The Artery Foundation (Asking Alexandria, Dance Gavin Dance, Alesana) as management.

Their debut album Plan B was the brainchild of the band's guitarist/original vocalist Michael Franzino, who invited several talented musicians in the Sacramento scene (Including various orchestral instrumentalists and a female vocalist) to perform on the record. They spent their first year of existence diligently perfecting their live set, building their fan base, and most recently, writing their sophomore album as a collaborative effort. Their live set is known for setting deep moods that swing from thoughtful, emotional build-ups to body-moving, epic climaxes.

After signing both deals, they entered Interlace Audio Recording Studio with producer / engineer Kris Crummet (Closure In Moscow, Fear Before, Dance Gavin Dance) to record their second full length, Conversation Piece.

After it's release in the fall of 2011, Conversation Piece received praise and they were called "one of post-hardcore's most important new bands and one of the few capable of saving the scene." (-MindEqualsBlown.net).

A Lot Like Birds spent all of 2012 on the road, taking their new album and frenzied live antics to the masses. The positive reception to their high energy performances lead to a one month tour of Europe in February 2013. The band's growing fan base fueled powerful performances in London, Paris, Vienna, Budapest and 19 other cities.

ALLB Released their 2nd LP 'No Place' with Equal Vision Records on October 29th, 2013.
ALLB released their 3rd LP 'DIVISI' with Equal Vision Records on May 5th, 2017.

On February 17, 2018, A Lot Like Birds announced their break-up.

Current Members:
Cory Lockwood
Michael Franzino
Ben Wiacek
Joseph Arrington
Matt Coate

Past Members
Kurt Travis
Michael Littlefield
Genre not found
Artist not found
Album not found
Search results not found
Song not found