I know your face, your eyes, your lips, your taste
I love the way you know just what to say
It was a saturday
Remember it like yesterday
She knew my name, imagine that
I know this road, the way that no one goes
So cold, so cold
Baby you're so cold, so cold
Take is easy baby, we can make it right
Girl you know my love is always on your side
Rest your eyes tonight
You know that my love
You know that my love is on your side
I love your pretty face
And how it rests on your pillow case
We'd get in fights, you spend the night
And I don't see how we get this way
I think we're alright
So cold, so cold
Baby you're so cold, so cold
Take is easy baby, we can make it right
Girl you know my love is always on your side
Rest your eyes tonight
You know that my love
You know that my love is on your side
Take is easy baby, we can make it right
Girl you know my love is always on your side
Rest your eyes tonight
Rest your eyes tonight
Rest your eyes tonight
You know that my love is on your side
You know that my love
You know that my love is on your side
You know that my love is on your side
Contributed by Elena A. Suggest a correction in the comments below.
To comment on specific lyrics,
highlight them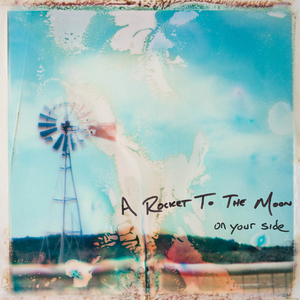 A Rocket to the Moon was an American pop/alternative rock band. A Rocket to the Moon had released two EPs and a full length. Their first studio full length was released in October 2009. Nick Santino began the band in the summer of 2006 as an experiment, and decided to continue due to positive feedback. A Rocket to the Moon started its first official tour in 2008 with The Cab, Hey Monday, and This Providence. A Rocket to the Moon has also played in such events as Bamboozle.
Read Full Bio
A Rocket to the Moon was an American pop/alternative rock band. A Rocket to the Moon had released two EPs and a full length. Their first studio full length was released in October 2009. Nick Santino began the band in the summer of 2006 as an experiment, and decided to continue due to positive feedback. A Rocket to the Moon started its first official tour in 2008 with The Cab, Hey Monday, and This Providence. A Rocket to the Moon has also played in such events as Bamboozle. Santino was joined by guitarist Justin Richards (of Brighten) and bassist Eric Halvorsen, and most recently, by drummer Andrew Cook. The band broke up in 2013
Genre not found
Artist not found
Album not found
Search results not found
Song not found