Jump to: Overall Meaning
Brother, brother, brother, Lucien, you're like no other
Listen very close 'cause I don't like to boast
Instead, I'll tell the tale of a French who prevailed
Through the Mr. Crazy Rabbits who were always on his tail
When it ain't on sale, your rumor starts to wail
Get caught with stolen goods and you will go to jail
If you go to jail, then who will pay the bail?
They'll put you back to France on a ship with a sail
Escargot, Lucien, you eat snails
(Hey yo Tip, what's wrong with snails?)
From the Zulu nation, from a town called Paris (yeah)
Came to America to find liberty (uh-huh)
Instead of finding pleasure, all you found was misery (mhm)
But listen, Lucien, you have a friend in me (what)
Oh, luck luck will drive you butt baddy (yeah)
Next time you get some wheels, make it a Caddy
In terms of doing good, I know you wish you really could
But listen, brother man, I really think you can
Succeed with the breed of the brothers on your back
It's the crème de la crème, and you can bounce with that
It'll take a minute, rice, so take my advice
Trust in us, and thus you trust in your life
Lucin, Lucien, Lucien, Lucien
You should know (what)
Oh shit man, what have you done to me, man
I thought you was a friend, word
Oh man, can't believe that
Oh, how you do that to me?
I wouldn't leave like this
I can't do it by myself
(?) ah
Are you ready, Lu?
This one is for you,
Comin' from a true-blue, fits like a shoe
"Como estas tu" or "Comment allez vous"?
Lucien, I'll leave it up to you
Voulez-vous (vous)
Rendez-vous (vous)
Cou-cou (cou)
Les poo-poo (poo)
Watch that lass, gonna backlash fast
Can you get a grip on the crackhead dip?
Sold you a paper bag, guess he saw you comin'
VCR from a neck-bone bummin'
Ten dollars brother, he was hummin' and strummin'
Only had twenty, he was livin' like ya slummin'
Gave him the money, well, I thought that was somethin'
Lookin' like a kid who was lost in crumbin'
Don't worry about a thing, I won't get specific
This is a song that is long and prolific
Think of the stuff that I said if you can
Figure it out, compute, understnad
No problemo, I'll help you with your demo
If you go to the store for me
Lucien, I'm just kiddin'
You should know
Ayo, whassup man? Whats your name?
What kind of accent is that?
It's a French accent, you know I'm French
I'm from Paris, don't you think it's sexy?
No, it's not sexy accent
Oh, man, give me a try to kiss me enough? Hun?
Oh, please love meean French, French mean love, everybody love my accent
Why nobody like it? Q-Tip would write a story about me? Why is that?
Oh, I'm sexy and I'm French
Everybody love my accent
I am the best yes
Yes, je t'aime means I love you, I love you means je t'aime
Not too, too French, I think you friend's good
You gotta get a grip on the missions you'll be takin'
Not so much the mission, but you got crazy ignition
Sure, the sugar-babies want to give you a chance
With the French "savoir faire" and the sexy dance
But is she really fly, or is she a guy?
I won't ask why, 'cause I know that you try
You try too hard, is that the answer to the riddle?
Instead of doin' so much, why don't you do just a little?
Boy, what a cad, I guess we shouldn't treat him bad
In fact, it would be nice if we understood him like
A case of positioning the feet in the shoes
Sympathetic reason in the case of the blues
Lucien is blue, even though he's really brown
I had to make the sound, his life is too profound
On the up-and-up, he's somethin' like a little pup
Young and naive, it's hard to believe
As long as you're strong, you can quest with the questers
Jolly like a jumping bean or a jester
Lucien, Lucien, Lucien, Lucien
You should know
Oh Tip, everything's gonna be alright, man
I thank you actually for the tour, man
I think I'll going home, man
Bye-bye, I'll see you tonight
Oh Tip, I'm not here
Overall Meaning
The lyrics of A Tribe Called Quest's song Luck of Lucien tell the story of a French man named Lucien who emigrated to America. He faces challenges such as being chased by police for having stolen goods and struggling to find pleasure and success in his new home. The song highlights the ups and downs of Lucien's life and the support he receives from his brotherhood. The lyrics are peppered with references to French culture, such as eating escargot (snails) and the French language.
The song explores themes of identity, belonging, and perseverance. Lucien's desire to succeed in America despite facing hardship is a relatable experience for many immigrants. The lyrics show the importance of having support from friends and family during difficult times. Additionally, the song sheds light on the discrimination and racism that immigrants often face when moving to a new country.

Lyrics © Universal Music Publishing Group
Written by: Ali Shaheed Jones-Muhammad, Julius Billy Brooks, Kamaal Ibn John Fareed, Raymond M. Jackson

Lyrics Licensed & Provided by LyricFind
To comment on or correct specific content,
highlight it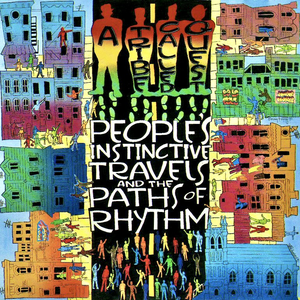 A Tribe Called Quest was an American hip-hop group formed in St. Albans, Queens, New York, in 1985, originally composed of rapper and main producer Q-Tip, rapper Phife Dawg, DJ and co-producer Ali Shaheed Muhammad, and rapper Jarobi White. The group is regarded as a pioneer of alternative hip hop music.

In 1991, the group released its jazz-influenced second album, The Low End Theory, regarded for helping shape alternative hip hop in the 1990s. In 1998
Read Full Bio
A Tribe Called Quest was an American hip-hop group formed in St. Albans, Queens, New York, in 1985, originally composed of rapper and main producer Q-Tip, rapper Phife Dawg, DJ and co-producer Ali Shaheed Muhammad, and rapper Jarobi White. The group is regarded as a pioneer of alternative hip hop music.

In 1991, the group released its jazz-influenced second album, The Low End Theory, regarded for helping shape alternative hip hop in the 1990s. In 1998, the group broke up shortly before releasing its fifth album, The Love Movement, but in 2006, the group's original members reunited and toured the United States. In 2016, the group released its sixth and final album, We Got It from Here... Thank You 4 Your Service, which was still incomplete when Phife Dawg died suddenly in March 2016, and was completed by the other members after his death. A Tribe Called Quest was the most commercially successful act in the Native Tongues collective, with all six of its albums certified either gold or platinum.

John Bush of AllMusic called them "the most intelligent, artistic rap group during the 1990s." The Source gave the group's debut album, People's Instinctive Travels and the Paths of Rhythm (1990), a perfect rating of five 'mics,' marking the first time that the magazine awarded the rating. In 2005, A Tribe Called Quest received the Founders Award at the Billboard R&B/Hip-Hop Awards, and two years later, the group was honored at the 4th VH1 Hip Hop Honors. In 2017, the group was awarded the Brit Award for International Group.

AllMusic critic John Bush called A Tribe Called Quest "without question the most intelligent, artistic rap group during the 1990s", further stating that the group "jump-started and perfected the hip-hop alternative to hardcore and gangsta rap." At a time when James Brown drum breaks and P-Funk basslines dominated hip hop production, the group successfully bridged the gap between jazz and hip hop, incorporating bebop and hard bop samples and recording with double bassist Ron Carter. The group's production influenced their contemporaries, thus changing the sound of hip hop; Dr. Dre produced his highly regarded debut The Chronic after being inspired by The Low End Theory, and Pete Rock stated, "There were times when I would walk into a record store and see Tip sitting on the floor with his glasses on, going through albums, looking for beats ... I was like, 'This guy is serious.' Being around [the group] made me step up and become even more serious than I was".

Lyrically, A Tribe Called Quest has been regarded for addressing many social issues through Q-Tip's philosophical viewpoints and Phife Dawg's everyman perspectives. People's Instinctive Travels and the Paths of Rhythm influenced several hip hop artists; Scarface asserted that it "really made me want to rap", and Pharrell Williams expressed that it was "the turning point [which] made me see that music was art." Kierna Mayo, former editor-in-chief of Ebony, said that The Low End Theory and Midnight Marauders "gave birth to neo-everything. ... That entire class of D'Angelo, Erykah Badu, Maxwell, and Lauryn Hill—and moving on to André 3000, Kanye West, and Talib Kweli—everything that is left of everything begins with Tribe." The group has also been credited for helping launch the solo careers of Busta Rhymes, J Dilla and Consequence.

The group was the subject of the acclaimed 2011 documentary film Beats, Rhymes & Life: The Travels of A Tribe Called Quest, directed by Michael Rapaport.

Studio albums
People's Instinctive Travels and the Paths of Rhythm (1990)
The Low End Theory (1991)
Midnight Marauders (1993)
Beats, Rhymes and Life (1996)
The Love Movement (1998)
We Got It from Here... Thank You 4 Your Service (2016)
Genre not found
Artist not found
Album not found
Search results not found
Song not found