Say am I 'posed to be dead or doin' life in prison?
Just another dummy caught up in the system
Unruly hooligan who belongs in Spofford
Verse gettin' that degree at Stanford or Harvard
Threatened by my work ethic, the way I speak, yo
Should I be mentally weak, verse being Malik
Yo, should I be trapped in the trap? Would you prefer that?
Fourth grade reading level but he knows how to rap
Are you amused by our struggles?
The English that's broken?
The weed that I'm smokin'?
The guns that I'm totin'?
The drugs that I'm sellin'?
No need for improvement
Fuck you and who you think I should be, forward movement
Melanated shrouded in complexity
Brain charge shocking like 'lectricity
Mouth translate happens organically
The media relates to what it thinks it sees
Judging steps in shoes from a path they never walked
Shot down in a blaze over phrases, how to talk
Dark skinned, walk with a bot, portrayed villain
I'm chillin', felon down to the DNA crime willin'
Subliminate their youth, hyper-sexualize their women
They ain't got the strong enough hold, so they built the prisons
Pumping false religion to all of these niggas' systems
Every voice devoid of the truth
Come on, listen
Man look at this, man look at this
Whatever will be will be
Like a billionaire investin' in a nigga's dreams
Certainly a head scratcher, like Pac and Big's killers' capture
Or a women with the wisdom who's leadin' the way
The rarity is in the rear, but never today
Man, picture a PD lettin' good records play
On the strength of what it is, not the finesse of your biz
And your lady calls you dirty, her dirts under rugs
You'll find out only if she tells you, take her kiss and hug, cuz
In the answer for cancer in a prodigious kid's mind
Yes, the government will fund learning is free for everyone
And from that lie, your leaders will rise in the eyes
Of despair and adversity in some universe this verse will be true
Everybody runnin' when they see the stars comin'
But whatever's gonna be will be
Everybody runnin' when they see the stars comin'
But whatever's gonna be will be
Some will dash to the mountain, some will crawl
And the weakest amongst them, they will fall
But the strongest in faith, they will stand tall
Everybody runnin' when they see the stars comin'
But whatever's gonna be will be
I just wanna feel as liberated as lions in Liberia
'Cause recently my heart turned cold as Siberia
'Cause everywhere I go, bein' cold is the criteria
Let's see how well you know all your Tribe trivia
Green and the white, we servin' that Nigeria
North side of Queens, one-nine-two is the area
This is for my dawgs from Shih Tzus to Terriers
Fuck it, it's showtime
Tip, make sure they hearin' ya
Lyrics © Ultra Tunes, Kobalt Music Publishing Ltd.
Written by: Kamaal Ibn John Fareed, Dexter Mills, Jarobi White, Malik Izaak Taylor

Lyrics Licensed & Provided by LyricFind
To comment on specific lyrics,
highlight them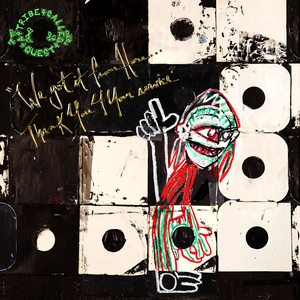 A Tribe Called Quest was an American hip-hop group formed in St. Albans, Queens, New York, in 1985, originally composed of rapper and main producer Q-Tip, rapper Phife Dawg, DJ and co-producer Ali Shaheed Muhammad, and rapper Jarobi White. The group is regarded as a pioneer of alternative hip hop music.

In 1991, the group released its jazz-influenced second album, The Low End Theory, regarded for helping shape alternative hip hop in the 1990s. In 1998
Read Full Bio
A Tribe Called Quest was an American hip-hop group formed in St. Albans, Queens, New York, in 1985, originally composed of rapper and main producer Q-Tip, rapper Phife Dawg, DJ and co-producer Ali Shaheed Muhammad, and rapper Jarobi White. The group is regarded as a pioneer of alternative hip hop music.

In 1991, the group released its jazz-influenced second album, The Low End Theory, regarded for helping shape alternative hip hop in the 1990s. In 1998, the group broke up shortly before releasing its fifth album, The Love Movement, but in 2006, the group's original members reunited and toured the United States. In 2016, the group released its sixth and final album, We Got It from Here... Thank You 4 Your Service, which was still incomplete when Phife Dawg died suddenly in March 2016, and was completed by the other members after his death. A Tribe Called Quest was the most commercially successful act in the Native Tongues collective, with all six of its albums certified either gold or platinum.

John Bush of AllMusic called them "the most intelligent, artistic rap group during the 1990s." The Source gave the group's debut album, People's Instinctive Travels and the Paths of Rhythm (1990), a perfect rating of five 'mics,' marking the first time that the magazine awarded the rating. In 2005, A Tribe Called Quest received the Founders Award at the Billboard R&B/Hip-Hop Awards, and two years later, the group was honored at the 4th VH1 Hip Hop Honors. In 2017, the group was awarded the Brit Award for International Group.

AllMusic critic John Bush called A Tribe Called Quest "without question the most intelligent, artistic rap group during the 1990s", further stating that the group "jump-started and perfected the hip-hop alternative to hardcore and gangsta rap." At a time when James Brown drum breaks and P-Funk basslines dominated hip hop production, the group successfully bridged the gap between jazz and hip hop, incorporating bebop and hard bop samples and recording with double bassist Ron Carter. The group's production influenced their contemporaries, thus changing the sound of hip hop; Dr. Dre produced his highly regarded debut The Chronic after being inspired by The Low End Theory, and Pete Rock stated, "There were times when I would walk into a record store and see Tip sitting on the floor with his glasses on, going through albums, looking for beats ... I was like, 'This guy is serious.' Being around [the group] made me step up and become even more serious than I was".

Lyrically, A Tribe Called Quest has been regarded for addressing many social issues through Q-Tip's philosophical viewpoints and Phife Dawg's everyman perspectives. People's Instinctive Travels and the Paths of Rhythm influenced several hip hop artists; Scarface asserted that it "really made me want to rap", and Pharrell Williams expressed that it was "the turning point [which] made me see that music was art." Kierna Mayo, former editor-in-chief of Ebony, said that The Low End Theory and Midnight Marauders "gave birth to neo-everything. ... That entire class of D'Angelo, Erykah Badu, Maxwell, and Lauryn Hill—and moving on to André 3000, Kanye West, and Talib Kweli—everything that is left of everything begins with Tribe." The group has also been credited for helping launch the solo careers of Busta Rhymes, J Dilla and Consequence.

The group was the subject of the acclaimed 2011 documentary film Beats, Rhymes & Life: The Travels of A Tribe Called Quest, directed by Michael Rapaport.

Studio albums
People's Instinctive Travels and the Paths of Rhythm (1990)
The Low End Theory (1991)
Midnight Marauders (1993)
Beats, Rhymes and Life (1996)
The Love Movement (1998)
We Got It from Here... Thank You 4 Your Service (2016)
Genre not found
Artist not found
Album not found
Search results not found
Song not found