Go Tell It on the Mountain
Aaron Neville Lyrics
[Chorus]
Go, tell it on the mountain,
Over the hills and everywhere
Go, tell it on the mountain,
That Jesus Christ is born.
While shepherds kept their watching
Over silent flocks by night
Behold throughout the heavens
There shone a holy light.
The shepherds feared and trembled,
When lo! above the earth,
Rang out the angels chorus
That hailed the Savior's birth.
[Chorus]
And lo! When they had heard it,
They all bowed down to pray,
Then traveled on together,
To where the Baby lay.
[Chorus]
Down in a lowly manger
The humble Christ was born
And God sent us salvation
That blessed Christmas morn.
[Chorus]
I too am like a shepherd,
My flock of days to guard,
Each day finds time for praying,
From this I won't retard.
[Chorus]
Lyrics © EC SCHIRMER MUSIC CO, Universal Music Publishing Group, Warner/Chappell Music, Inc.
Written by: PAUL BATEMAN

Lyrics Licensed & Provided by LyricFind
To comment on specific lyrics,
highlight them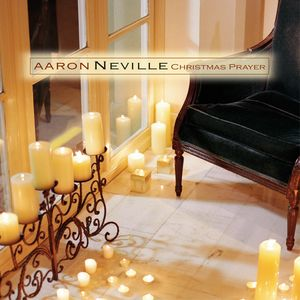 Go Tell It on the Mountain
Aaron Neville (born January 24, 1941, New Orleans, Louisiana) is an American soul and R&B singer and musician. He made his debut in 1966 with the hit single Tell It Like It Is, a Number One hit on the Billboard R&B charts. From 1977 he performed as part of The Neville Brothers with his siblings, Art Neville, Charles Neville, Cyril Neville & Ivan Neville.

Neville charted again, in 1989, when he collaborated with Linda Ronstadt on three consecutive duets: Don't Know Much
Read Full Bio
Aaron Neville (born January 24, 1941, New Orleans, Louisiana) is an American soul and R&B singer and musician. He made his debut in 1966 with the hit single Tell It Like It Is, a Number One hit on the Billboard R&B charts. From 1977 he performed as part of The Neville Brothers with his siblings, Art Neville, Charles Neville, Cyril Neville & Ivan Neville.

Neville charted again, in 1989, when he collaborated with Linda Ronstadt on three consecutive duets: Don't Know Much, All My Life, and When Something Is Wrong with My Baby, the first two reached Number One on the Adult Contemporary charts. Neville has released more than 20 singles, including three Number Ones on the Adult Contemporary format, and a fourth on the R&B format.

His other hits have included Everybody Plays the Fool, his successful 1991 cover of the 1972 Main Ingredient song, that reached #8 on the Hot 100; Don't Take Away My Heaven, Hercules and Can't Stop My Heart From Loving You (The Rain Song). Neville's biggest solo successes have been on the Adult Contemporary chart, where "Don't Know Much," "All My Life," and "Everybody Plays the Fool" all reached Number One.

Aaron signed to SonyBMG's new Burgundy Records label in late 2005 and recorded an album of songs by Otis Redding, Marvin Gaye, Curtis Mayfield, Sam Cooke and others for Bring It On Home...The Soul Classics, released on September 19, 2006. The album, produced by Stewart Levine, features collaborations between Neville and Chaka Khan, Mavis Staples, Chris Botti, David Sanborn, Art Neville, and others. The album's first single was a remake of The Impressions' 1963 classic It's All Right.

On October 27, 2006, Neville made a guest appearance on an episode of the soap opera The Young and the Restless. He sang Stand By Me" and Ain't No Sunshine, from his album, Bring It on Home … The Soul Classics. In 2008 he released Gold, which includes a double album of his hits.

http://www.aaronneville.com
Genre not found
Artist not found
Album not found
Search results not found
Song not found