Let It Snow Let It Snow Let It Snow
Aaron Neville Lyrics
Jump to: Overall Meaning | Line by Line Meaning
Oh the weather outside is frightful,
But the fire is so delightful,
And since we've no place to go,
Let it snow! let it snow! let it snow!
It doesn't show signs of stopping,
And I've bought some corn for popping,
The lights are turned way down low,
Let it snow! let it snow! let it snow!
When we finally kiss goodnight,
How I'll hate going out in the storm!
But if you'll really hold me tight,
All the way home I'll be warm.
The fire is slowly dying,
And, my dear, we're still good-bying,
But as long as you love me so,
Let it snow! let it snow! let it snow!
Overall Meaning
Aaron Neville's rendition of "Let It Snow Let It Snow Let It Snow" is a classic wintertime tune that captures the essence of the holiday season. The song follows a couple who is trying to find ways to pass the time during a snowstorm. What makes this song so memorable is the great contrast between the cold, blizzardy weather outside and the warm, cozy atmosphere inside next to a crackling fire. The first verse establishes the contrast between the "frightful" weather outside and the "delightful" warmth inside, and the chorus encourages the continuation of the snowfall. The second verse continues this feeling of indoor comfort and the third verse, which relies on a bit of humor, describes the couple's reluctance to brave the storm.
The chorus of "Let It Snow Let It Snow Let It Snow" reinforces the central theme of the song, as the couple simply wishes to stay inside and bask in the warmth of the fireplace. Additionally, the chorus provides continuity, as it is repeated throughout the song. The lyrics embody the feelings of a cozy and warm holiday season with a loved one, underscored by the snowfall outside which only serves to heighten the sense of comfort and togetherness.

Line by Line Meaning
Oh the weather outside is frightful,
The weather is very terrible outside
But the fire is so delightful,
The fire is glowing and provides a great warmth
And since we've no place to go,
We are stranded and have nowhere to go outside
Let it snow! let it snow! let it snow!
We might as well enjoy the snowfall since we can't do much about it
It doesn't show signs of stopping,
The snowfall seems to be continuing with no end in sight
And I've bought some corn for popping,
We have some popcorn to enjoy while we wait out the storm
The lights are turned way down low,
The lights are dimmed, creating a cozy atmosphere
Let it snow! let it snow! let it snow!
We're still resigned to making the best of things, given the circumstances
When we finally kiss goodnight,
Our evening has come to an end
How I'll hate going out in the storm!
I'll be really unhappy about leaving the warm, cozy confines of the fire
But if you'll really hold me tight,
If you embrace me tightly and keep me warm, it'll make it easier to venture out
All the way home I'll be warm.
I'll feel warm and safe as long as you're with me
The fire is slowly dying,
The fire is starting to dim
And, my dear, we're still good-bying,
It's time to say goodbye to each other and end the evening
But as long as you love me so,
As long as we have each other's love and support, we can face any challenges like this snowstorm
Let it snow! let it snow! let it snow!
Despite the difficulties, we'll still try to enjoy the snowfall and make the best out of a tough situation
Lyrics © CONCORD MUSIC PUBLISHING LLC
Written by: Jule Styne, Sammy Cahn

Lyrics Licensed & Provided by LyricFind
To comment on or correct specific content,
highlight it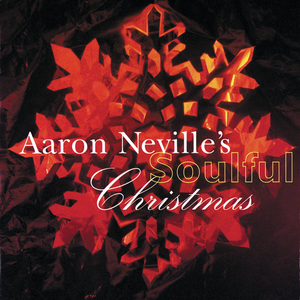 Let It Snow, Let It Snow, Let It Snow
Aaron Neville (born January 24, 1941, New Orleans, Louisiana) is an American soul and R&B singer and musician. He made his debut in 1966 with the hit single Tell It Like It Is, a Number One hit on the Billboard R&B charts. From 1977 he performed as part of The Neville Brothers with his siblings, Art Neville, Charles Neville, Cyril Neville & Ivan Neville.

Neville charted again, in 1989, when he collaborated with Linda Ronstadt on three consecutive duets: Don't Know Much
Read Full Bio
Aaron Neville (born January 24, 1941, New Orleans, Louisiana) is an American soul and R&B singer and musician. He made his debut in 1966 with the hit single Tell It Like It Is, a Number One hit on the Billboard R&B charts. From 1977 he performed as part of The Neville Brothers with his siblings, Art Neville, Charles Neville, Cyril Neville & Ivan Neville.

Neville charted again, in 1989, when he collaborated with Linda Ronstadt on three consecutive duets: Don't Know Much, All My Life, and When Something Is Wrong with My Baby, the first two reached Number One on the Adult Contemporary charts. Neville has released more than 20 singles, including three Number Ones on the Adult Contemporary format, and a fourth on the R&B format.

His other hits have included Everybody Plays the Fool, his successful 1991 cover of the 1972 Main Ingredient song, that reached #8 on the Hot 100; Don't Take Away My Heaven, Hercules and Can't Stop My Heart From Loving You (The Rain Song). Neville's biggest solo successes have been on the Adult Contemporary chart, where "Don't Know Much," "All My Life," and "Everybody Plays the Fool" all reached Number One.

Aaron signed to SonyBMG's new Burgundy Records label in late 2005 and recorded an album of songs by Otis Redding, Marvin Gaye, Curtis Mayfield, Sam Cooke and others for Bring It On Home...The Soul Classics, released on September 19, 2006. The album, produced by Stewart Levine, features collaborations between Neville and Chaka Khan, Mavis Staples, Chris Botti, David Sanborn, Art Neville, and others. The album's first single was a remake of The Impressions' 1963 classic It's All Right.

On October 27, 2006, Neville made a guest appearance on an episode of the soap opera The Young and the Restless. He sang Stand By Me" and Ain't No Sunshine, from his album, Bring It on Home … The Soul Classics. In 2008 he released Gold, which includes a double album of his hits.

http://www.aaronneville.com
Genre not found
Artist not found
Album not found
Search results not found
Song not found