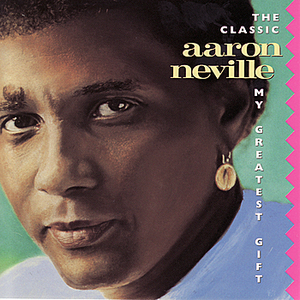 Aaron Neville (born January 24, 1941, New Orleans, Louisiana) is an American sou…
Read Full Bio ↴
Aaron Neville (born January 24, 1941, New Orleans, Louisiana) is an American soul and R&B singer and musician. He made his debut in 1966 with the hit single Tell It Like It Is, a Number One hit on the Billboard R&B charts. From 1977 he performed as part of The Neville Brothers with his siblings, Art Neville, Charles Neville, Cyril Neville & Ivan Neville.

Neville charted again, in 1989, when he collaborated with Linda Ronstadt on three consecutive duets: Don't Know Much, All My Life, and When Something Is Wrong with My Baby, the first two reached Number One on the Adult Contemporary charts. Neville has released more than 20 singles, including three Number Ones on the Adult Contemporary format, and a fourth on the R&B format.

His other hits have included Everybody Plays the Fool, his successful 1991 cover of the 1972 Main Ingredient song, that reached #8 on the Hot 100; Don't Take Away My Heaven, Hercules and Can't Stop My Heart From Loving You (The Rain Song). Neville's biggest solo successes have been on the Adult Contemporary chart, where "Don't Know Much," "All My Life," and "Everybody Plays the Fool" all reached Number One.

Aaron signed to SonyBMG's new Burgundy Records label in late 2005 and recorded an album of songs by Otis Redding, Marvin Gaye, Curtis Mayfield, Sam Cooke and others for Bring It On Home...The Soul Classics, released on September 19, 2006. The album, produced by Stewart Levine, features collaborations between Neville and Chaka Khan, Mavis Staples, Chris Botti, David Sanborn, Art Neville, and others. The album's first single was a remake of The Impressions' 1963 classic It's All Right.

On October 27, 2006, Neville made a guest appearance on an episode of the soap opera The Young and the Restless. He sang Stand By Me" and Ain't No Sunshine, from his album, Bring It on Home … The Soul Classics. In 2008 he released Gold, which includes a double album of his hits.

http://www.aaronneville.com
Jump to: Overall Meaning ↴ Interesting Facts ↴ Line by Line Meaning ↴
If you want something to play with
Go and find yourself a toy
Baby, my time is too expensive
And I'm not a little boy
If you are serious
Don't play with my heart, it makes me furious
But if you want me to love you
Then, baby, I will, girl, you know I will
Tell it like it is
Don't be ashamed to let your conscience be your guide
But I know deep down inside of me
I believe you love me, forget your foolish pride
Life is too short to have sorrow
You may be here today and gone tomorrow
You might as well get what you want
So go on and live, baby, go on and live
Tell it like it is
I'm nothing to play with, go and find yourself a toy
But I
Tell it like it is
My time is too expensive
And I'm not your little boy
Mmm, tell it like it is
Overall Meaning
The lyrics of Aaron Neville's song "Tell It Like It Is" deal with the theme of love and heartbreak. The song expresses the feelings of a person who is not willing to waste his time with someone who is not serious about love. The opening lines of the song "If you want something to play with, Go and find yourself a toy. Baby, my time is too expensive, And I'm not a little boy" convey this message that the singer is not looking for someone to play with, but someone who is serious about a relationship. The singer is not interested in any superficial relationship with anyone and indicates that his time is too valuable to waste on someone who is not serious about love.
The song's chorus "Tell it like it is, Don't be ashamed to let your conscience be your guide, But I know deep down inside of me, I believe you love me, forget your foolish pride" reinforces the theme that honesty is the key to a successful relationship. The singer urges their partner not to hide their true feelings and let honesty guide their actions. The singer expresses their belief that their partner loves them deep down and that they should forget their pride and confess their love.
In conclusion, the central theme of the song "Tell It Like It Is" is love, honesty, and commitment. Neville's soulful voice and the simple yet profound lyrics make this song a timeless classic.
Interesting facts about the song "Tell It Like It Is":
Interesting Facts
Note: This section uses generative AI, which can be inaccurate.


Line by Line Meaning
If you want something to play with
If you are not serious about a relationship and just want to pass time
Go and find yourself a toy
Look for someone else who is interested in casual fun
Baby, my time is too expensive
I value my time and don't want to waste it on someone who is not serious
And I'm not a little boy
I am a mature man, not someone who can be misled or manipulated easily
If you are serious
If you are truly interested in a committed relationship
Don't play with my heart, it makes me furious
Don't deceive me or cause me emotional pain
But if you want me to love you
If you are genuine, and want a true connection with me
Then, baby, I will, girl, you know I will
Then I will reciprocate your love and devotion
Tell it like it is
Be honest about your feelings and intentions
Don't be ashamed to let your conscience be your guide
Don't be afraid to follow your heart and do what is right
But I know deep down inside of me
I have a gut feeling that you truly care for me
I believe you love me, forget your foolish pride
I want you to be honest and admit your true feelings, don't let your pride get in the way
Life is too short to have sorrow
Life is too brief to waste time being unhappy
You may be here today and gone tomorrow
We only have limited time on this earth, so make the most of it
You might as well get what you want
It's important to pursue what you truly desire
So go on and live, baby, go on and live
Don't hold back, live your life to the fullest without regrets
I'm nothing to play with, go and find yourself a toy
If you're not interested in something serious, don't waste my time and go look for someone else
But I
However, if you are serious about me
Mmm, tell it like it is
Be honest and don't hold back your true feelings
Lyrics © BMG Rights Management, ZELLS MUSIC, Sony/ATV Music Publishing LLC, Spirit Music Group
Written by: George Davis, Lee Diamond

Lyrics Licensed & Provided by LyricFind
To comment on or correct specific content,
highlight it
Genre not found
Artist not found
Album not found
Search results not found
Song not found